Bill & Larry's Travels

And Other Adventures!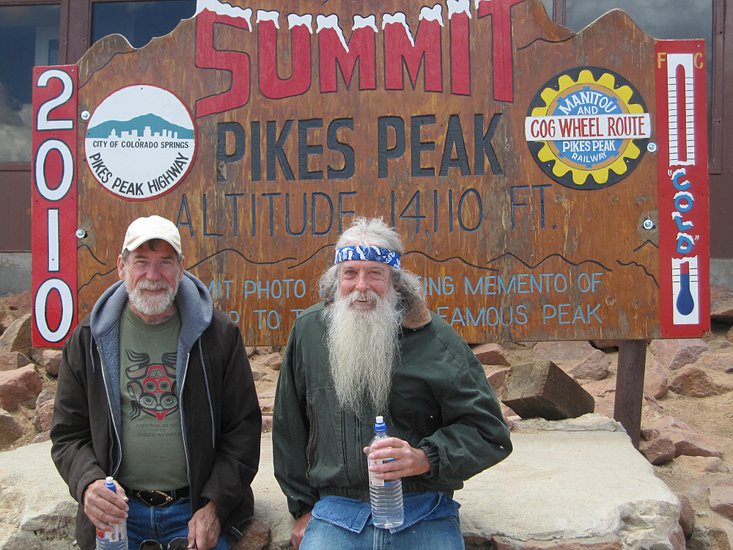 September 17, 2013 - Photos taken during a trip eastbound across
the Bay Bridge, highlighting the new eastern span.
June 20 - July 21, 2013 - We traveled from San Francisco to New York City on the
Lincoln Highway, visiting friends and checking out lots of cool sites along the way.
April 7 - 16, 2013 - We went to Las Vegas for the National Association of Broadcasters
convention, and then traveled to Utah and Arizona to visit our National Parks.
January 2 - 9, 2013 - We took a driving trip down to Palm Springs to enjoy
a week of vacation and visit friends. Check out the photos from our trip.
Join us for a trip to San Francisco's Fisherman's Wharf as we celebrate
our 4th Wedding Anniversary together on July 31, 2012.
April 19 - 20, 2012 - A two day driving trip up through Marin, Sonoma and Napa
Counties, followed by a visit to Old Sacramento on the way home.
We enjoyed a fantastic tour of England, Scotland, Wales and Ireland.
It was a wonderful adventure, well organized and very informative!
We got to see some great scenery, lots of important places and many
interesting landmarks, and got an excellent overview of the four
countries. Join us for our three week tour!
We enjoyed three great weeks in Northern California, Oregon,
Washington and British Columbia visiting friends and
checking out the sights along the way.
Following a funeral for two fallen firemen attended by close to 5,000
firefighters from across the U.S. and Canada, a procession of close to
200 fire trucks and other vehicles followed the caskets to the cemetery.
Here are photos of the procession of fire trucks and other vehicles.
May 19-20, 2011, we took a two day trip up to Yosemite to check
out the beautiful views and the roaring waterfalls. After receiving
record amounts of snow this past winter we expected the falls to
be flowing with gusto. We weren't disappointed.
On April 9, 2011, they had an open house at the newly remodeled
Terminal 2 at San Francisco International Airport. We went to the
open house and these are photos taken that day.
In August, 2010, we took a drive over the Sierra via Sonora Pass,
California Route 108 to U.S. Route 395 to Bodie State Park, a ghost
town from the silver mining days. Join us for our two day journey.
We spent a couple of weeks traveling through Nevada and Utah to
Colorado, then hit the Rocky Mountains, Boulder, Denver, Colorado
Springs and the area around Grand Junction. We saw some fantastic
scenery and we share it with you in this album.
A trip to Bend, Oregon, where Bill was a contestant in the
national beard contest. Lots of hair to be seen!
We took another trip to check out the wildflowers in Death Valley
and the poppies at the California Poppie Reserve, and we also visited
Reno, Virginia City, Las Vegas and Pinnacles National Monument.
February 28, 2010 - A drive to the Marin Headlands on the
north side of the Golden Gate Bridge.
We spent a month traveling through the Rocky Mountains, across Canada,
through the Midwest and Southwest, and saw some fantastic scenery.
We spend another week in Hawaii on the island of Oahu
hiking, exploring and enjoying good food.
An Easter Sunday walk from our home to the top of Twin Peaks,
taking in spring flowers in profuse bloom along the way.
We drove to the California Poppy Reserve near Lancaster and
then on to Las Vegas, and we returned by driving up the coast.
We spent a weekend at Yosemite checking out the beautiful scenery.
A road trip up through the Sierras of California into Nevada, north
through the desert and then across Oregon and down the coast.
After a way-too-long 31-year engagement, we finally tie the knot
in the rotunda at the City Hall in San Francisco!
We visit our nation's capital and historical sites and
scenic areas in nearby states.
Travel by train from Vancouver to Toronto through the
Canadian Rockies and across the Canadian Shield.
Surreal trees and unusual rocks dot the landscape
in this southeastern California park.
The Queen Mary 2 sails under the Golden Gate Bridge and
into San Francisco Harbor.
Join us as we visit several cities in Italy and the
Mediterranean coast of France!
We have lived here since 1979 and we have only seen it snow once.
Here are some photos out our window.
A road trip to Nevada, Arizona, and New Mexico, including visits
to various Indian sites, the Grand Canyon, and Las Vegas.
A drive across America from sea to sea, and then back!
Follow our scenic monthlong adventure through 20 states.
Touring around Kauai and Oahu, and taking a hike up inside
Waikiki's Diamond Head crater to its rim.
The wettest spring in 100 years had sprouted Death Valley's
usually-dry hillsides into millions of flowers!
Highlights from our trip to the beautiful lands
that lie down under.
It's Amsterdam then a driving trip through Germany and parts
of Austria, Switzerland and France. Then a week in Paris, a
trip by high speed train to Brussels and back to Amsterdam.
Please join us on this exciting and interesting trip.
A loop through the northern Sierra - Nevada City, Downieville,
Portola and the railroad museum, Tahoe, and Virginia City.
A falltime trip to Mariposa, Yosemite, Mono Lake,
Devil's Postpile, and return through Monitor
and Ebbett's passes.
Casinos, casinos, and more casinos! Of course!
Twelve days in northern California, Oregon,
Washington and British Columbia
We drove down the coast to Los Angeles with our friend
Norman Cuccio. We went to Disneyland and their new park
"California Adventure" and visited friends in Los Angeles.
Our first stop was in New Mexico for a visit with Larry's sister
and family, then it was on to Kansas, Missouri, Southern Illinois,
Michigan, Chicago, Iowa, Nebraska, Colorado, Utah, Nevada
and the Sierra of California
We visited London, Amsterdam, Berlin, Hamburg and
the Worlds Fair in Hannover, Germany.
Includes Promontory Point, Yellowstone,
and two historic towns.
It's the United States' largest Indian ruin
and few Americans have seen it.
Photos from Larry's visit to Scotland,
England, France, Germany, and Holland.
The fall of 1997 was the most fantastic
season for color in decades!
Larry in July, 1997, in Oregon, Washington,
Montana and British Columbia.
The "no daytime speed limit" signs, plus
a sign we caught that drew laughter.
Its grand entrance next to a cement
plant is only the beginning.
Can one say he really knows a beautiful
mountain, without having felt it, too?
Cool places to visit where states
and nations come together.
A wake up call for east coast folks who might just
think California is all warmth and sunshine.
Check out this awesome natural formation
that looks like a tile floor!
This is the easternmost point
in the United States.
Of course it's a mission, and you just
might see swallows there, too!
This is the monument where the
Alaska Highway begins.
Spotting one was a complete surprise, and
almost caused us to have a wreck!
[ Bill's Page ] [ Larry's Page ] [ Bill & Larry's Home Page ]
Copyright © 1998-2015 Bill Choisser & Larry Kenney, All Rights Reserved