Exciting Trip to Iceland
2017
In August of 2017, Louis Chiofalo of Vallejo and Larry took a 11 day trip to Iceland.
We spent three days in Reykjavik and then took a 6 day circular tour of the island.

Here are our pitures from the trip.

Our welcome at Iceland's Reykjavik airport.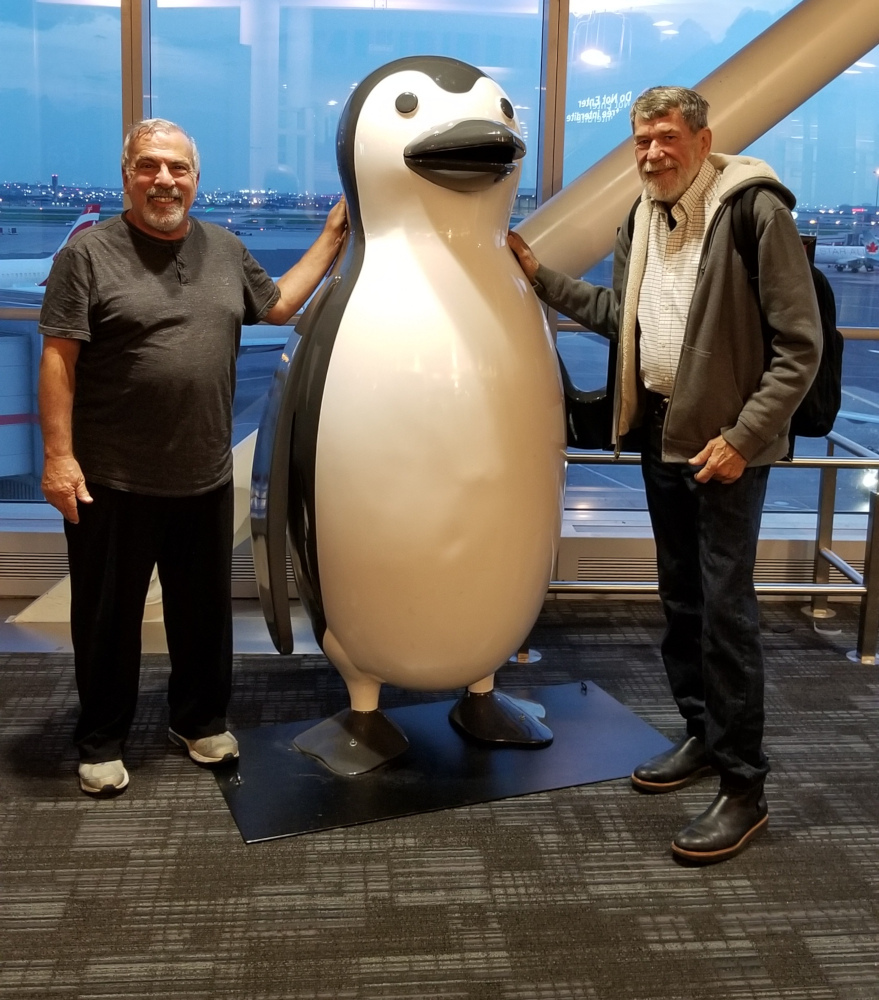 We took the bus to our hotel in Reykjavik and got our first view of the Iceland countryside.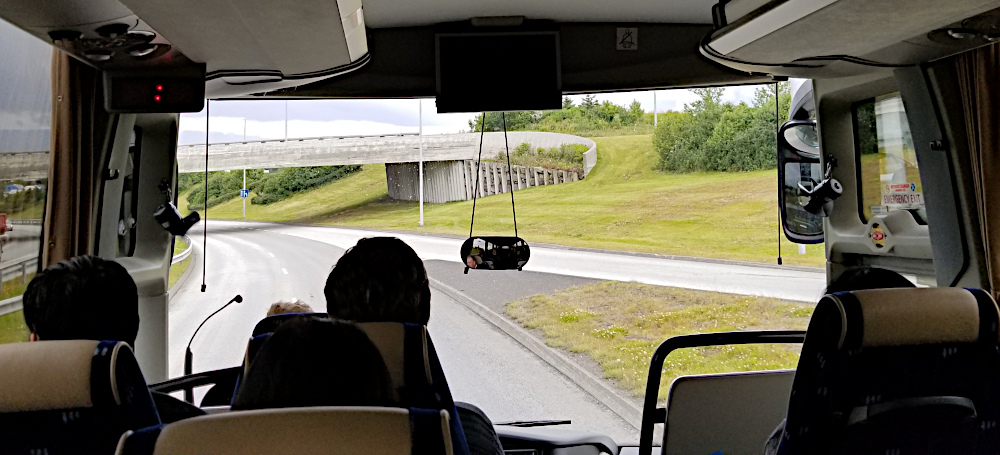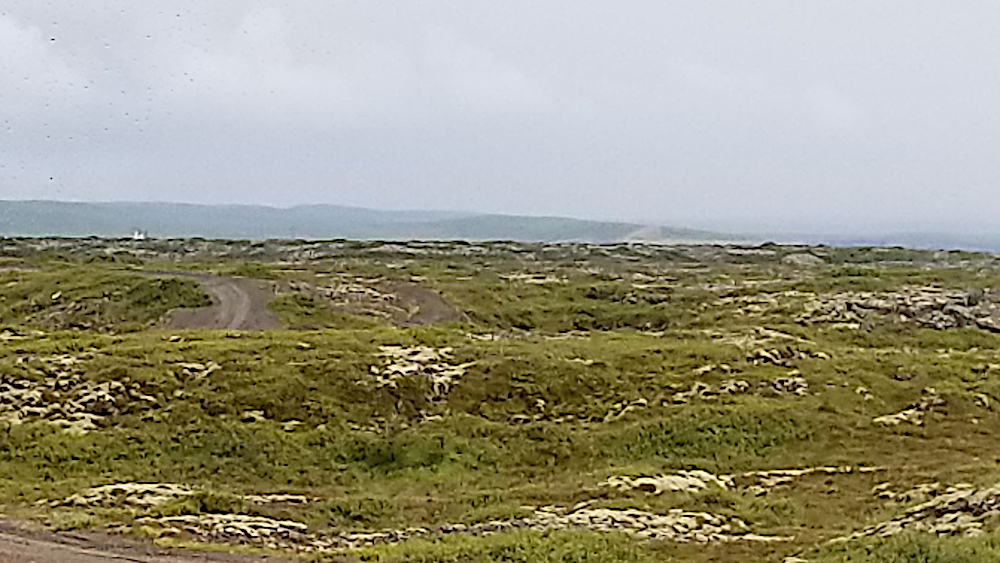 At our hotel, the Hilton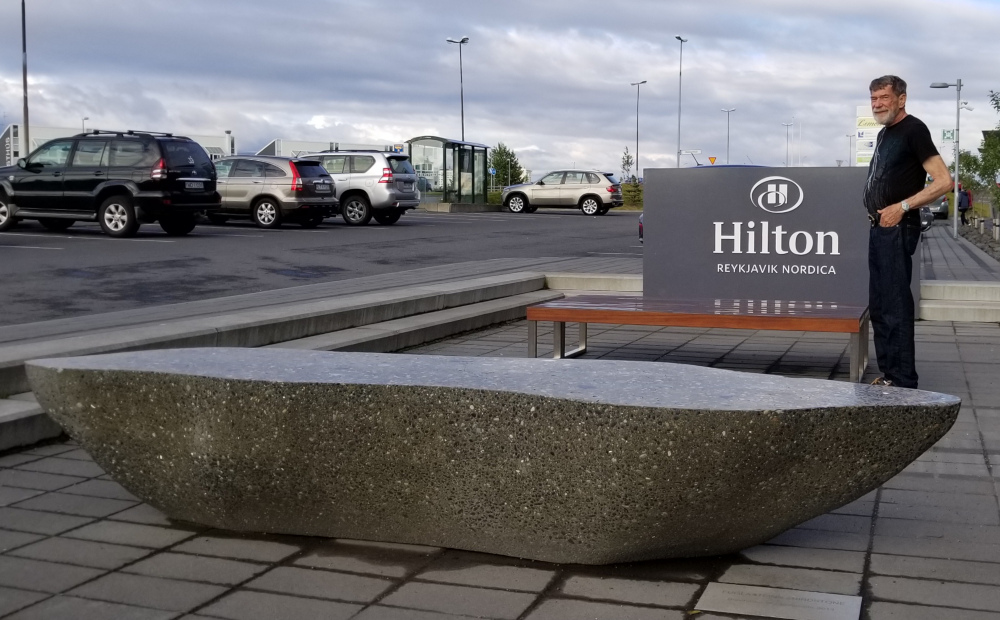 The view from our room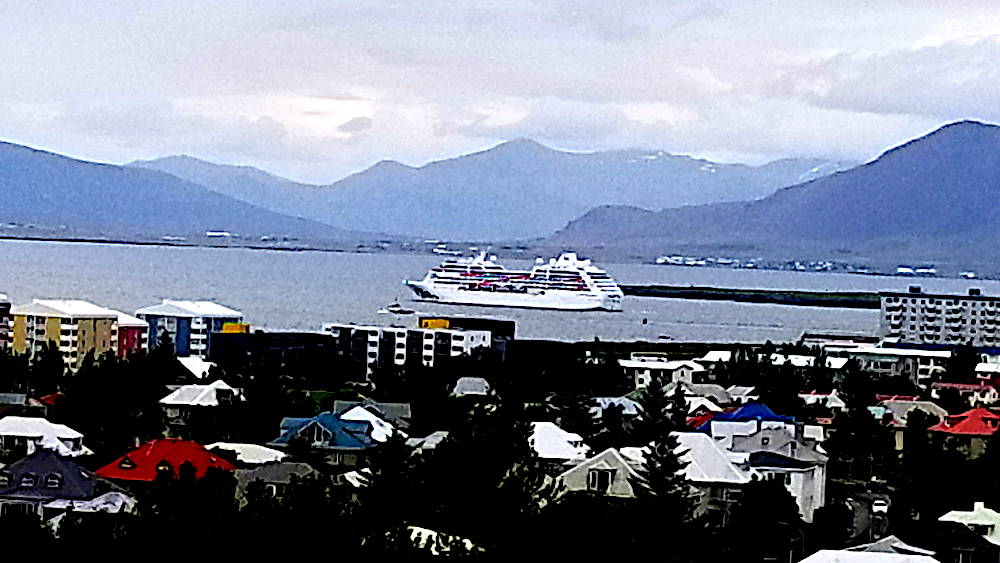 We took a walk into downtown Reykjavik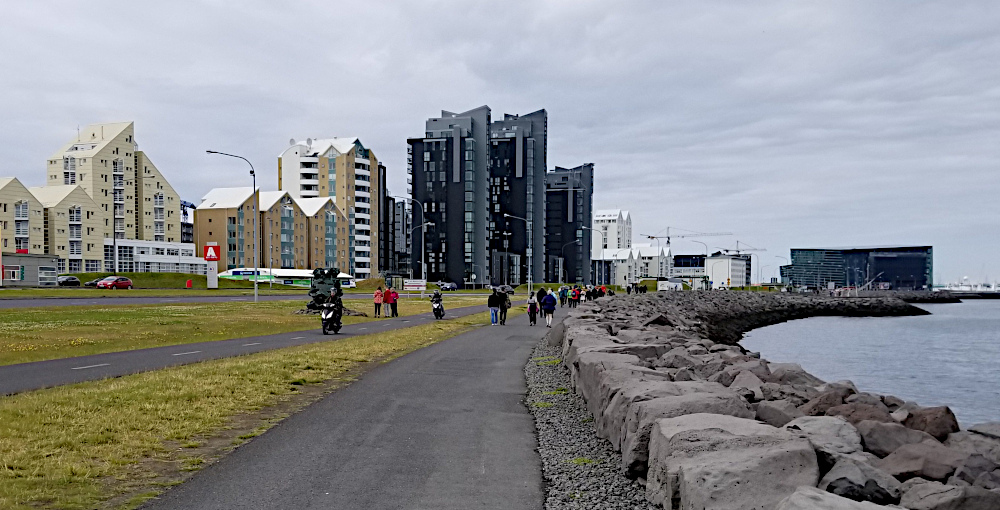 Our first sign of Iceland heritage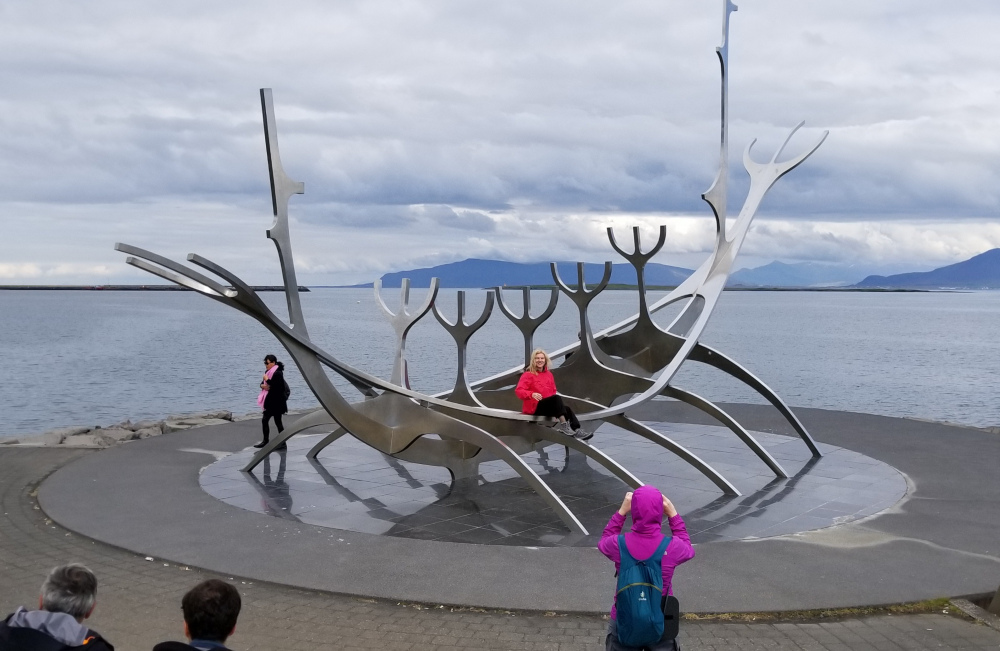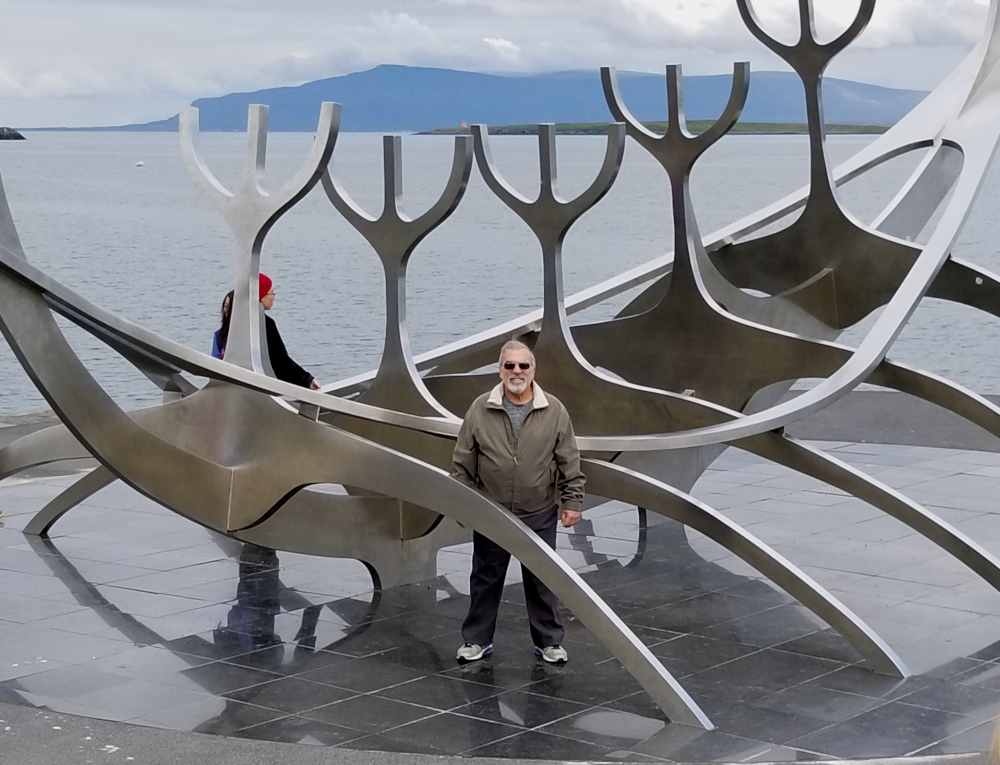 Reykjavik museum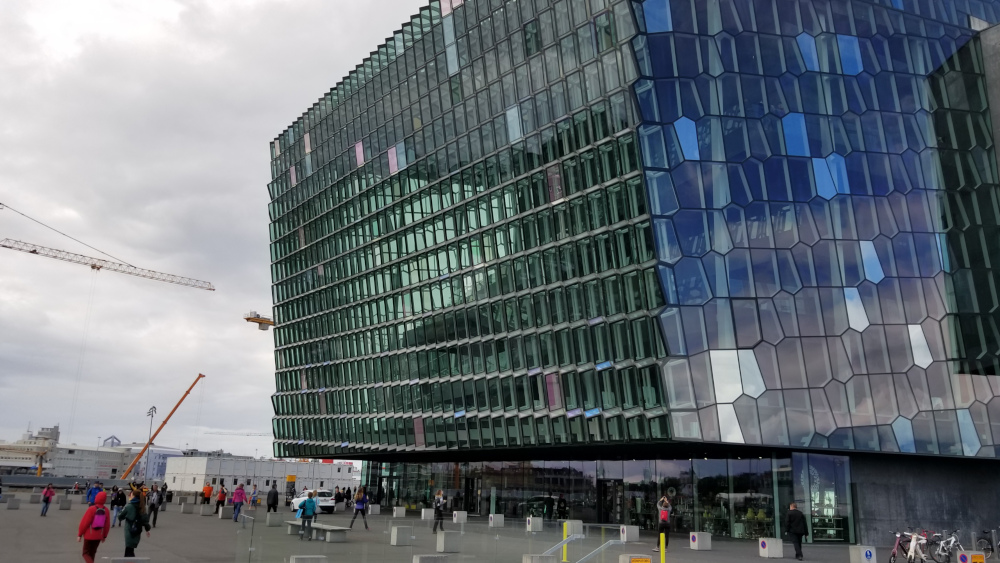 Downtown Reykjavik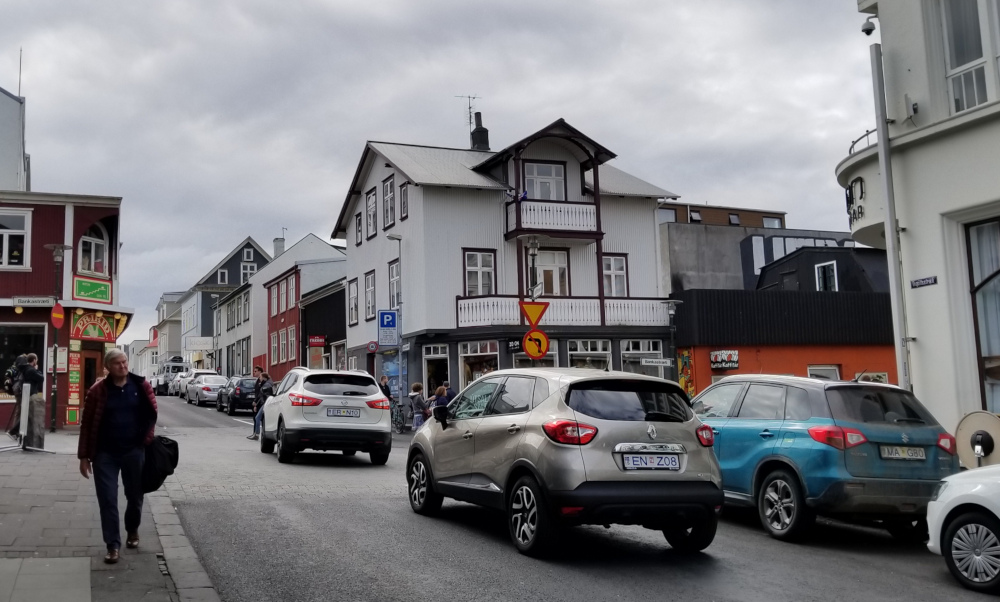 The church in the distance is our destination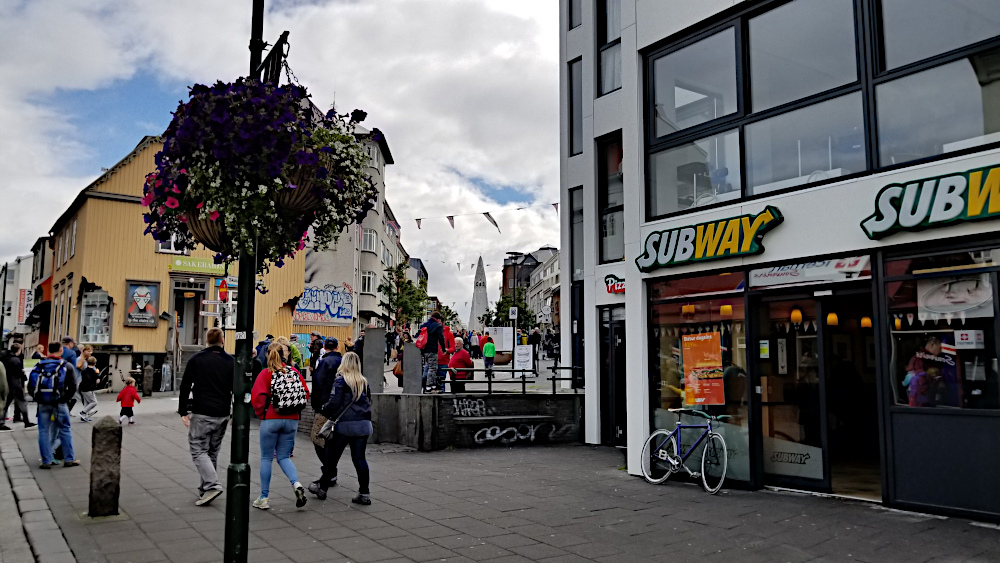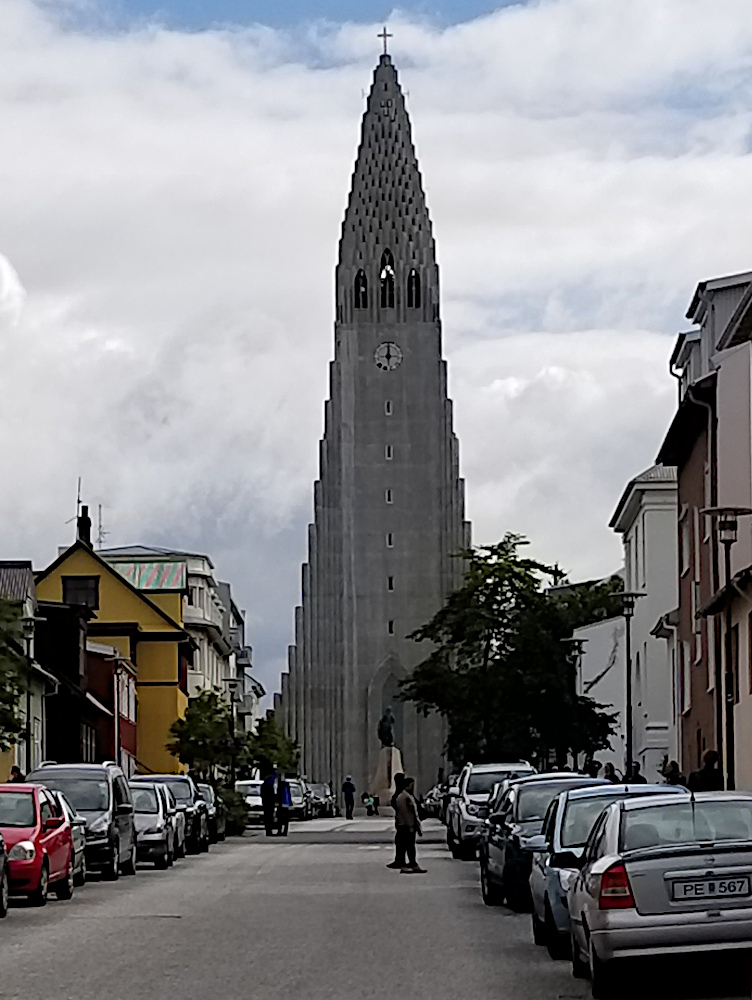 Church of Hallgrimskirkja is a Lutheran parish church. At 244 ft high, it is the largest church in Iceland.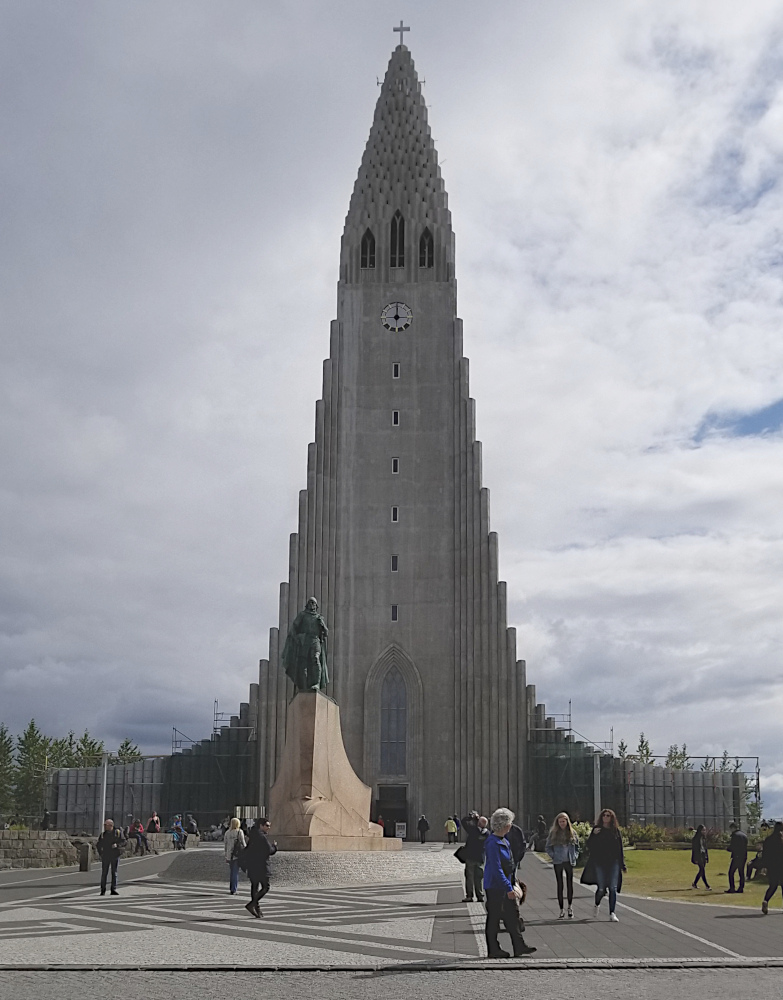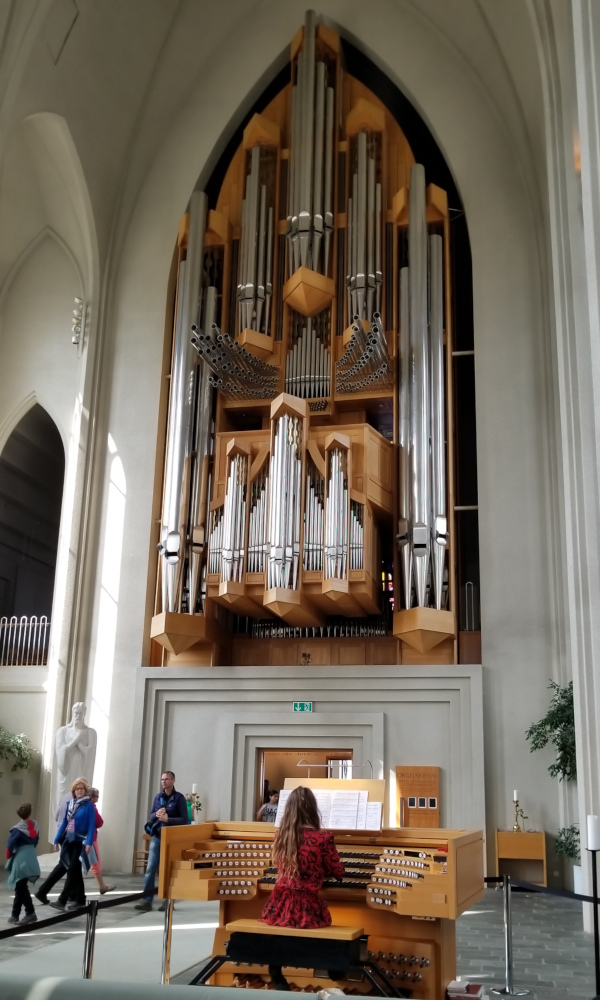 This stone building caught my eye. Not sure what it is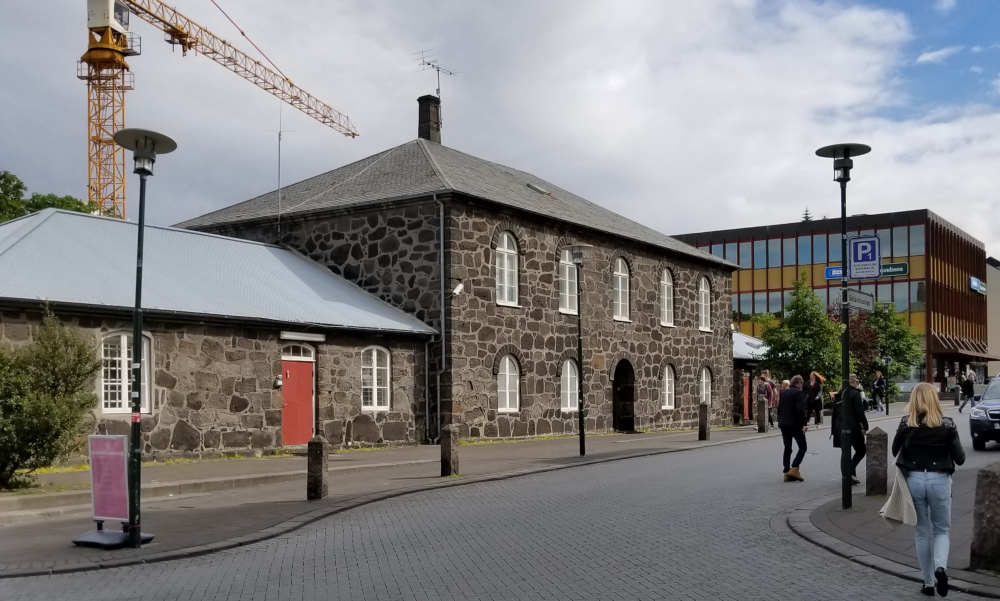 Walking through the area north of downtown we came across this murial and several colorful buildings.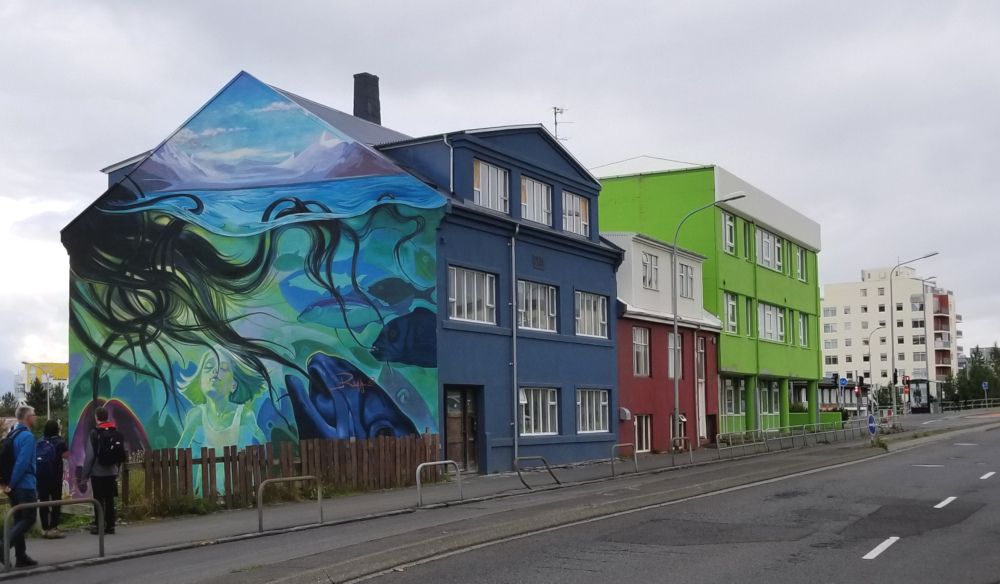 Street art - intertwined bodies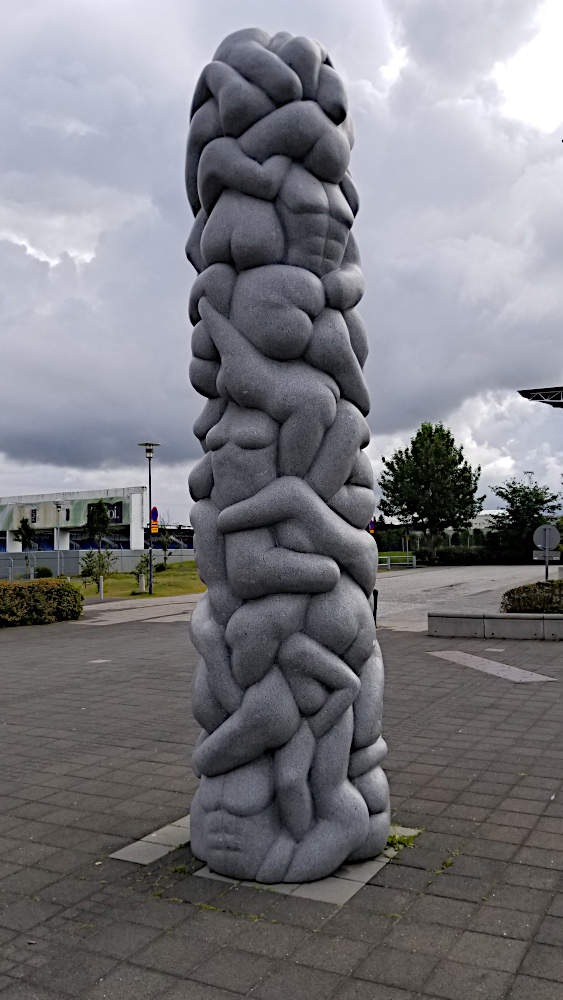 The next day we began our tour of the island. Here is a map showing our route. which we followed in a counter-clockwise direction.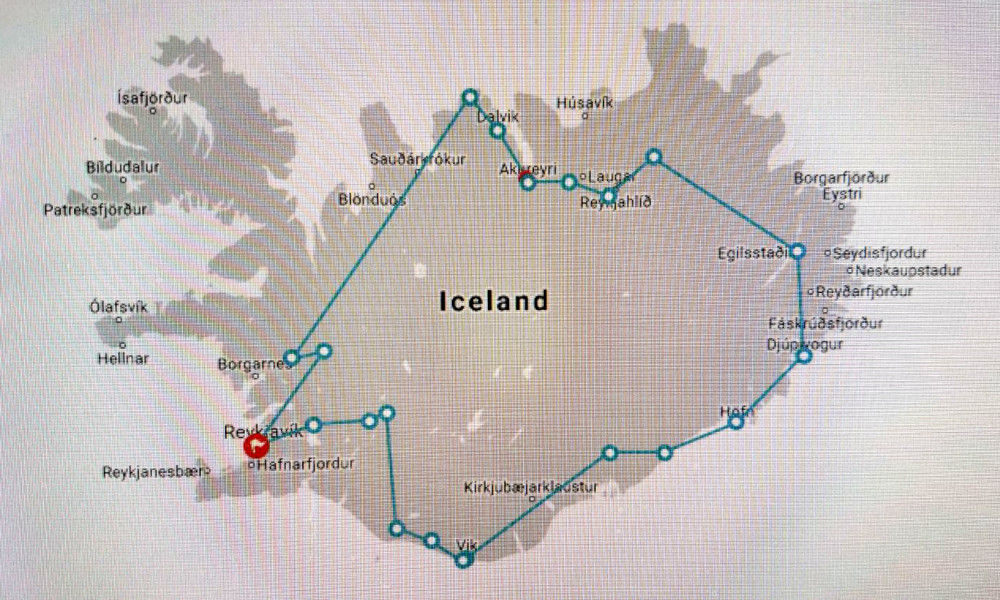 We got to see the beautiful Iceland landscape with its many interesting features as we were driven along the coastal highway.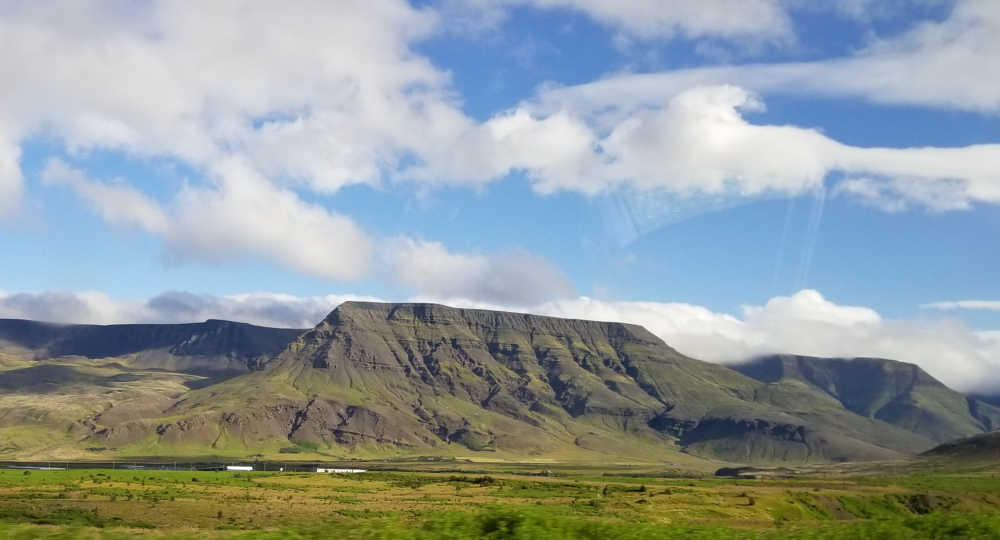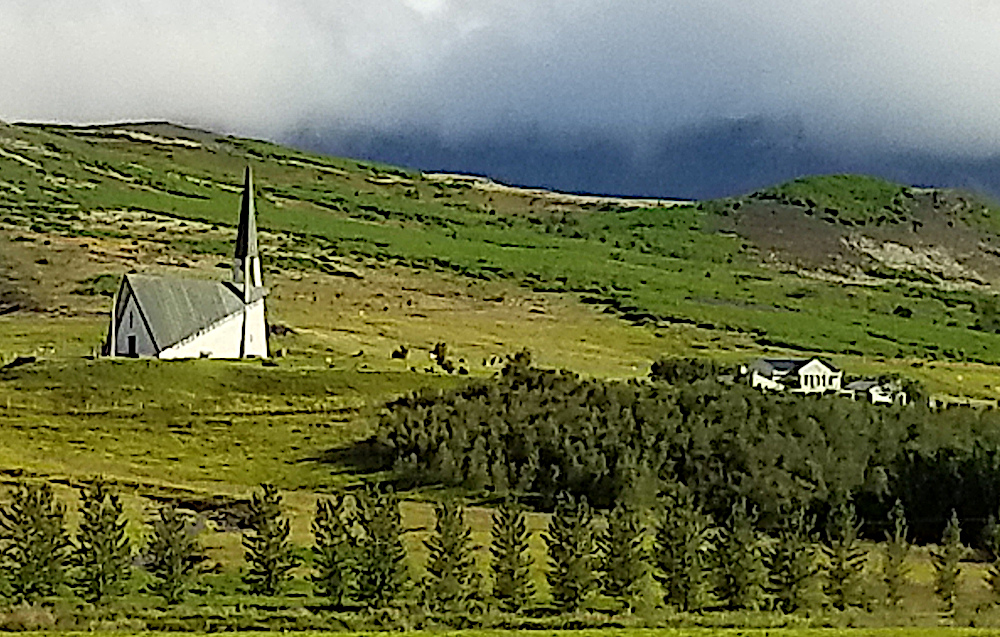 Our first stop will be Pingvellir National Park where Icelanders celebrated many local events over the years.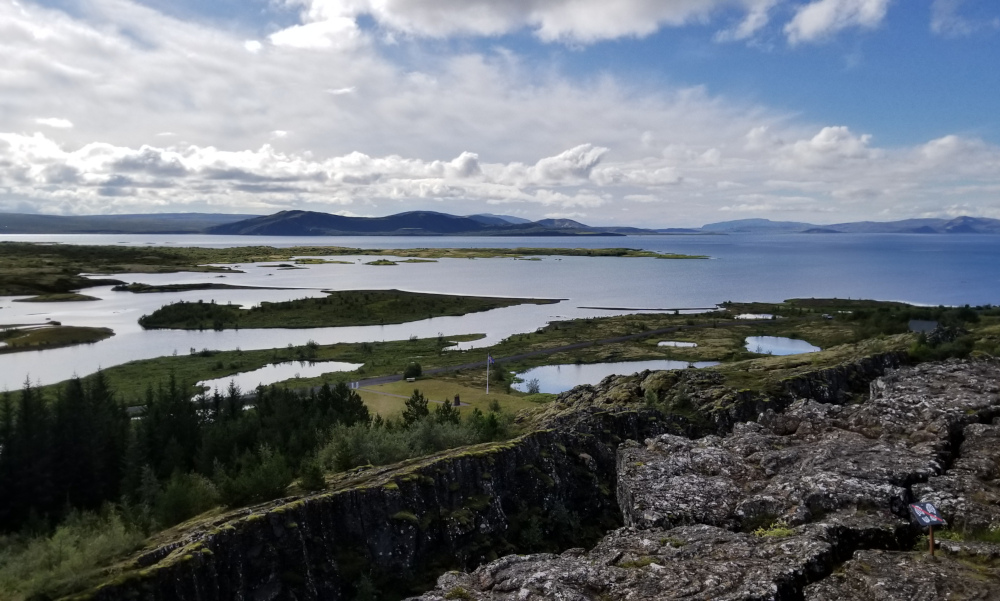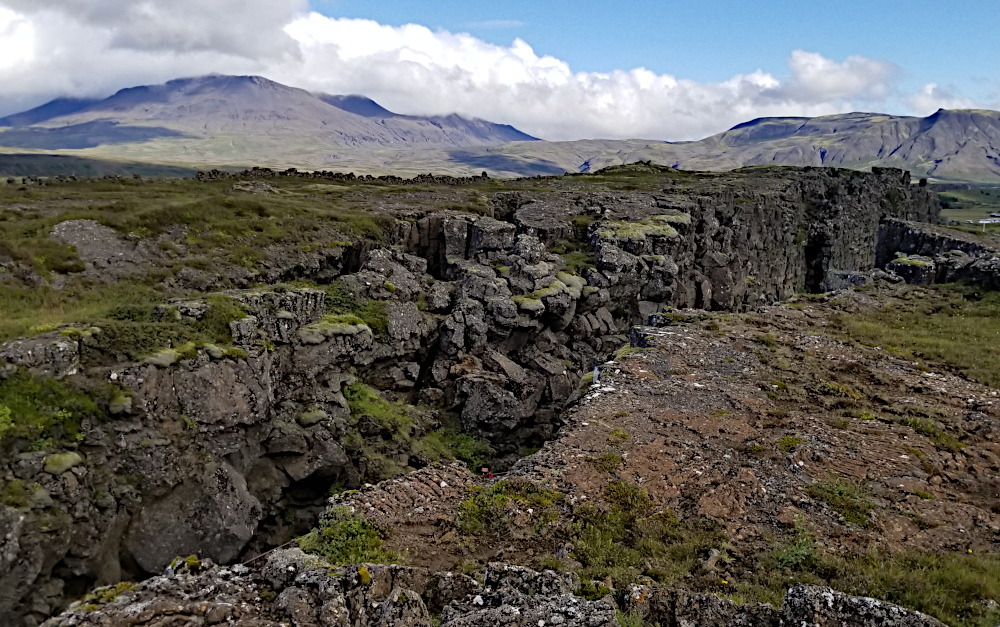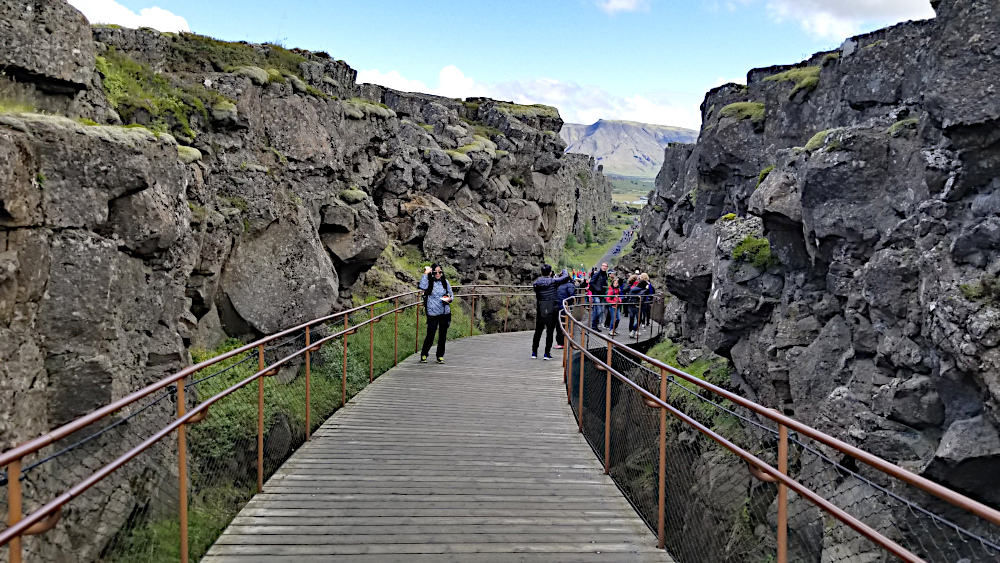 Larry and Louis check out the hiking trail through the park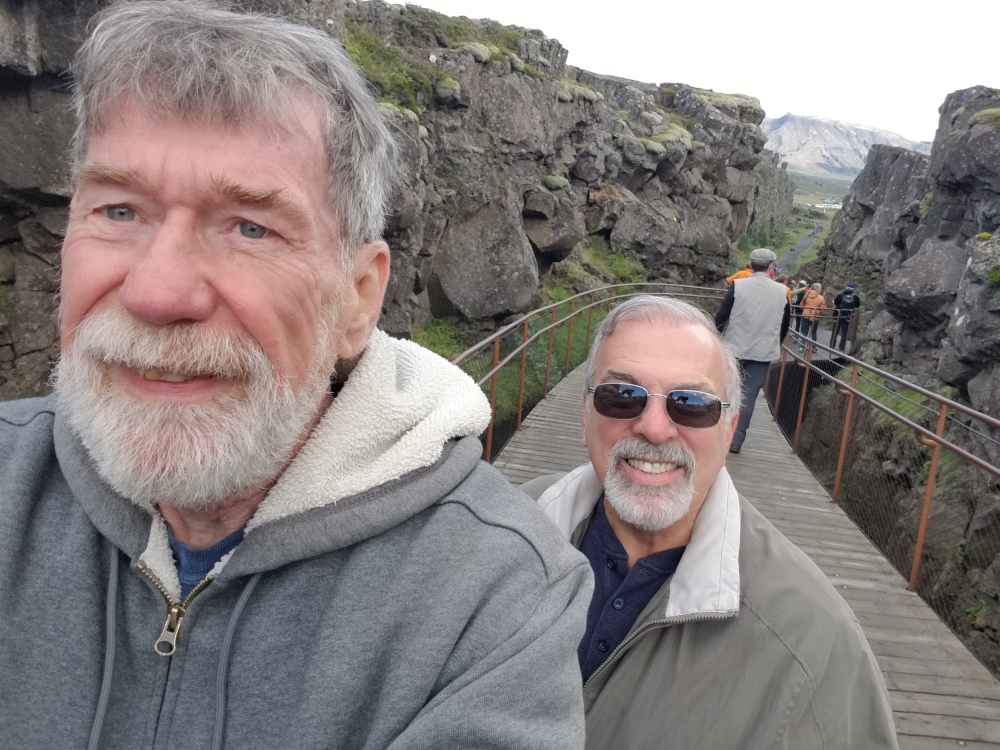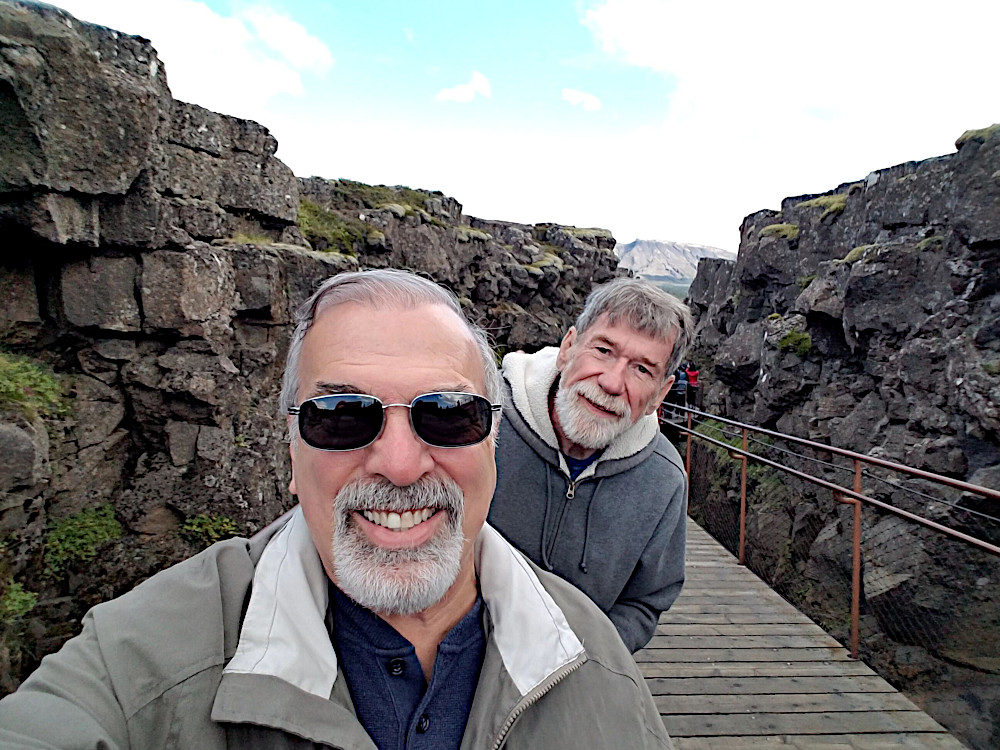 Iceland's flag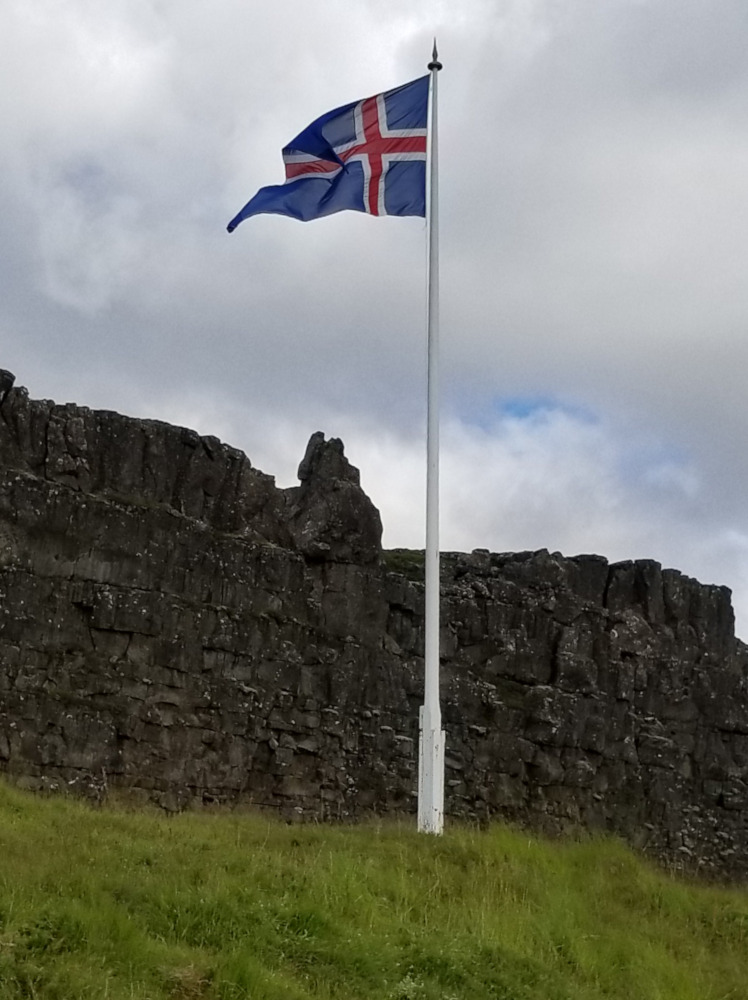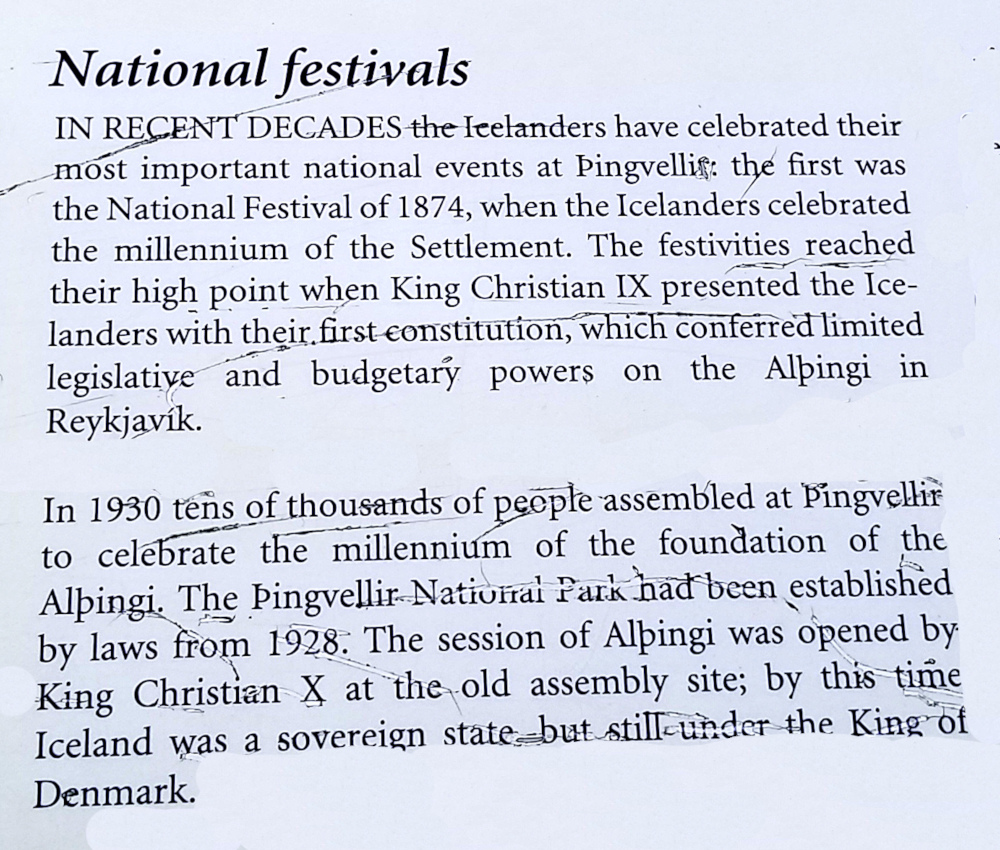 We take a walk through Pingvellir National Park and get to see our first, of many, Iceland waterfalls.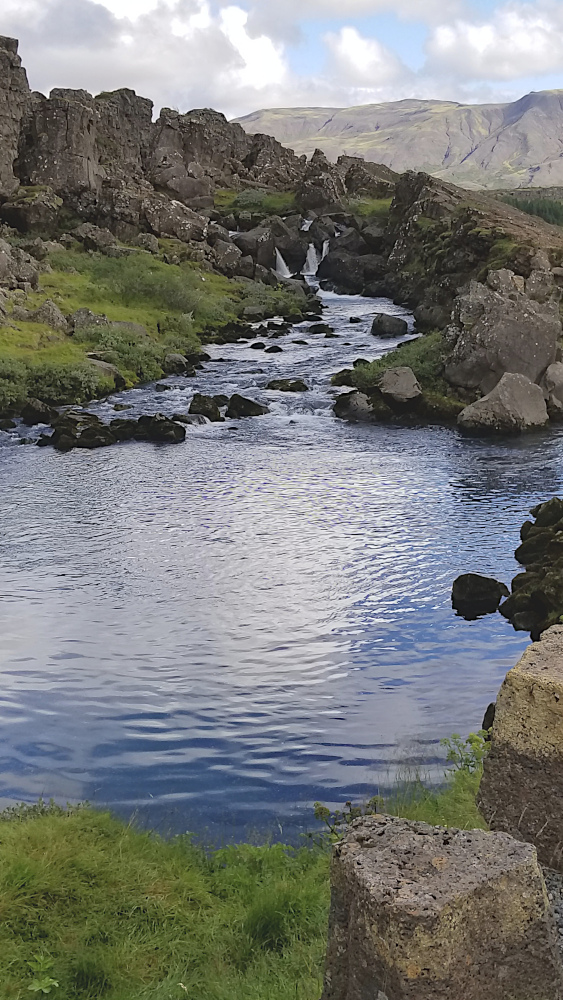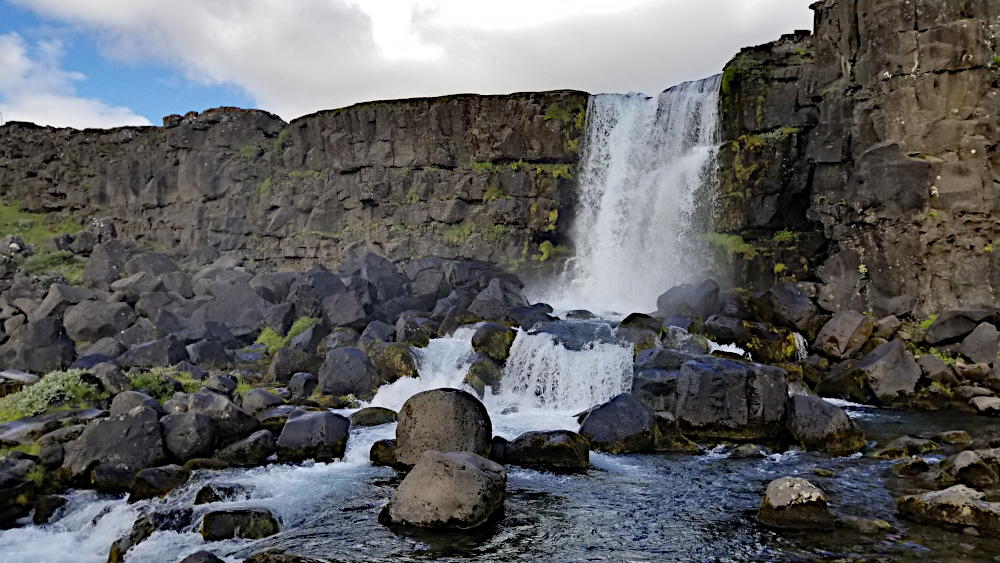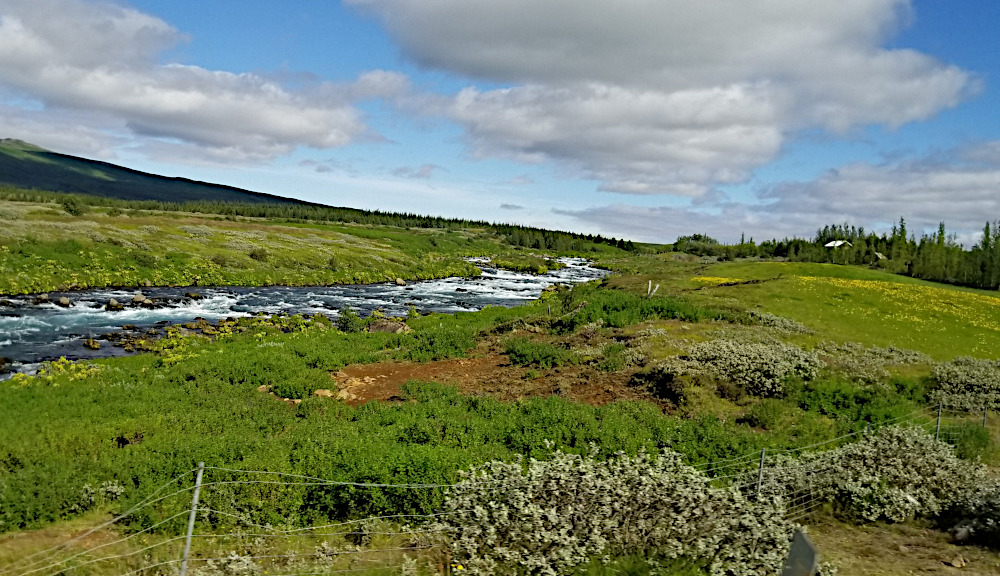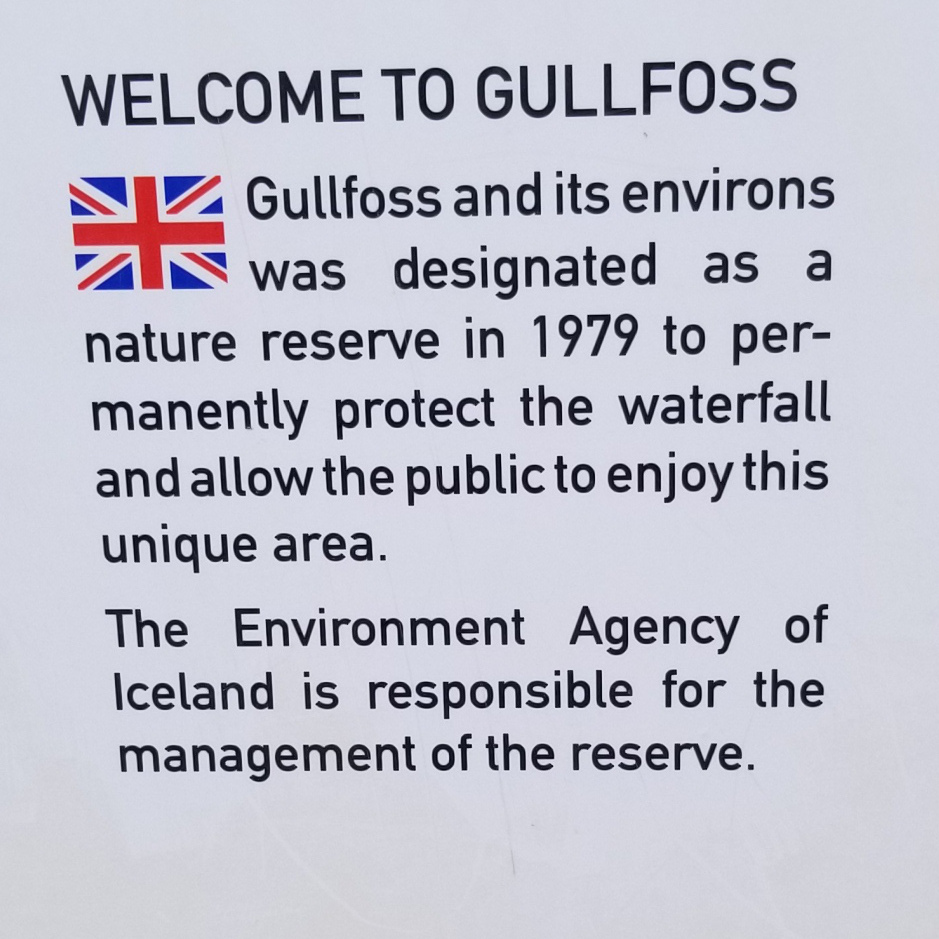 Gullfoss area
Look at how huge of an area this fall covers. (Note the size of the people for comparison.)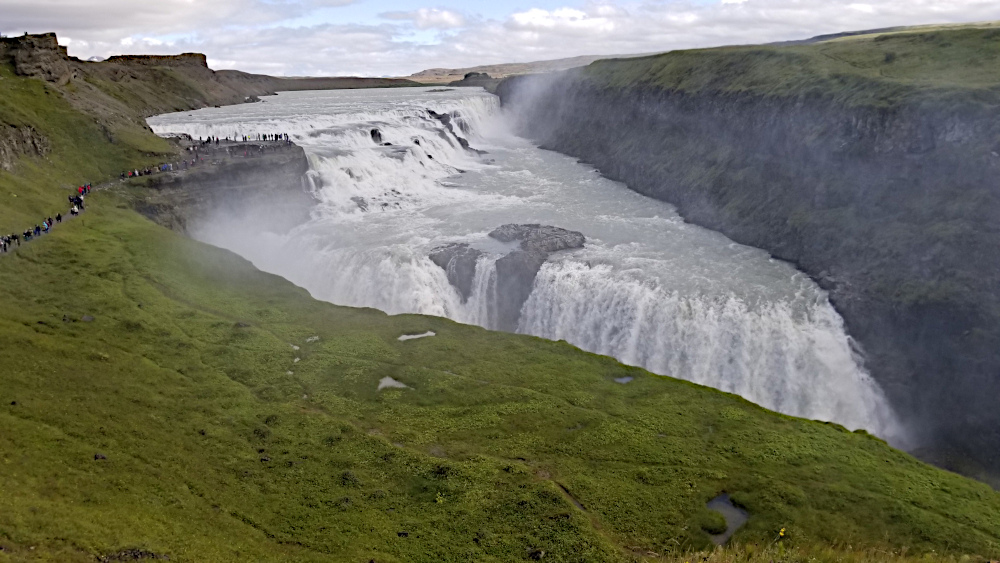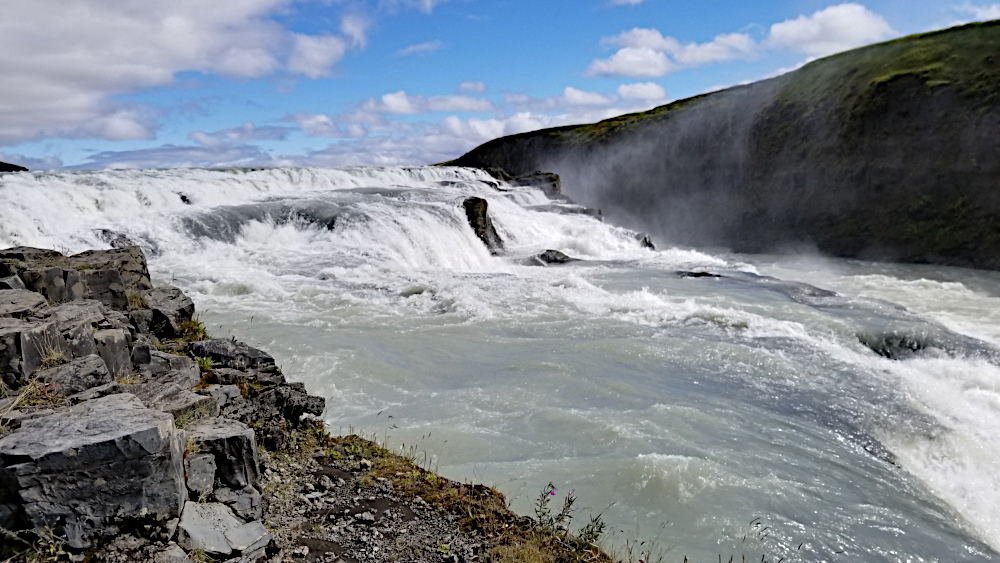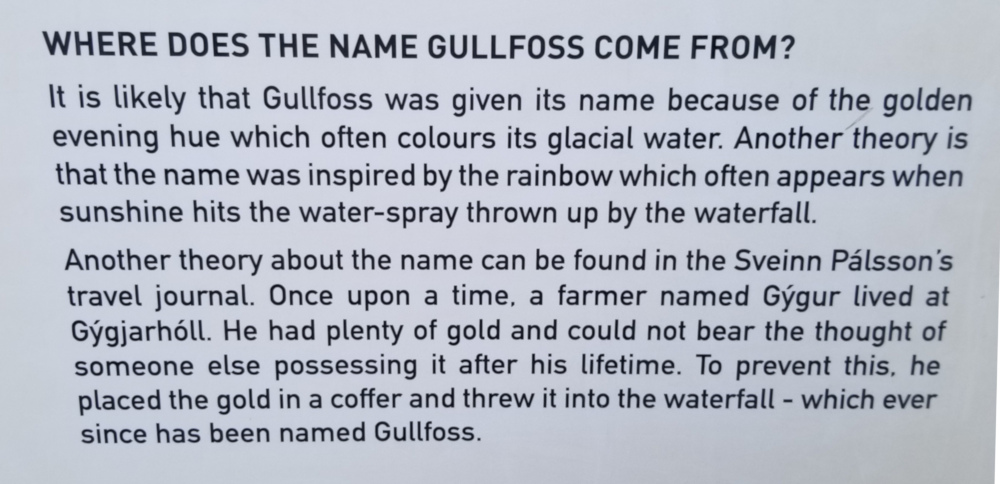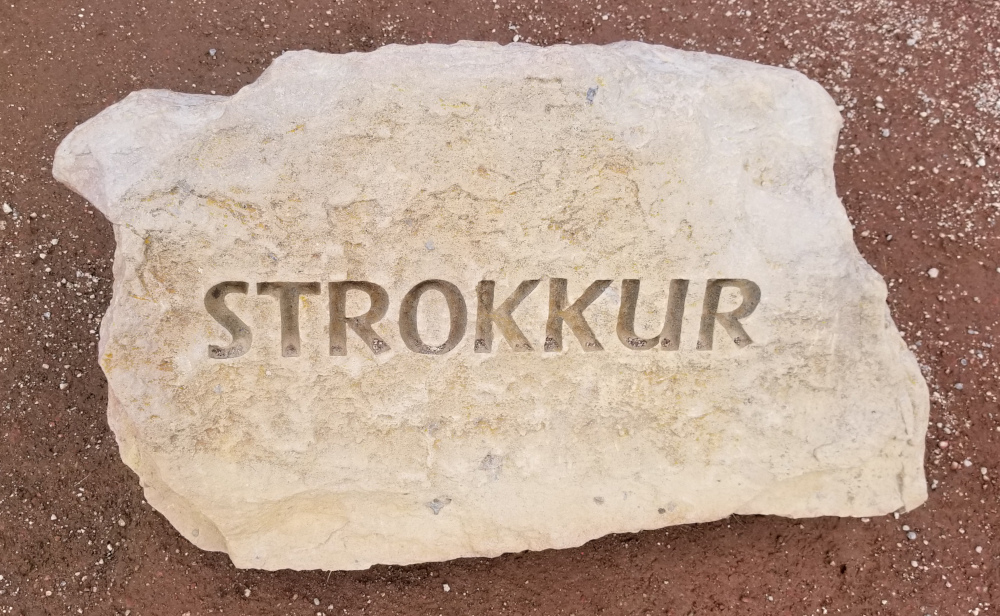 Seeing Strokkur was like seeing 'Old Faithful' at Yellowstone National Park in Wyoming.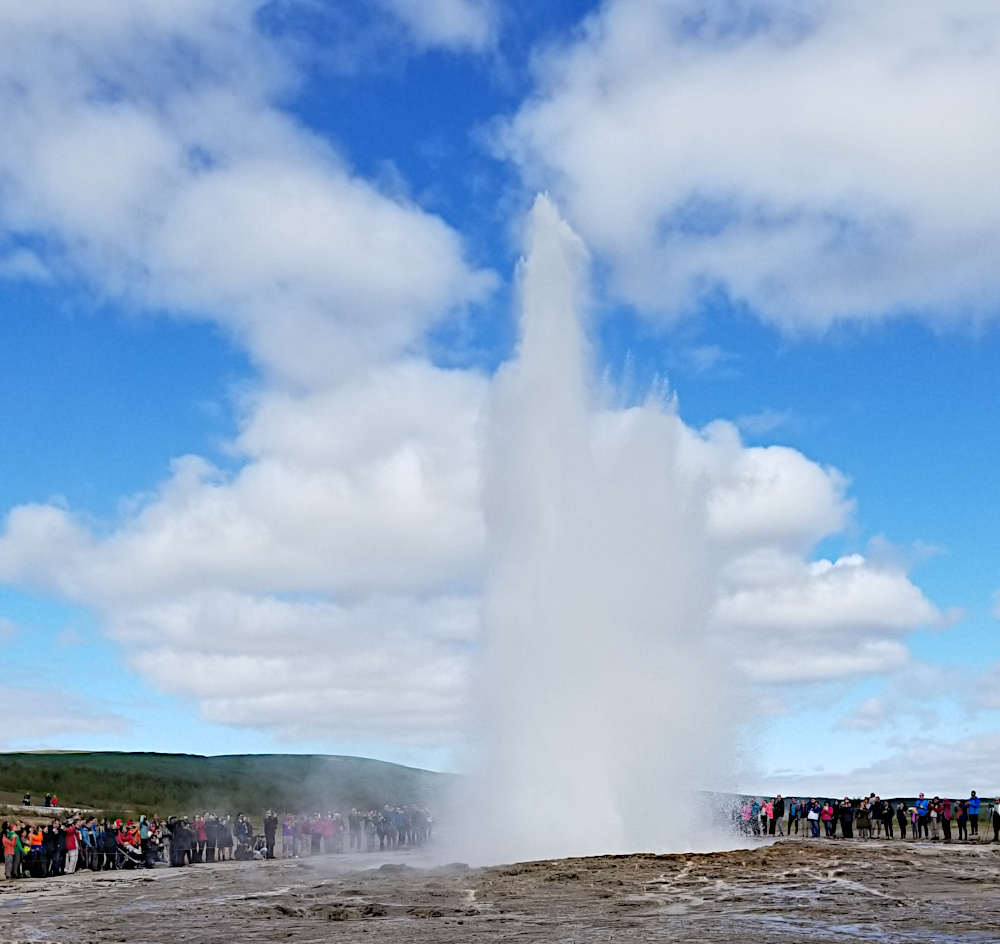 We then traveled through farmland and past a couple of distant glaciers.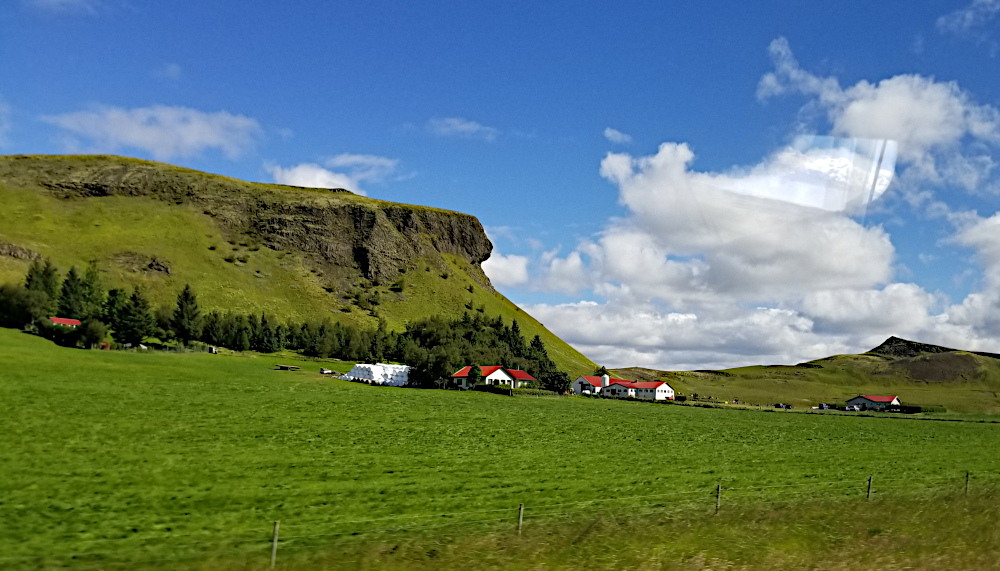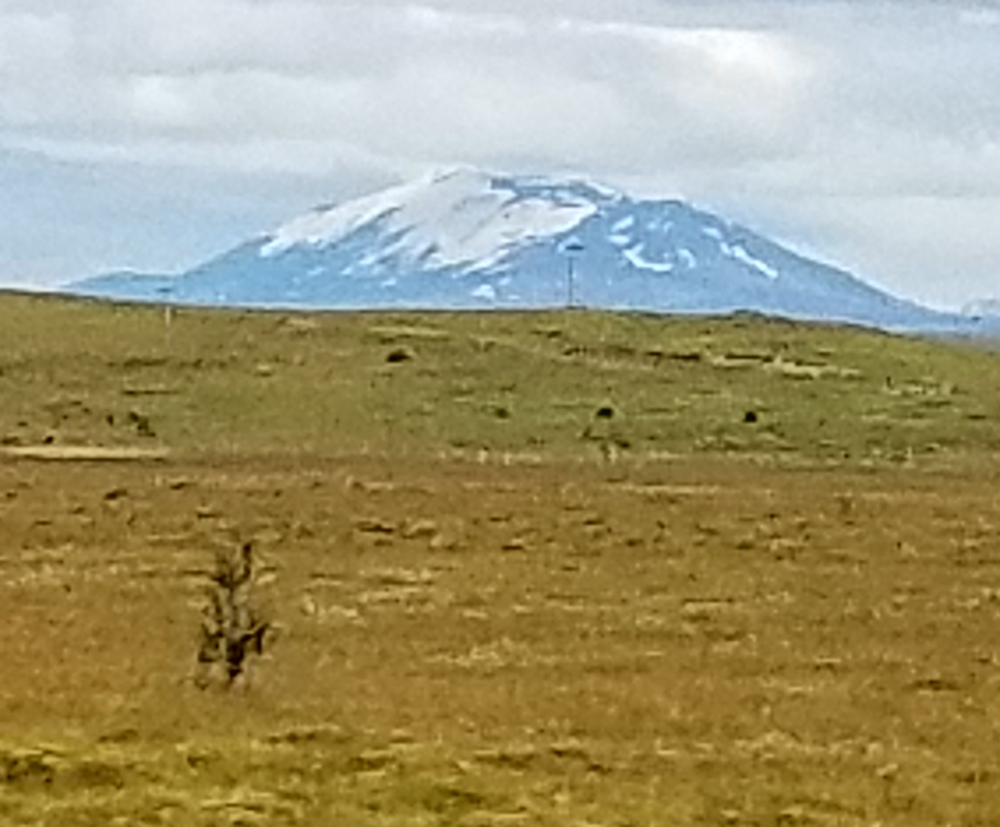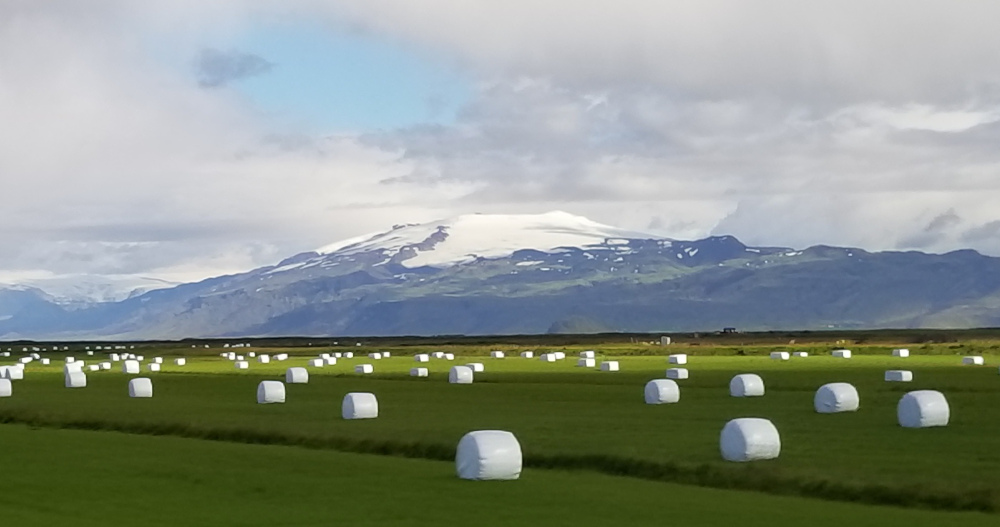 Our next stop was the Seljalandsfoss waterfall.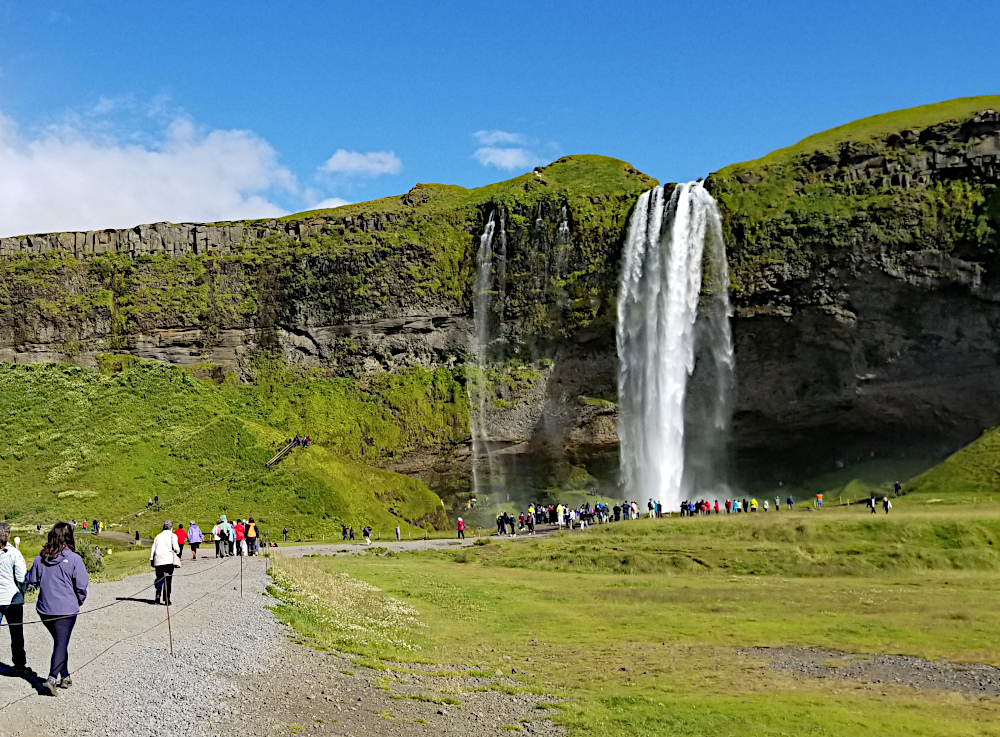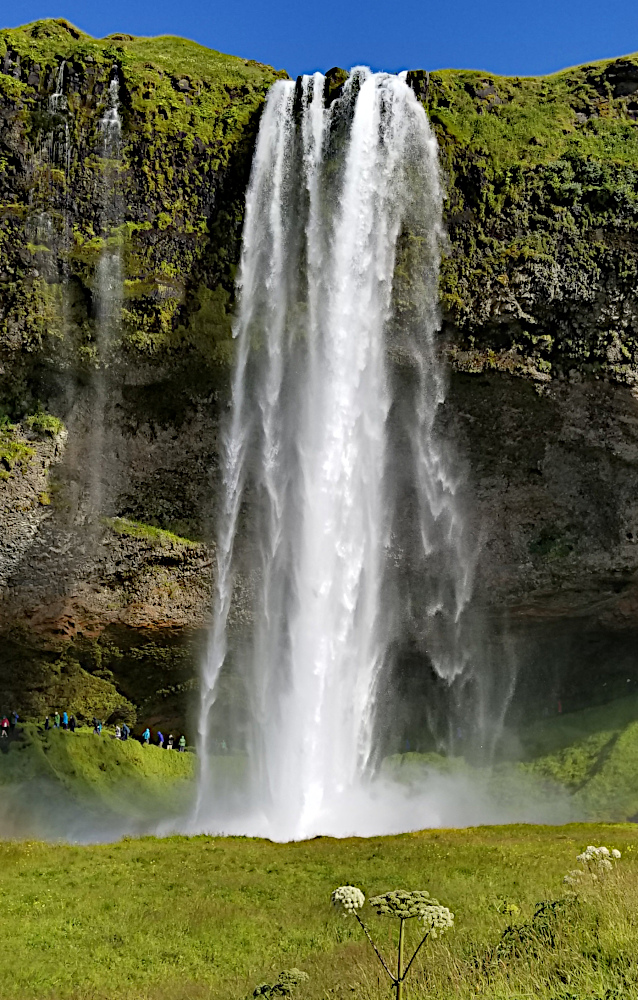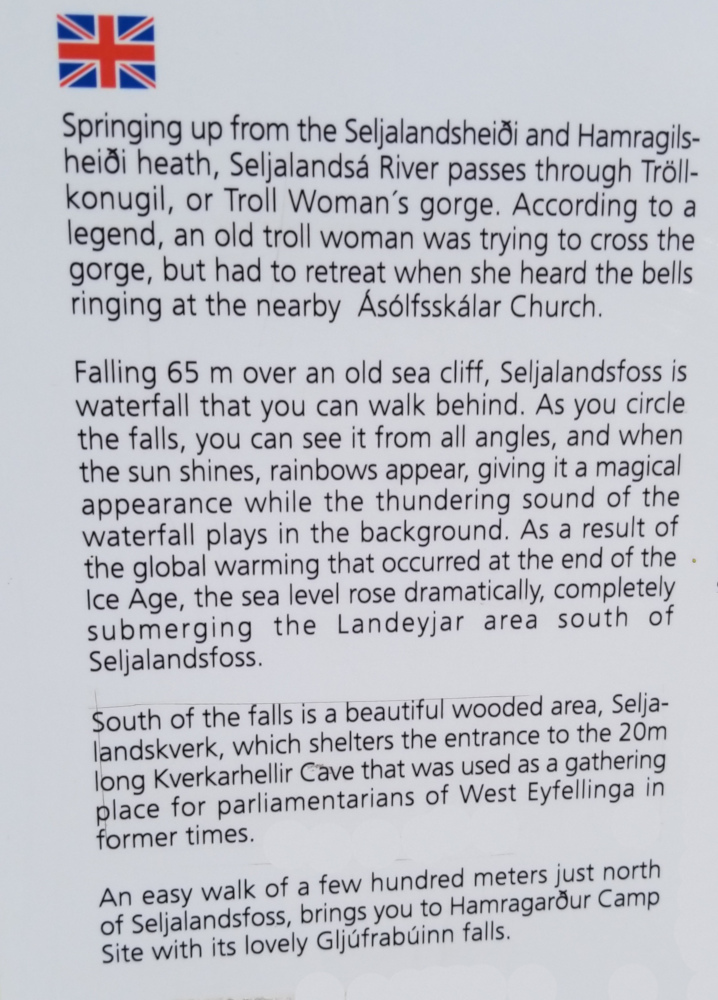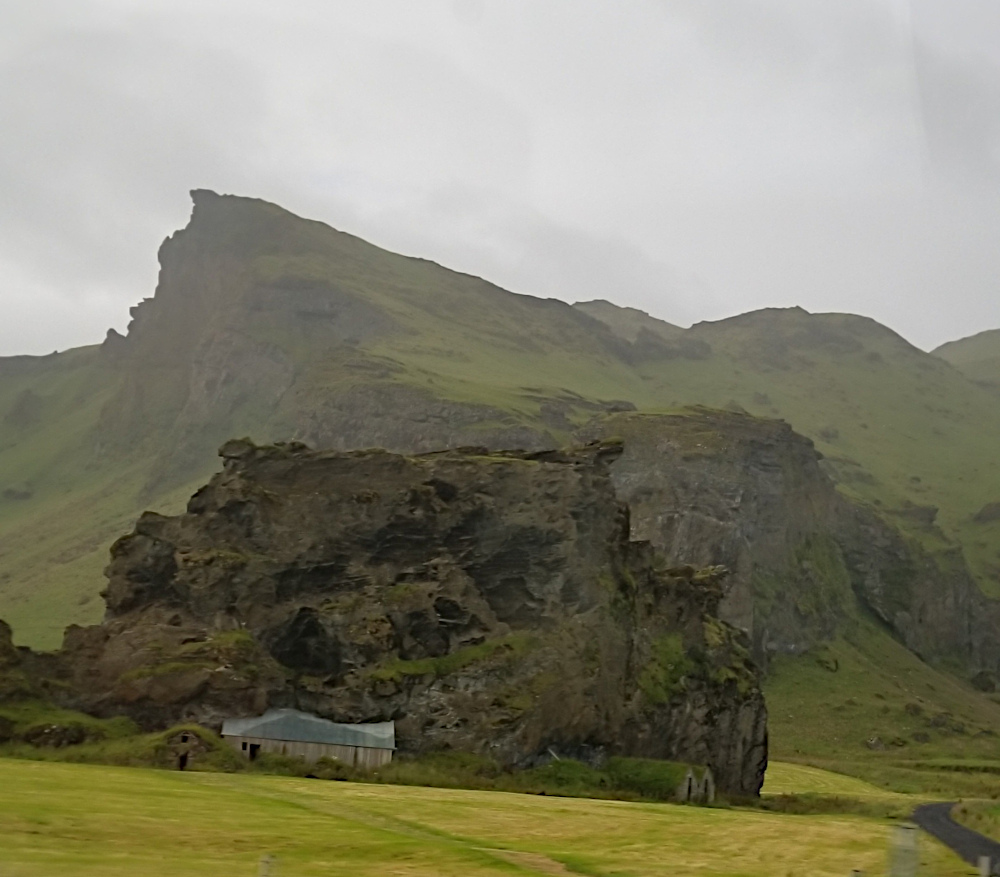 Gljufrabuinn Falls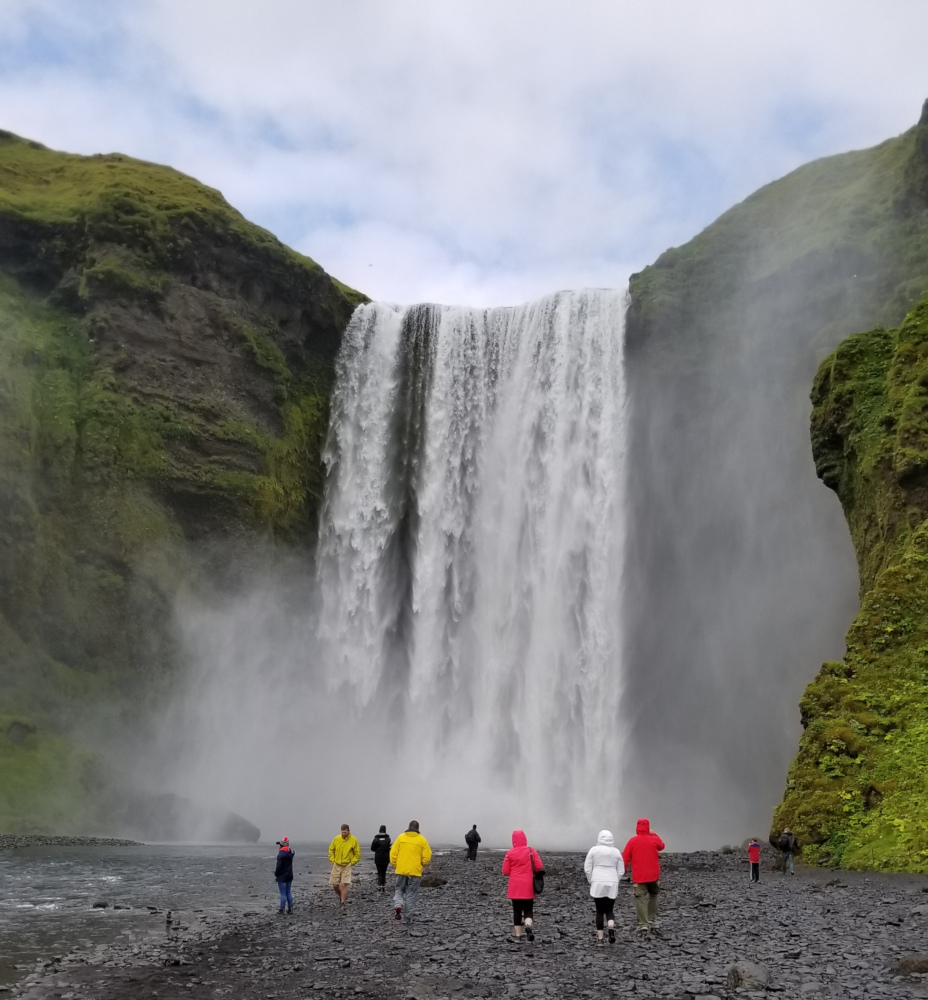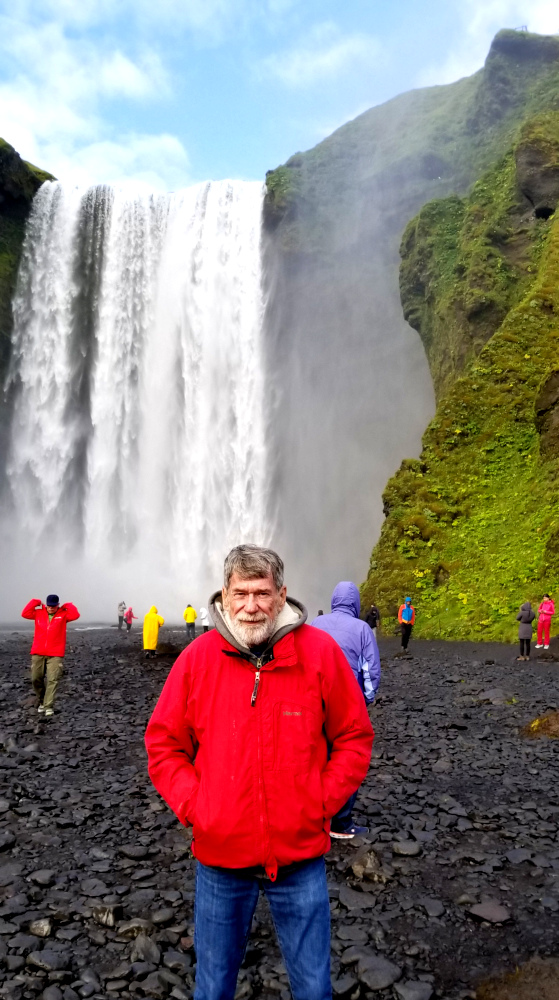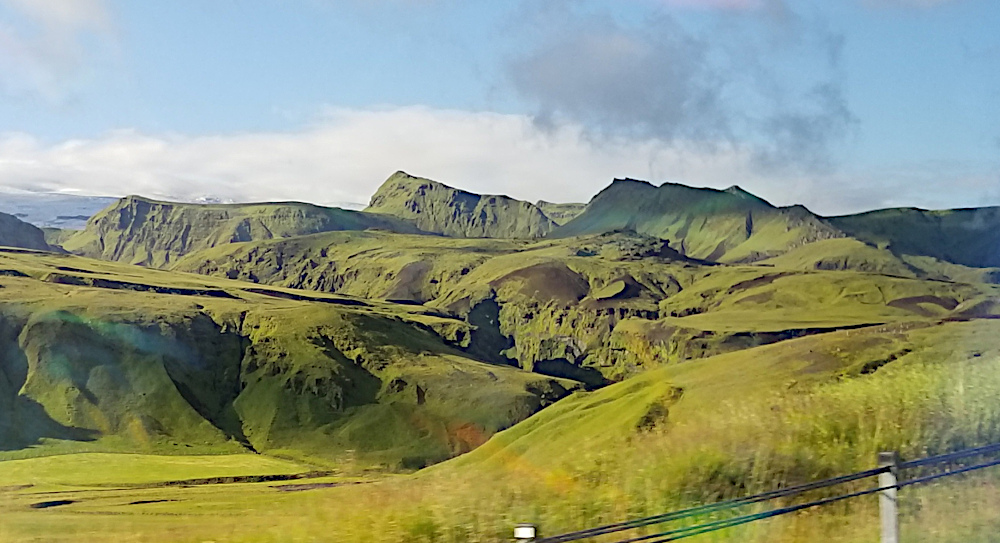 After traveling through rugged grass covered hills, we come to Black Beach.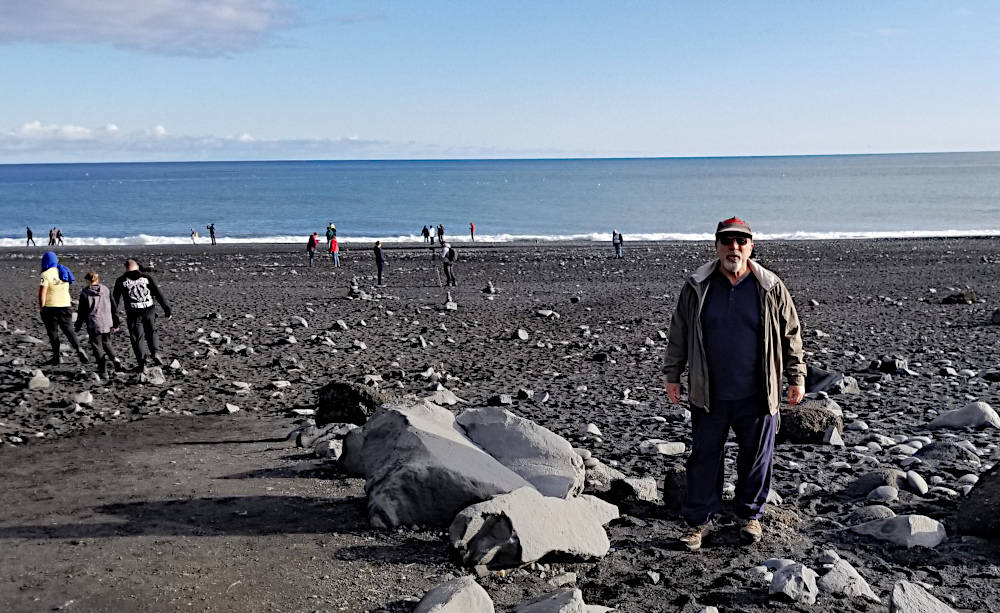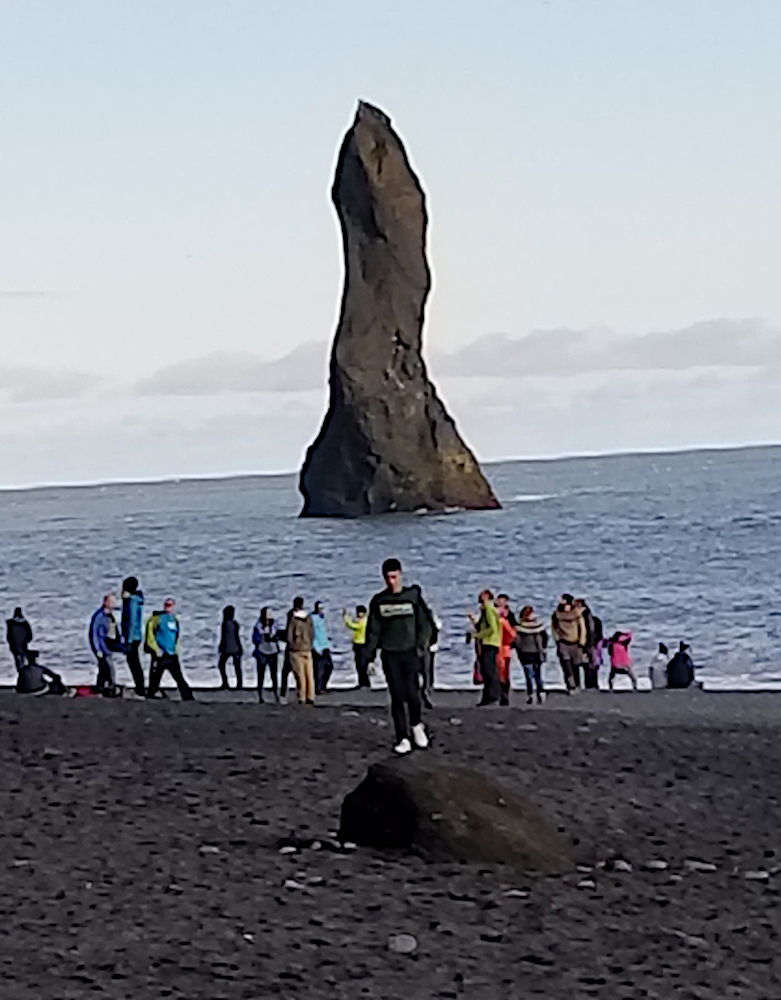 Here we find interesting rocks protruding out of the sea and formations like you see at Devil's Postpile in the Sierras of California.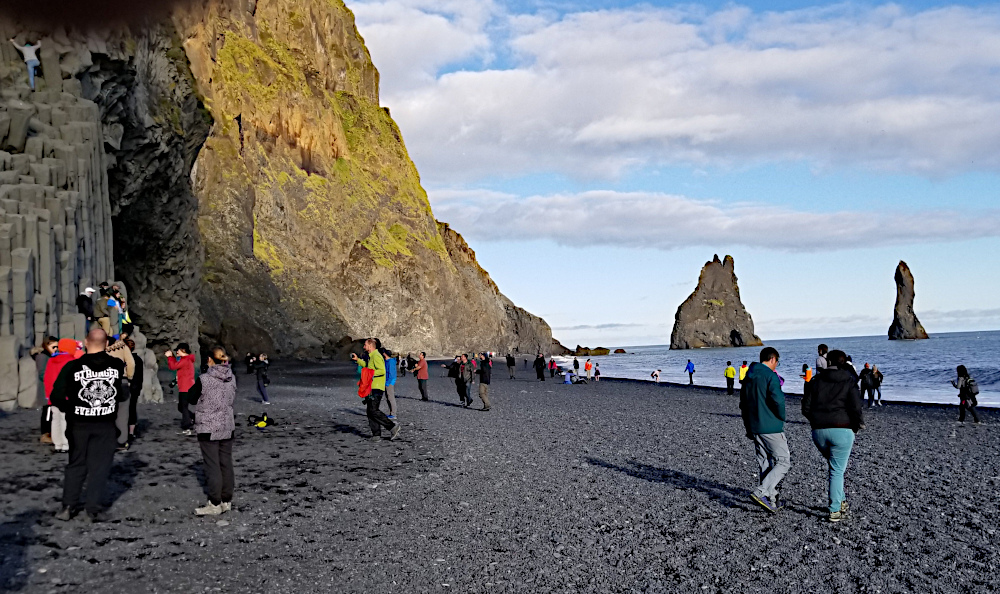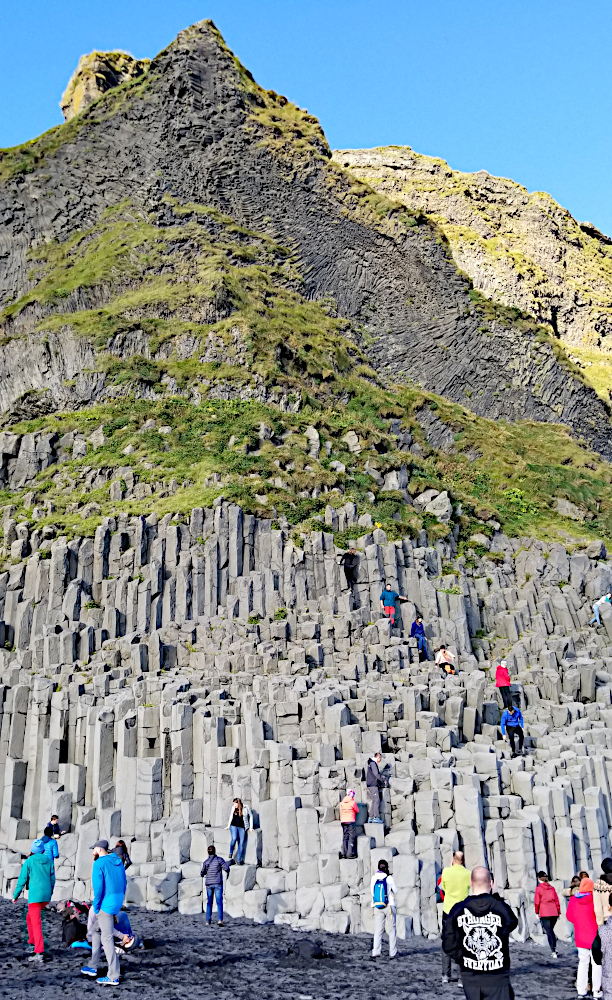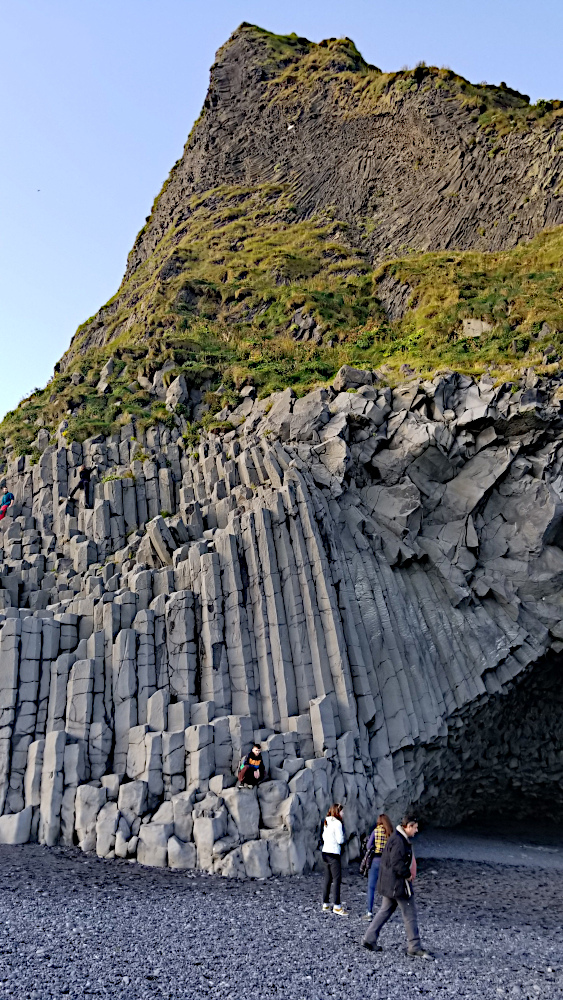 Louis and Larry are having a great time on the trip! Here we're in an area of volcanic rock that's covered in moss.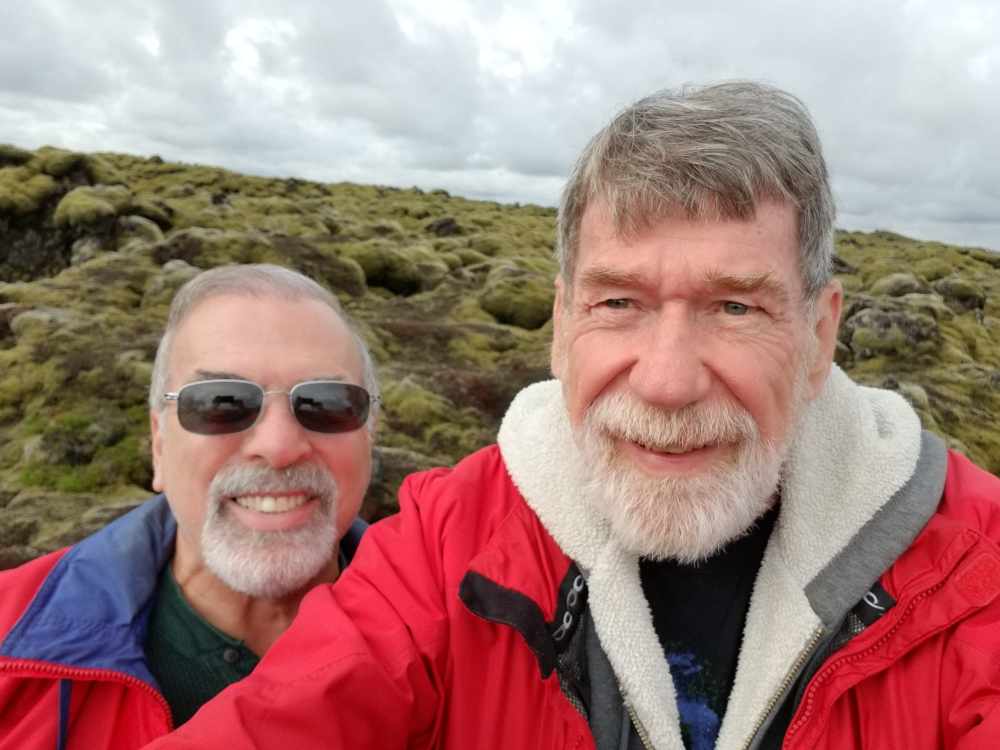 The man in the red t-shirt is our bus driver/tour guide.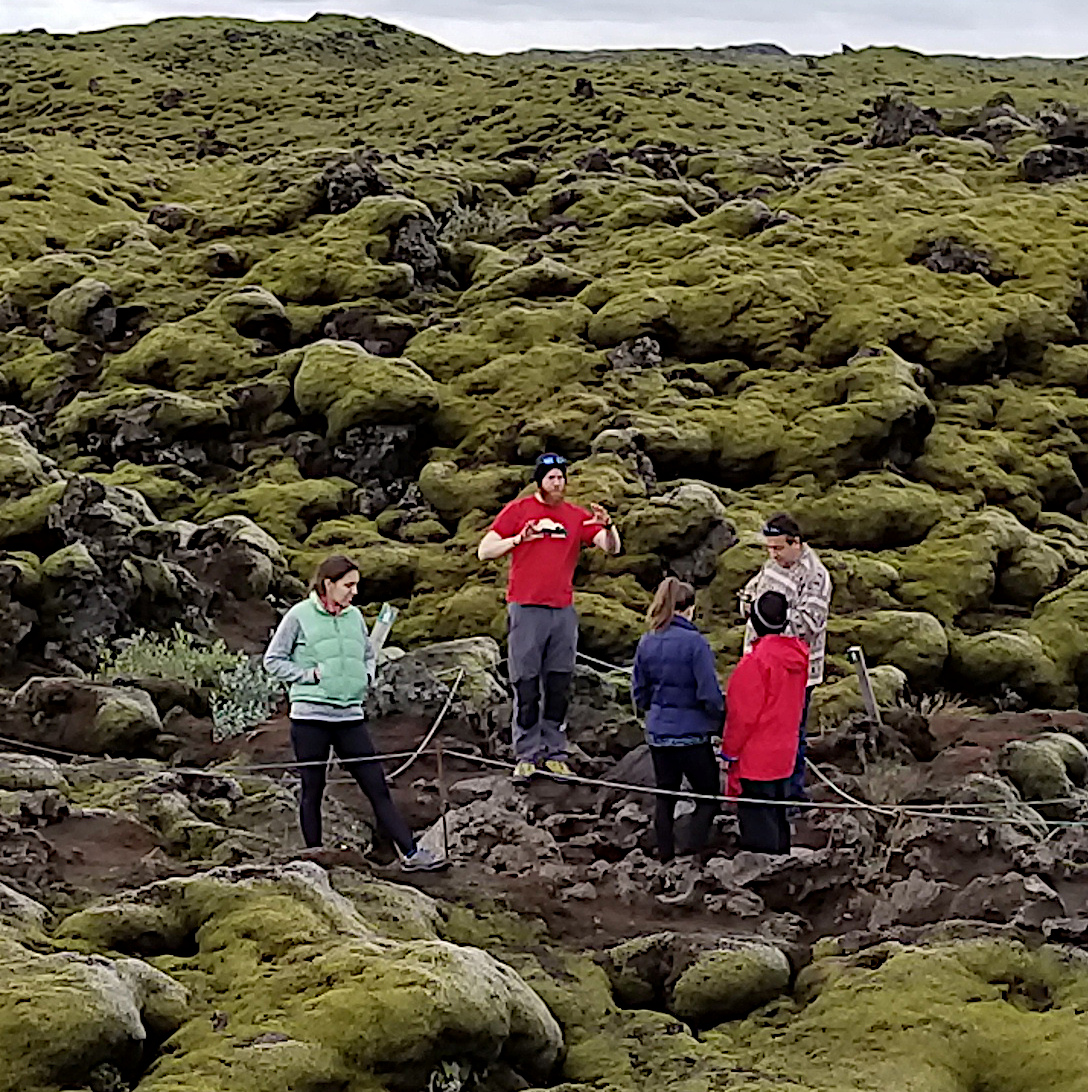 Next we pass another waterfall, but we don't stop. The glacier is waiting! We have a scheduled tour to meet.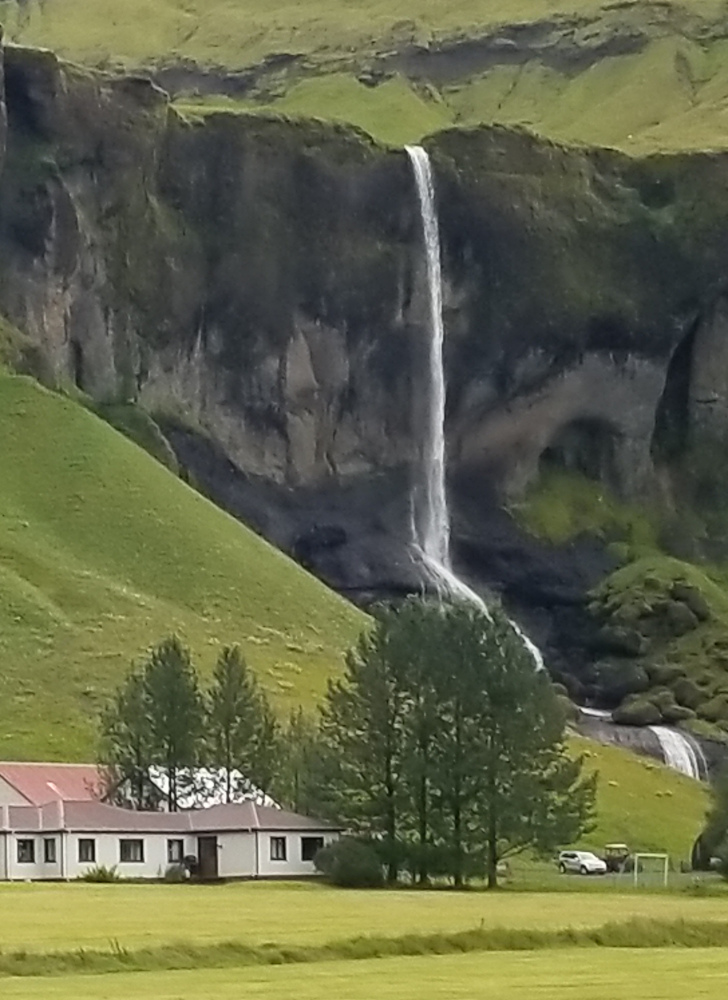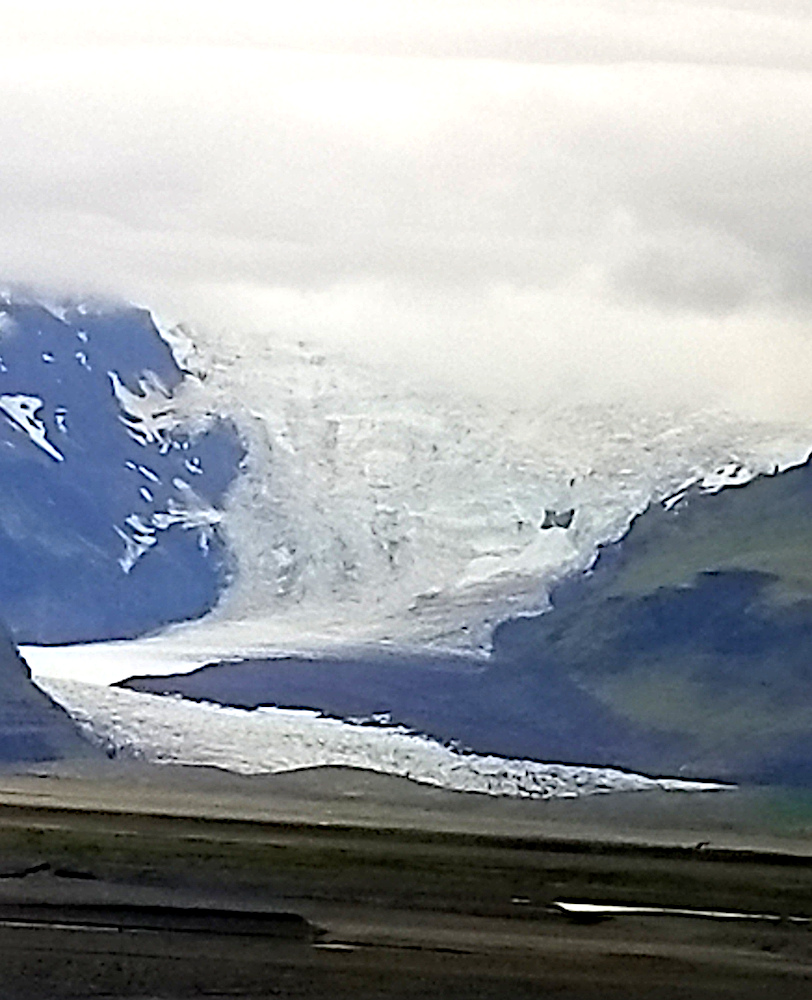 We spent several hours climbing the glacier using our ice picks for support.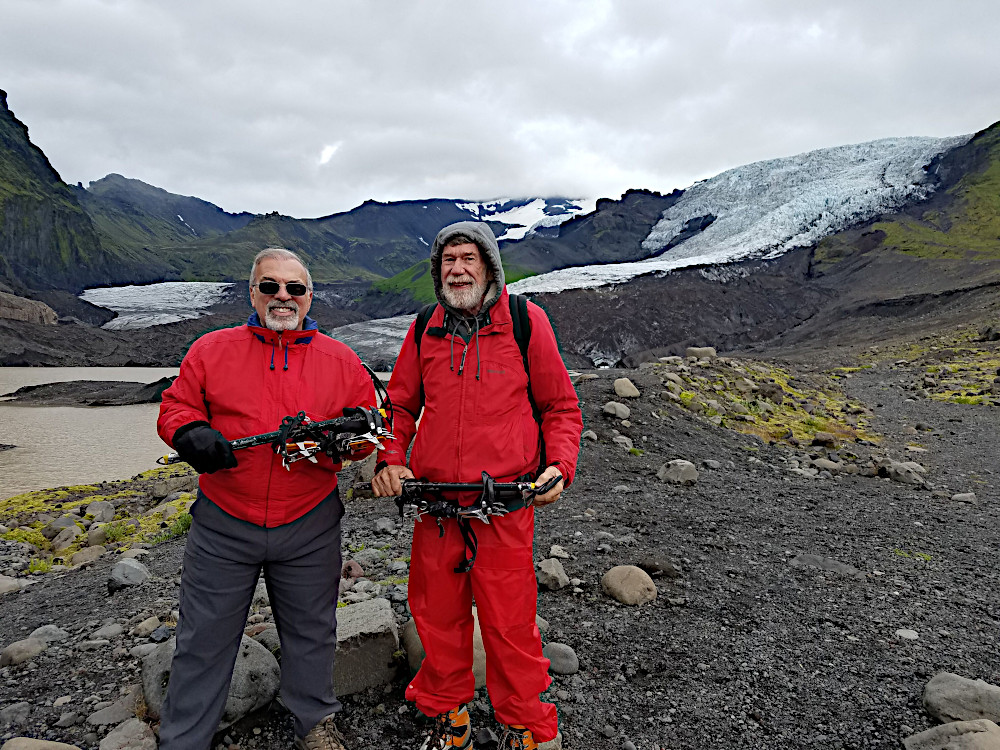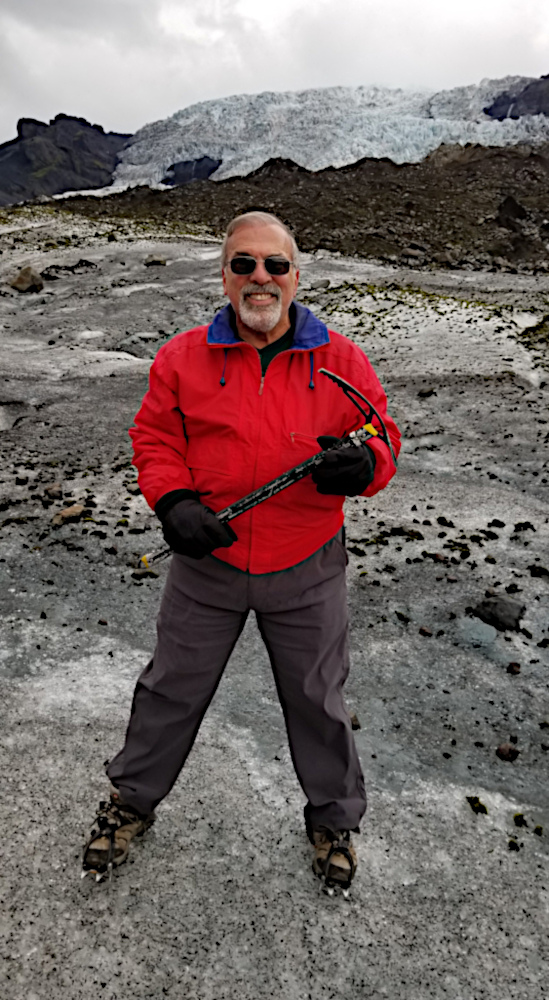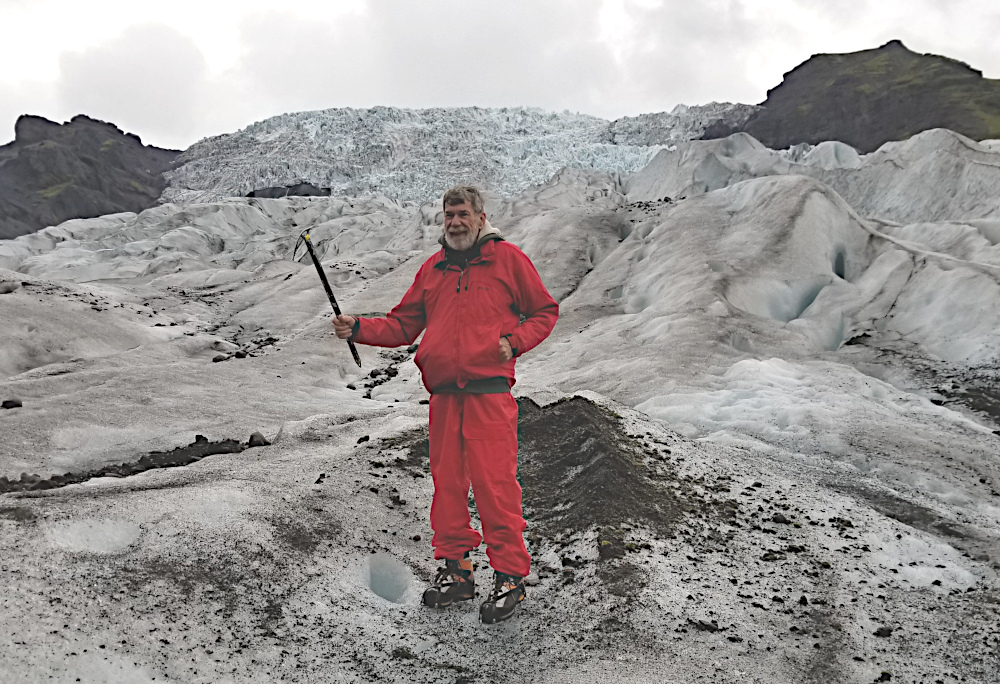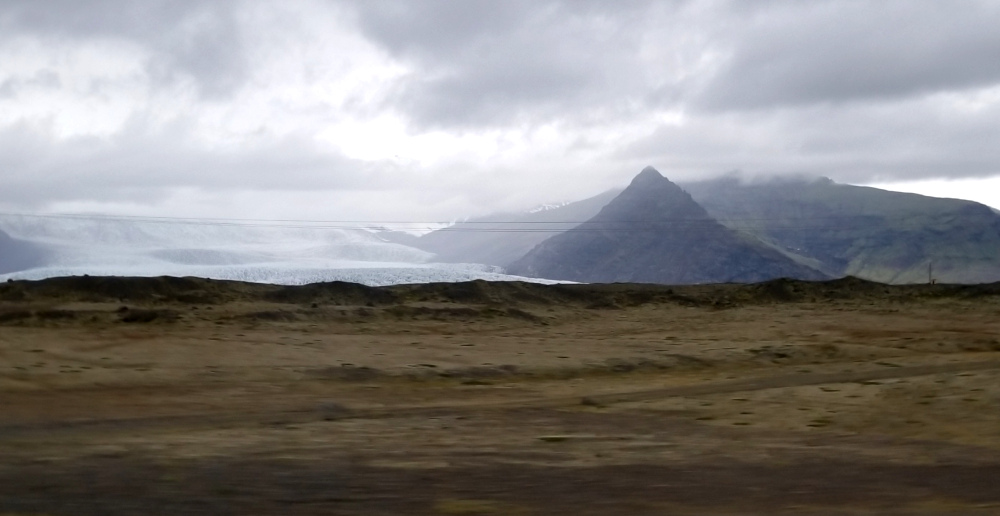 Our next stop was at the ice flows coming from the glacier and going out to sea.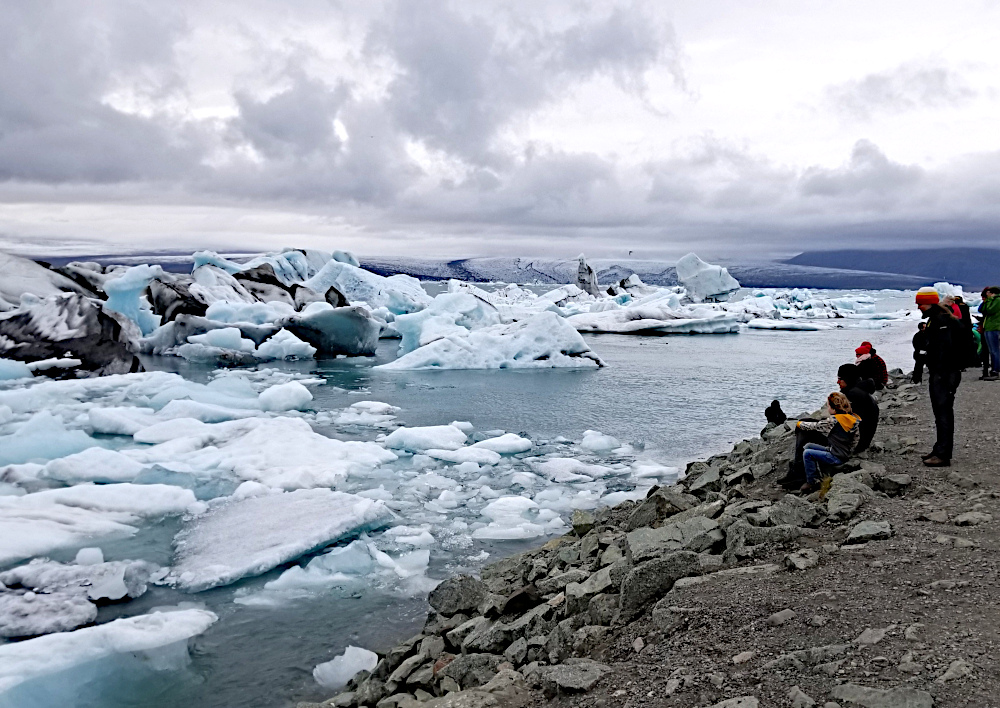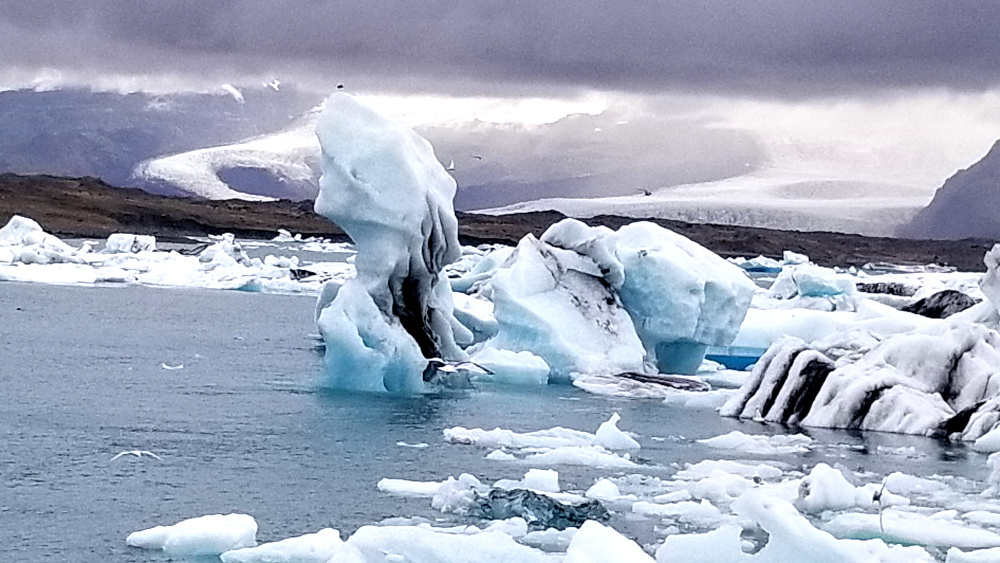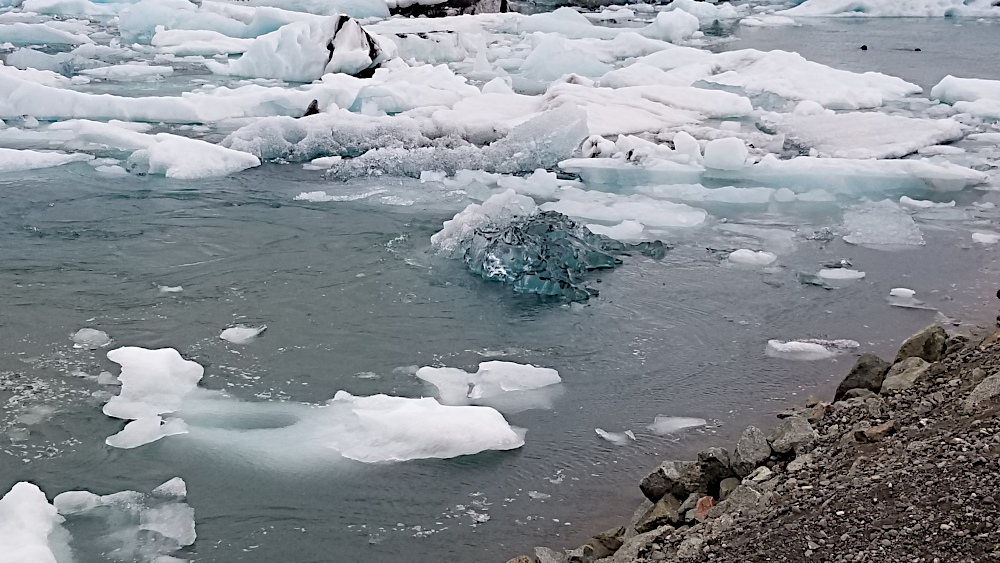 This is the bus we're traveling in for the six day tour. It was quite comfortable.
We spend the night here at a private home.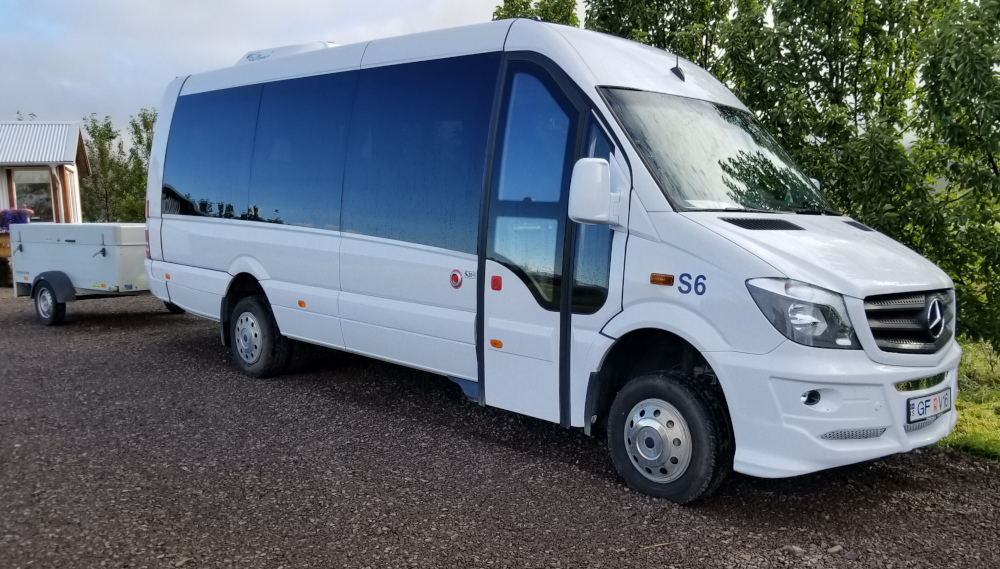 A view from the bus of morning fog over the ocean.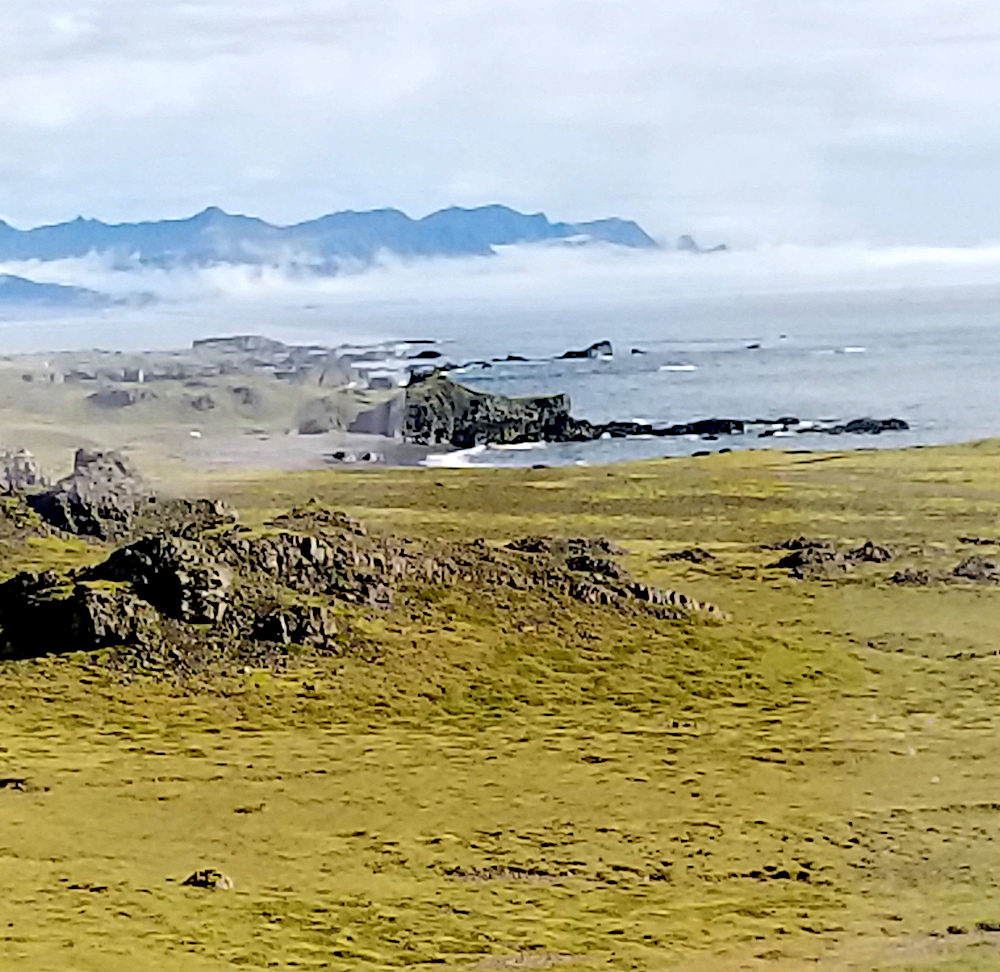 We stop next at a small port town where we find rocks that look like large eggs lining the roadway.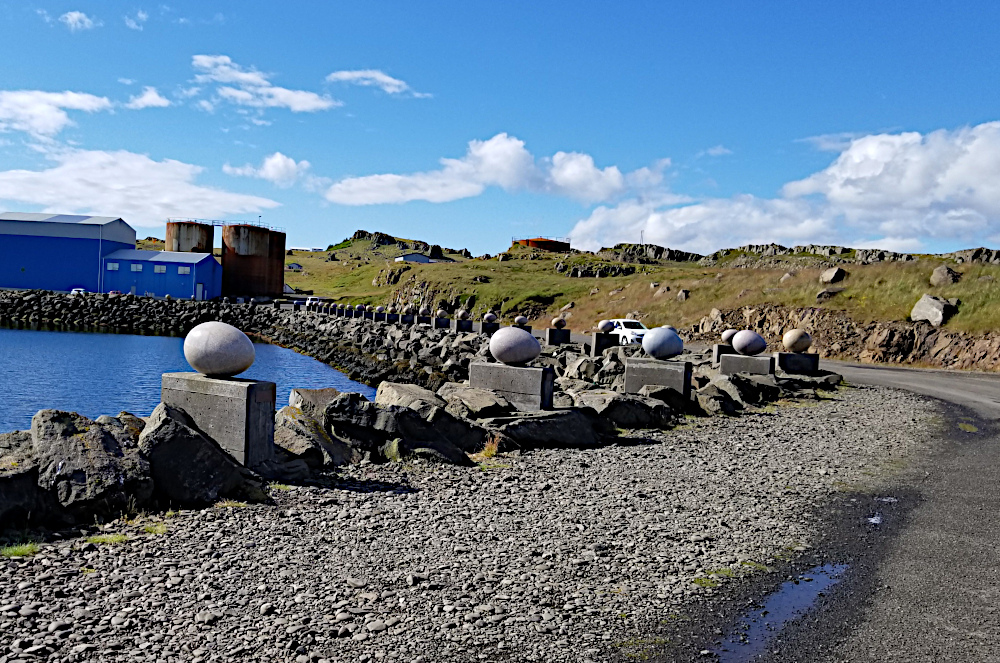 Our guide finds a good place to rest.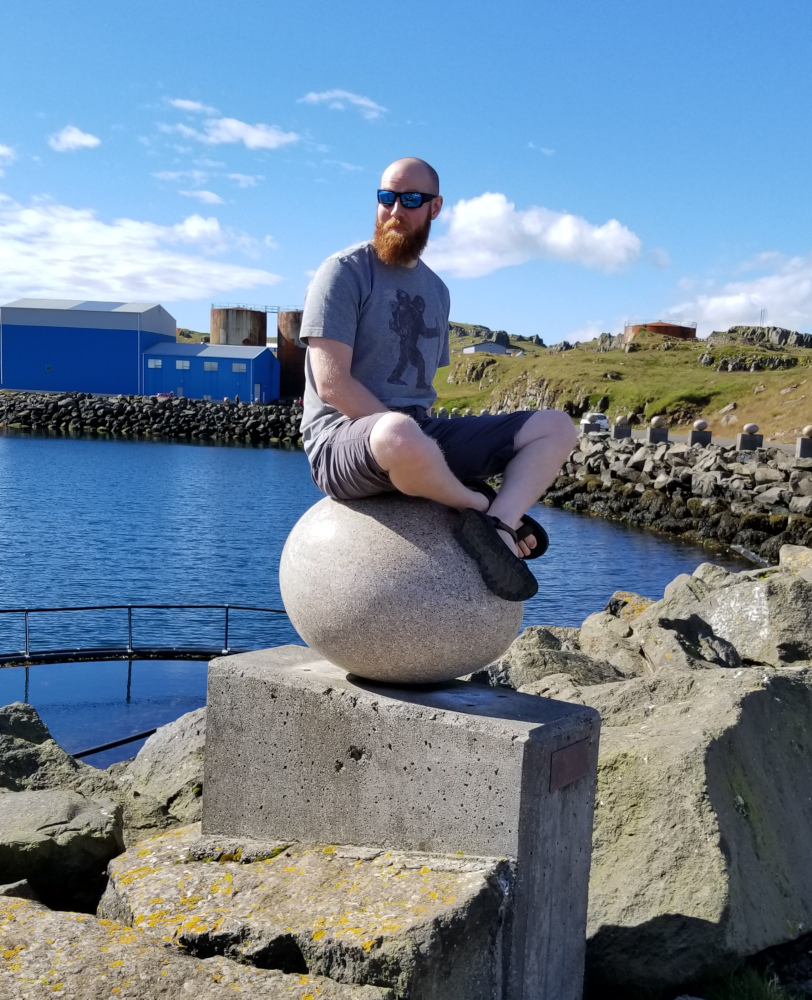 Larry checks out the beautiful harbor.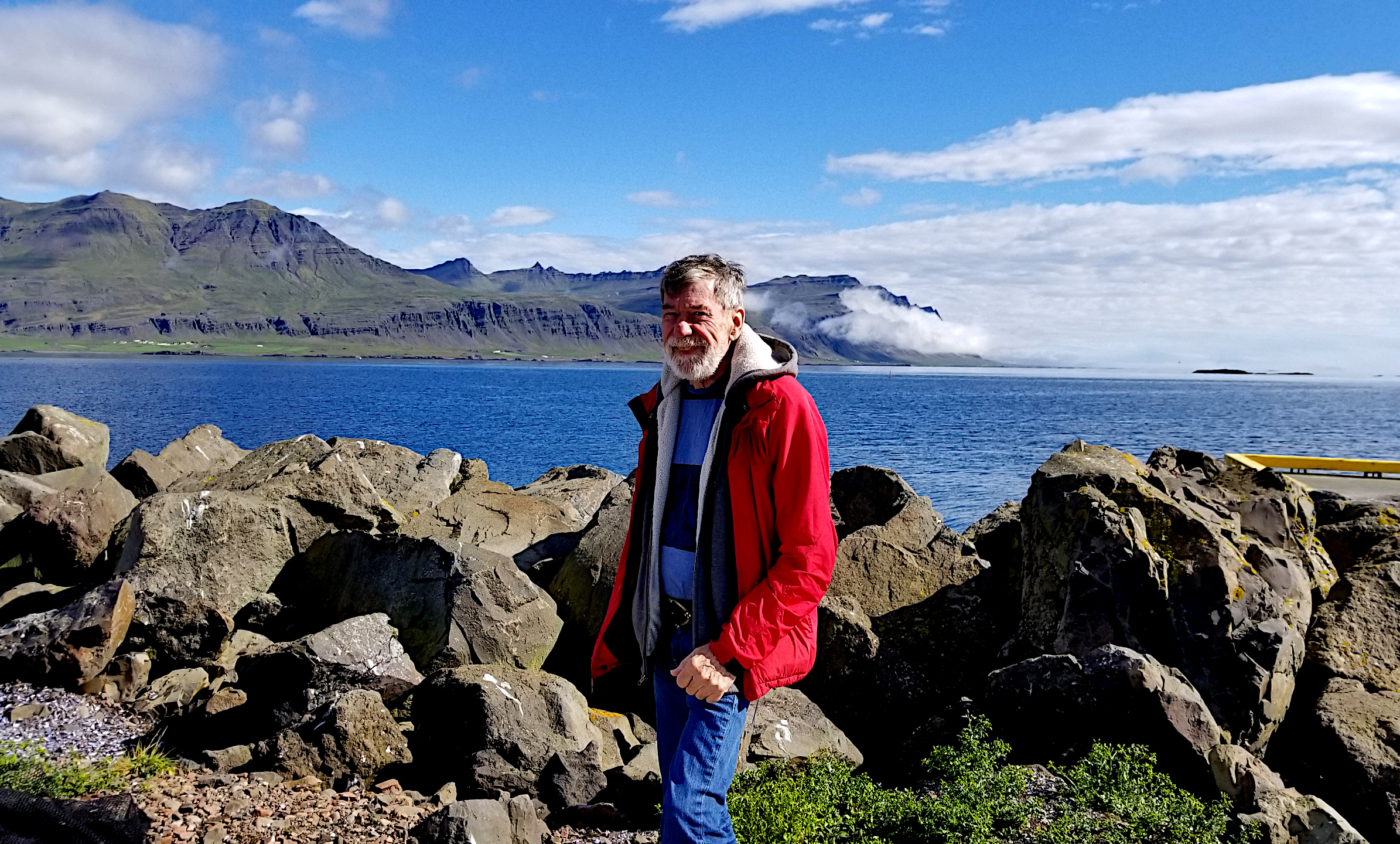 Hengifoss Waterfall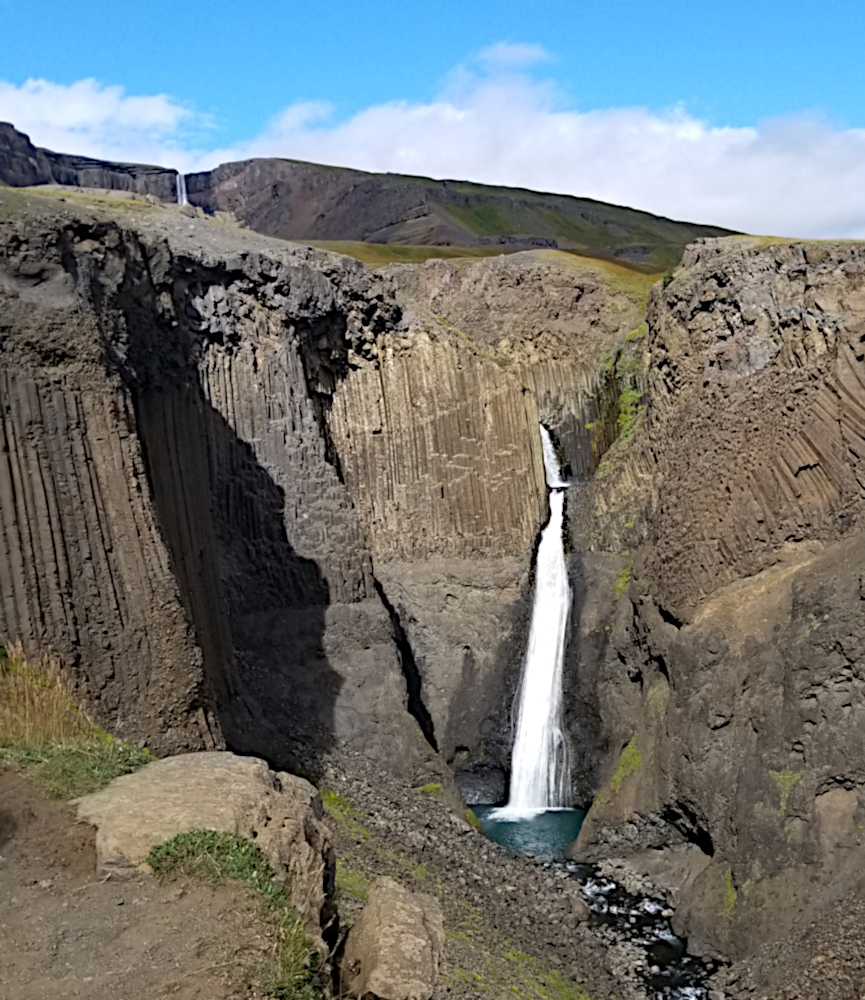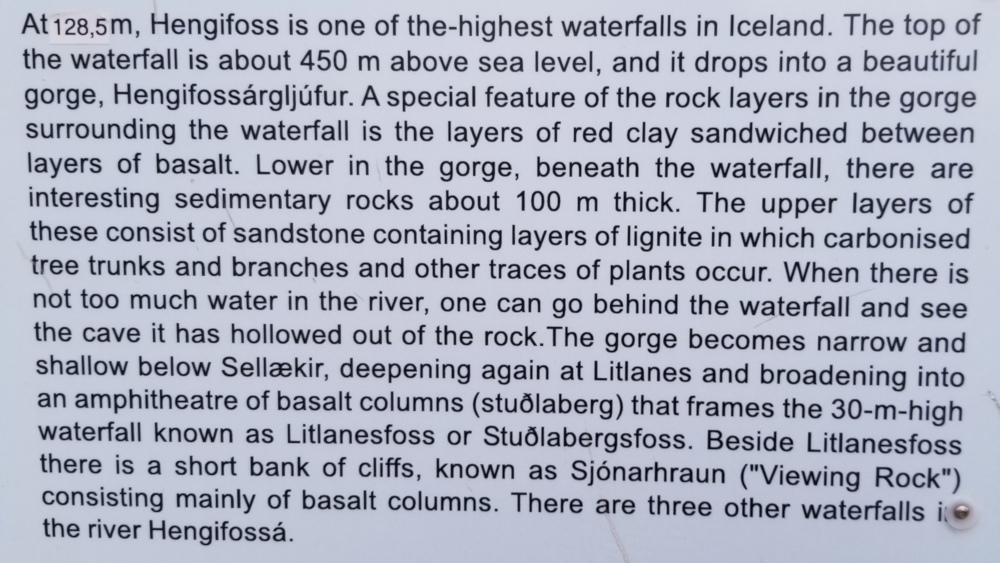 We travel next on a long drive out into the country on a dirt road that winds through the mountains.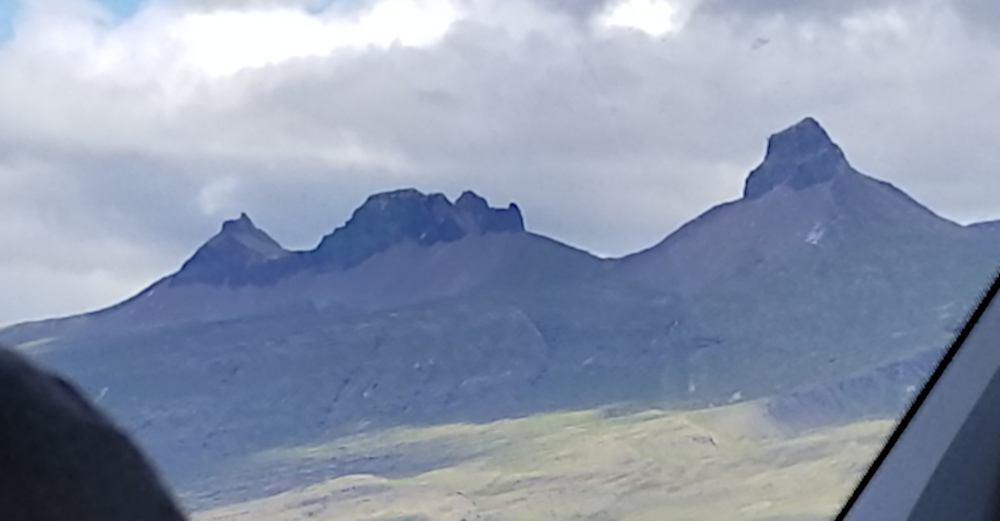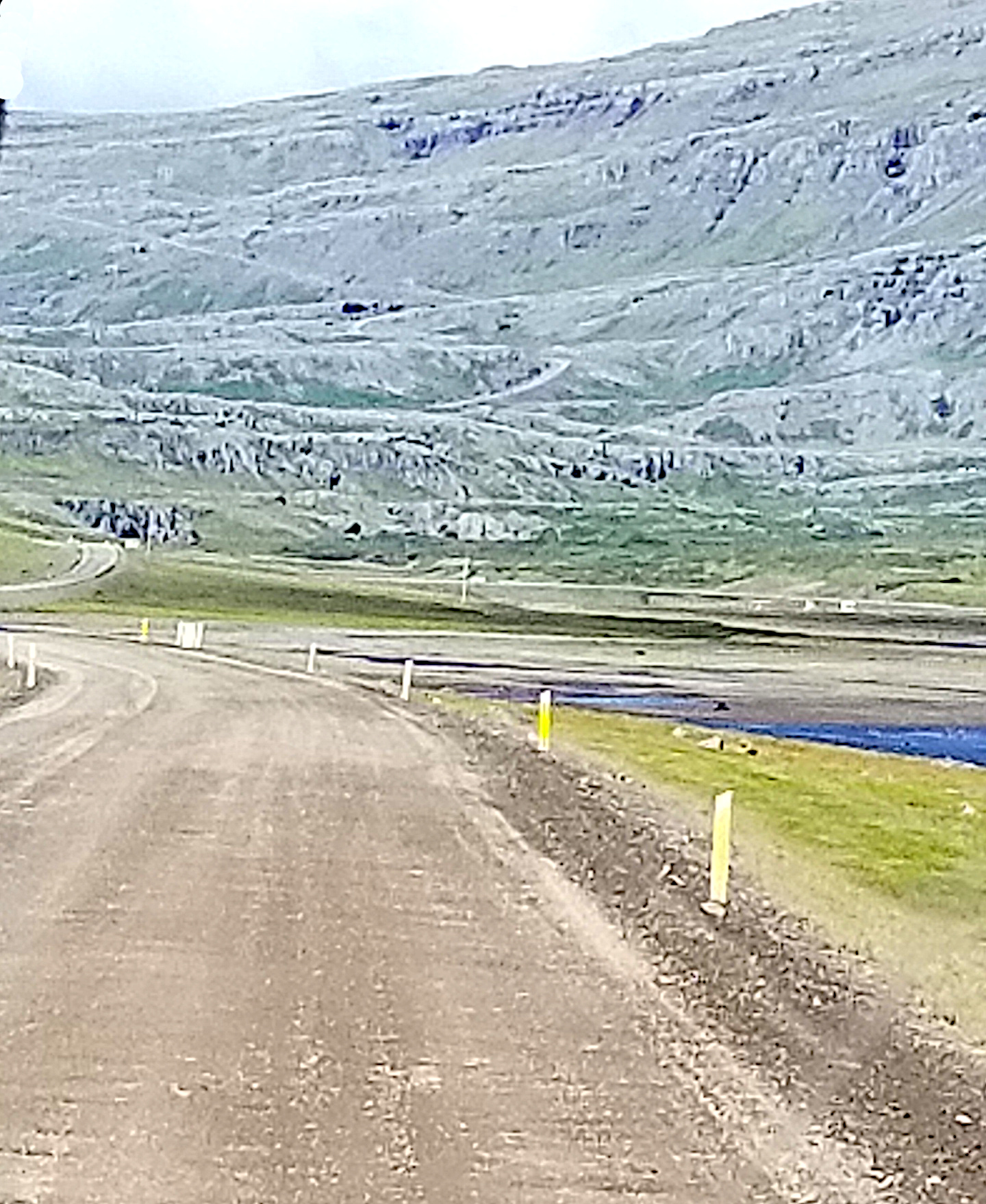 After the long drive. we stop at a park for a break.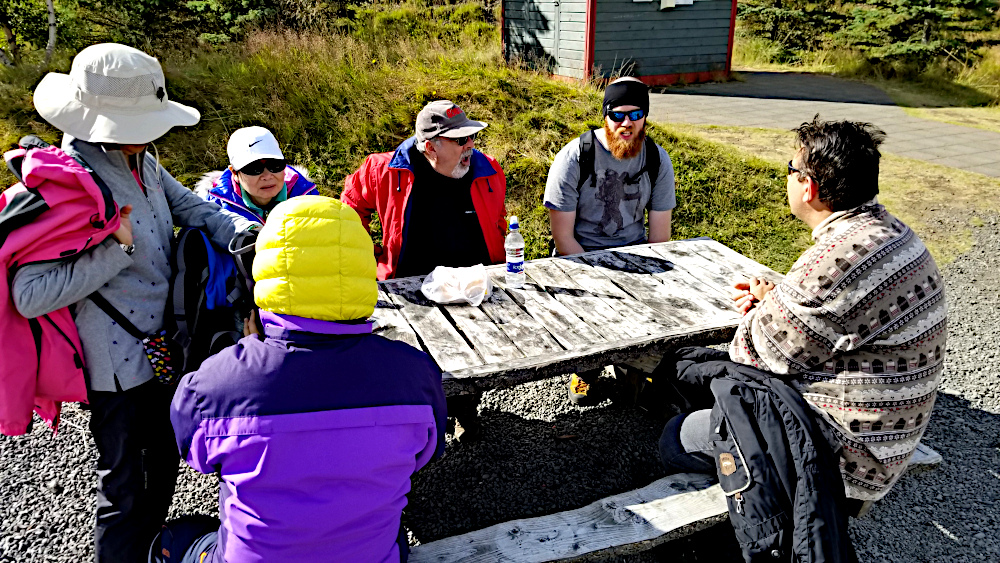 This is information about the area we're about to visit next.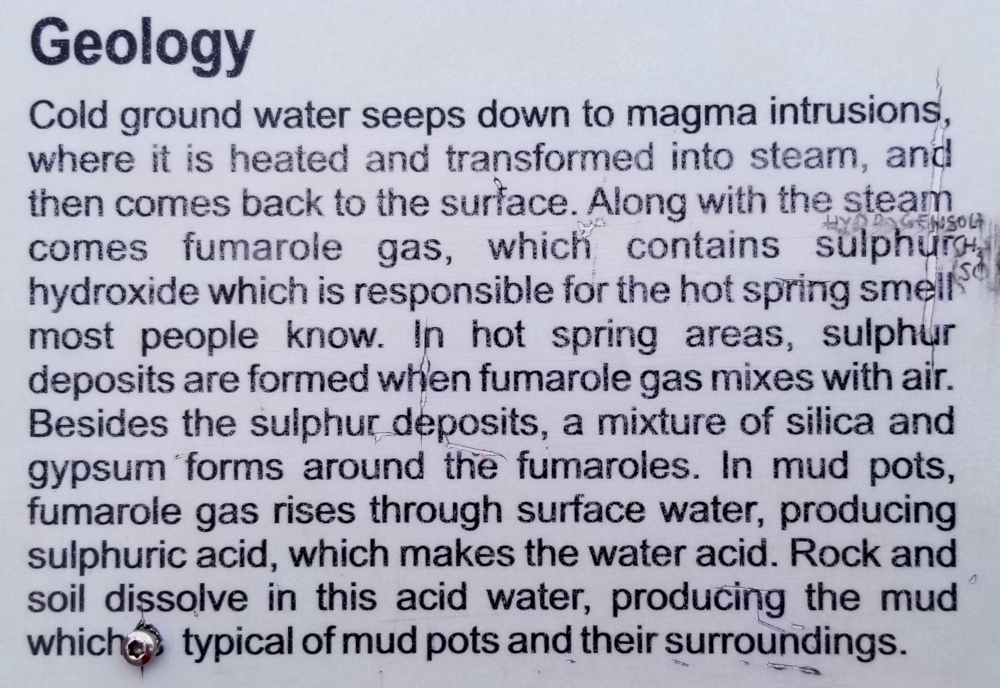 Our next stop is a visit to the Sulfer Springs of Myvatn.
Yes, it smelled like rotten eggs!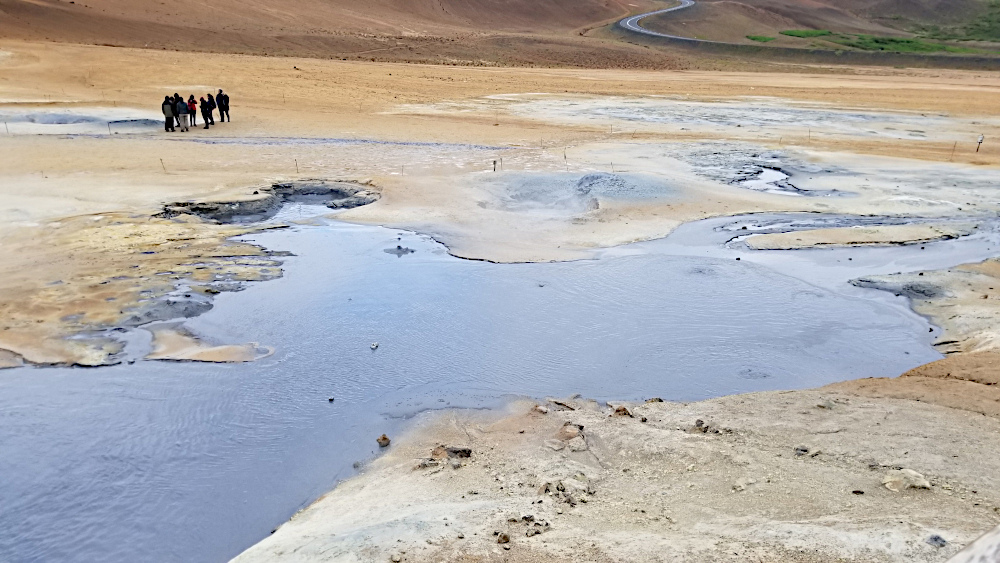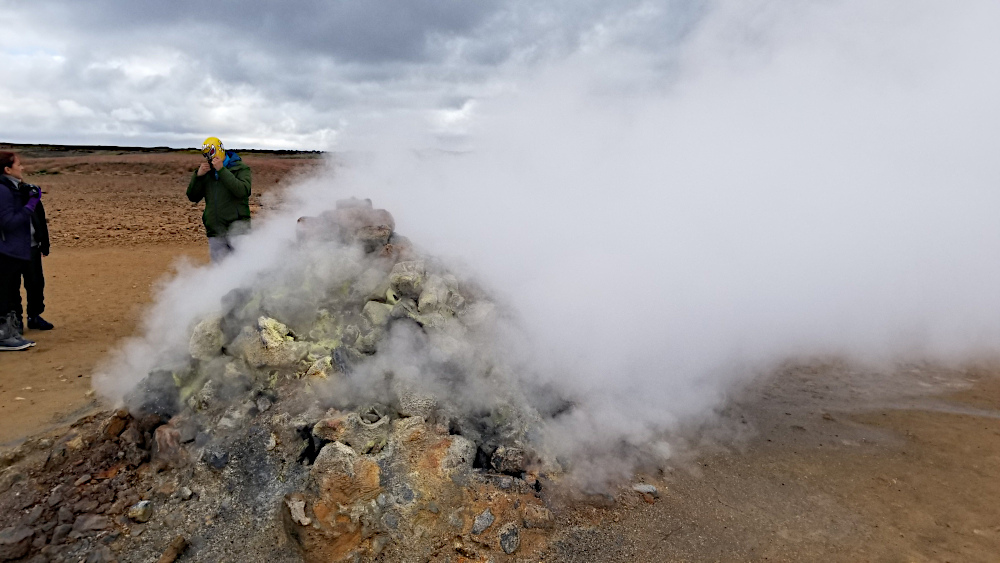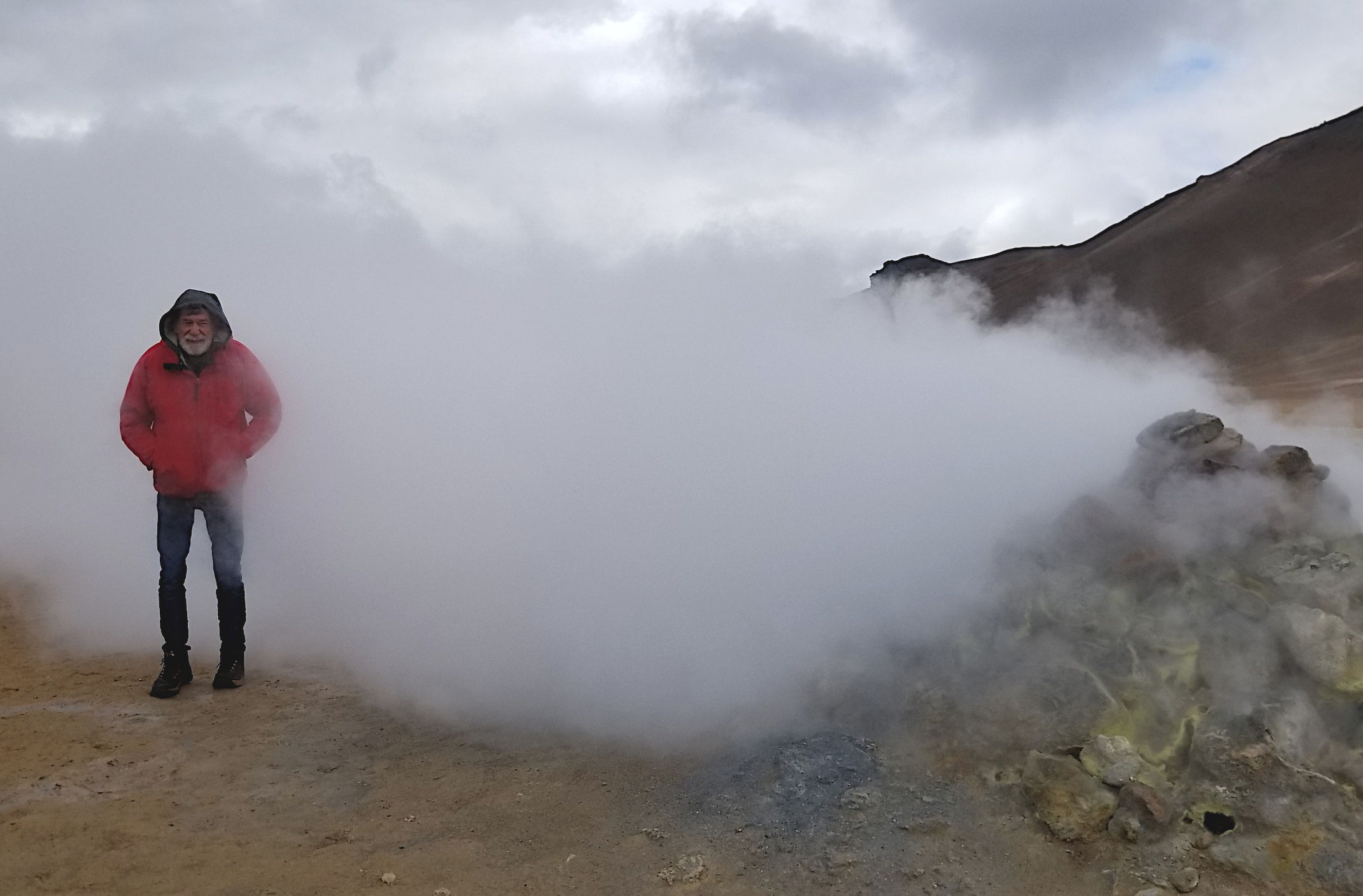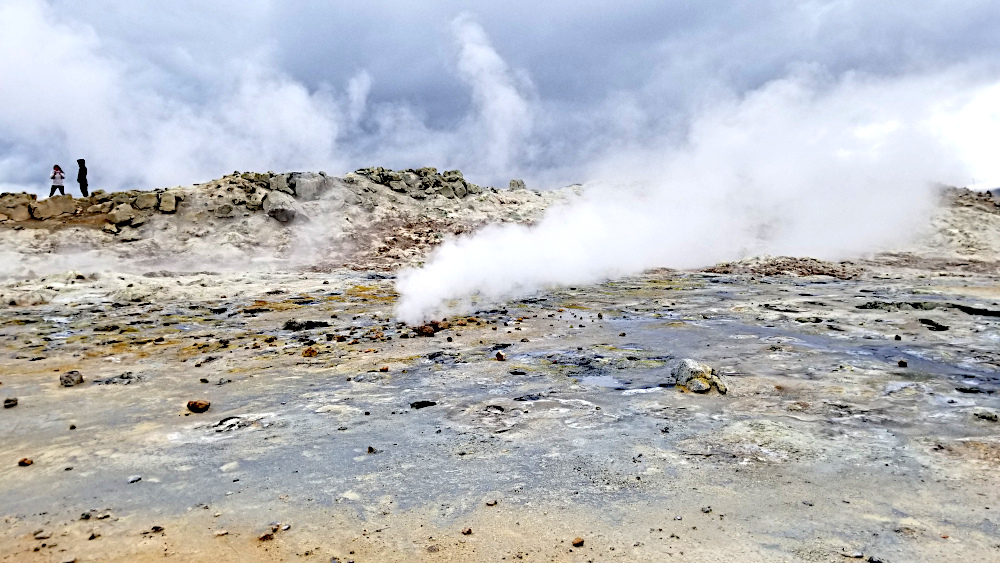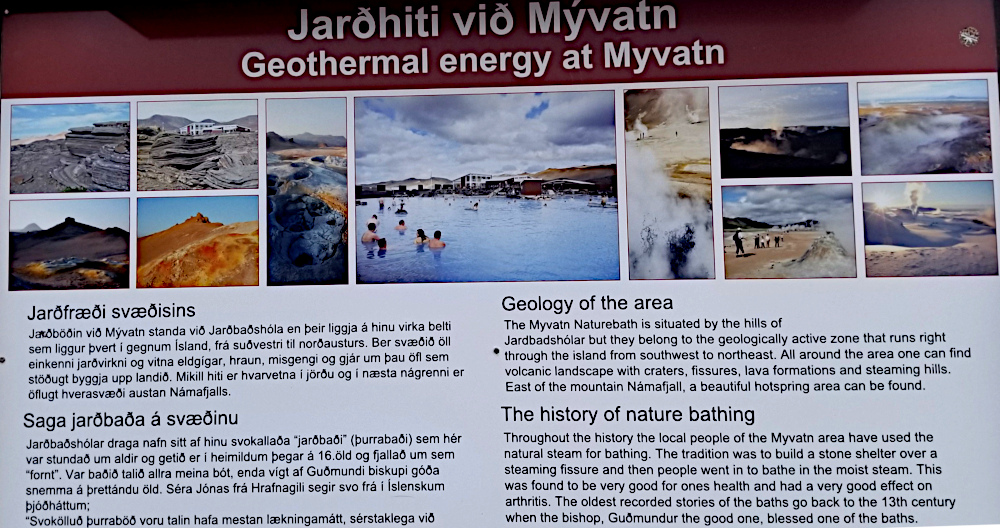 We take a nice relaxing swim in a hot thermal pool. The temperature was close to 100 degrees F.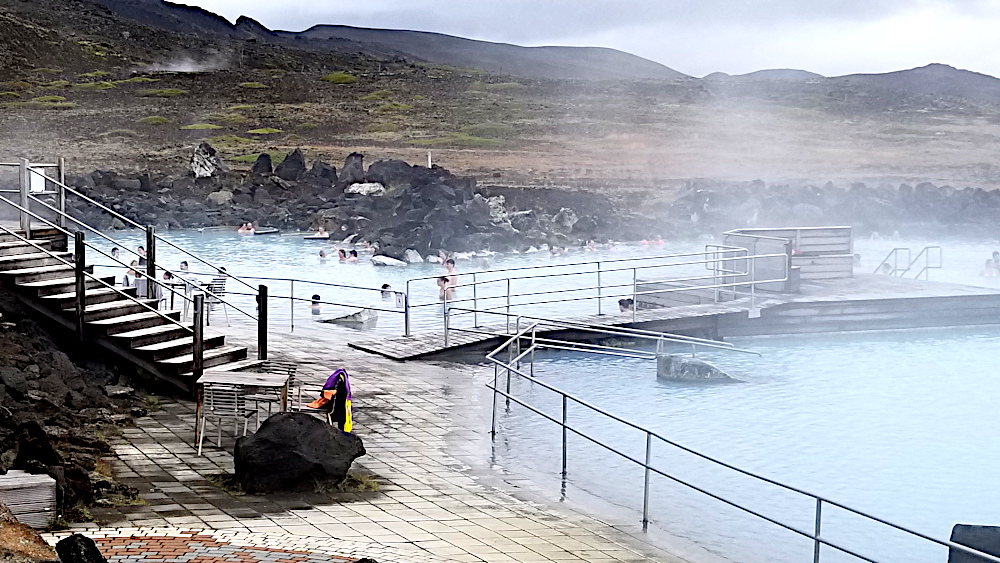 We drive and then take a walk through the interesting Dimmuborgir region.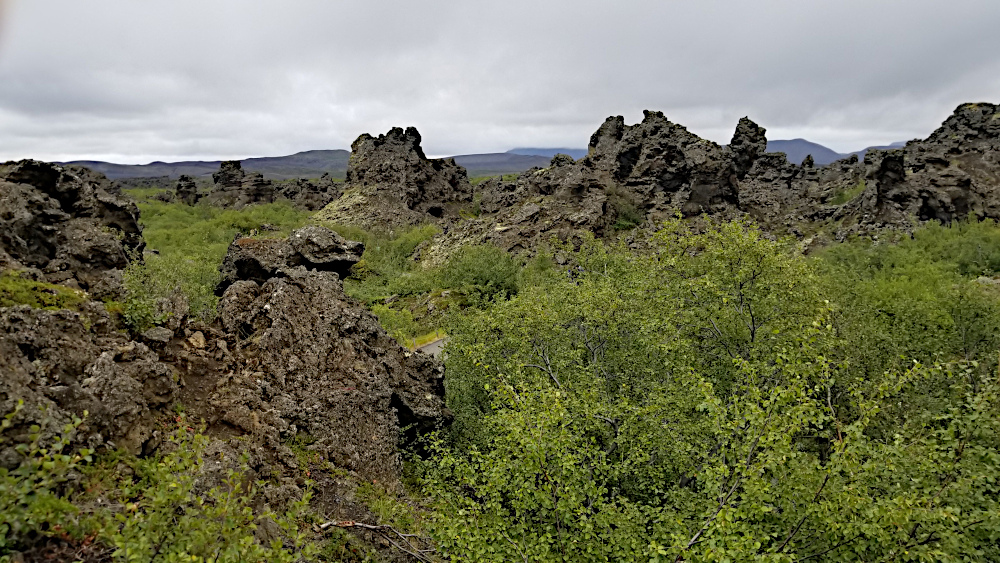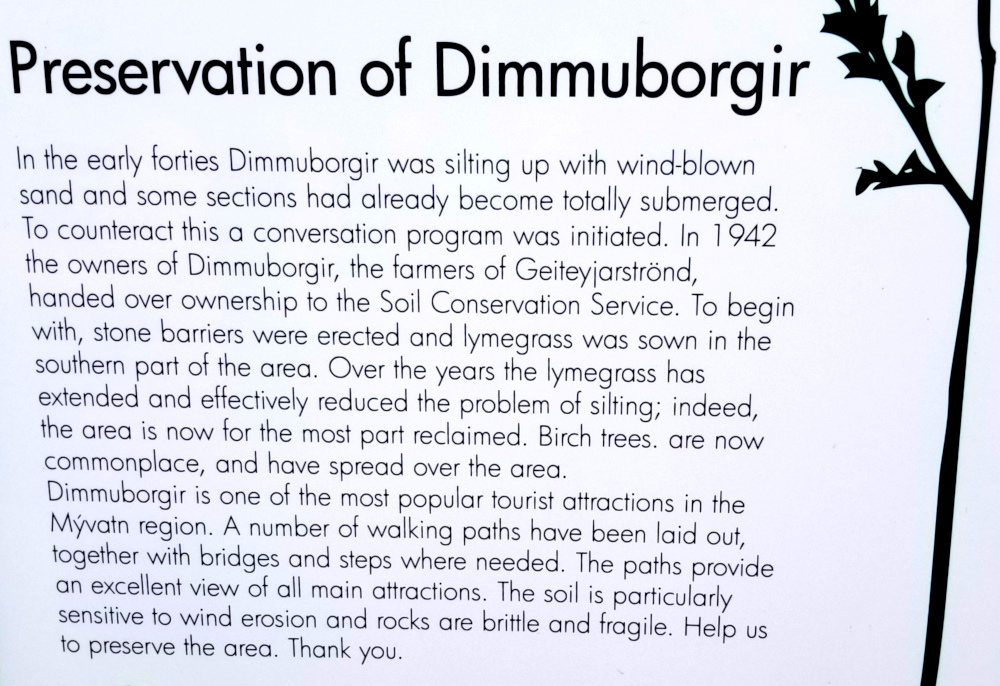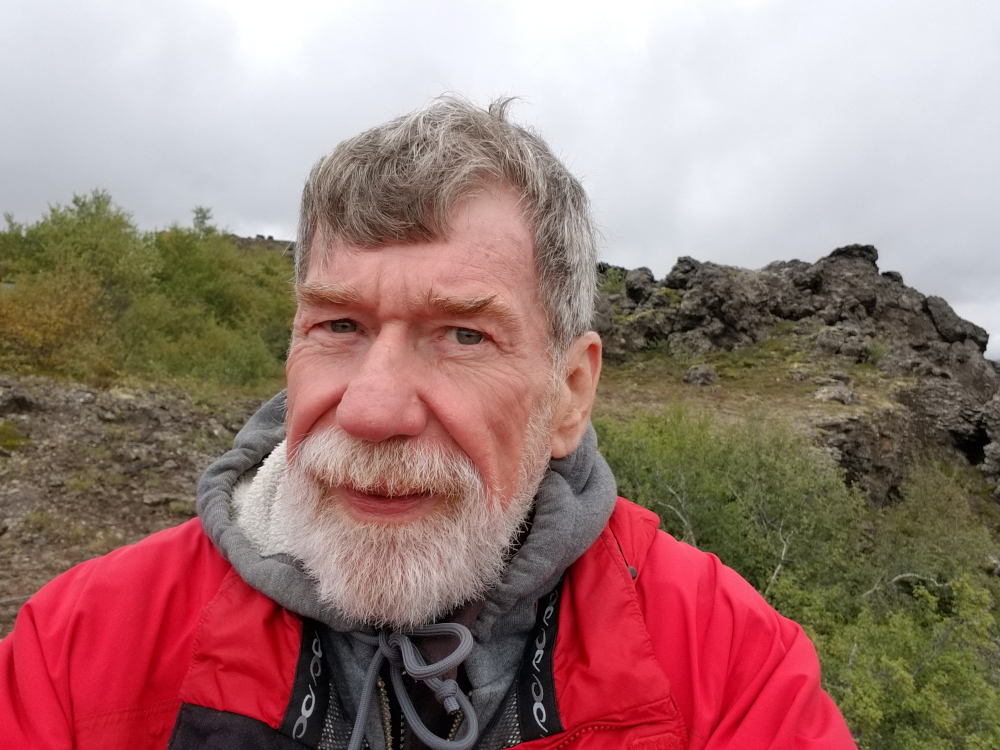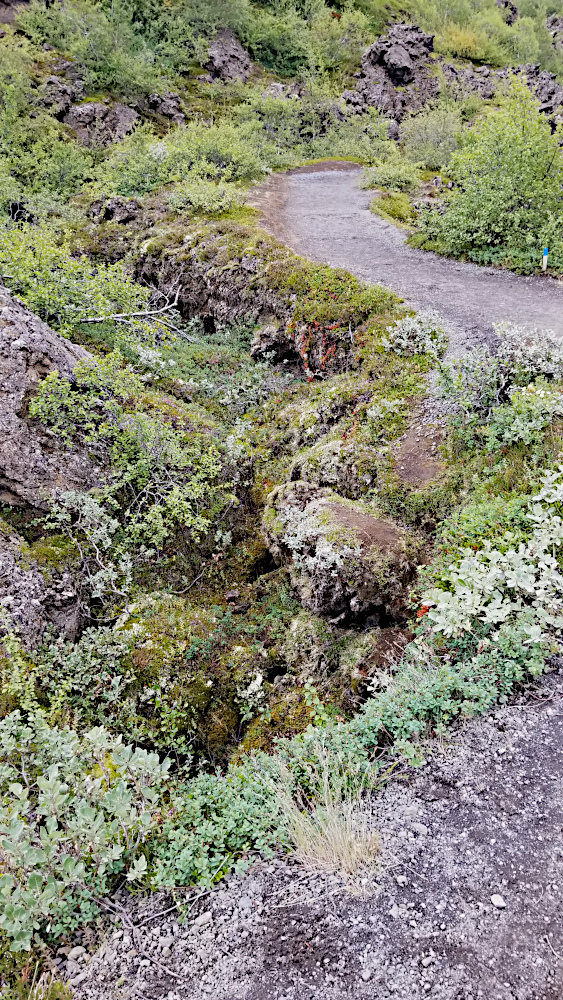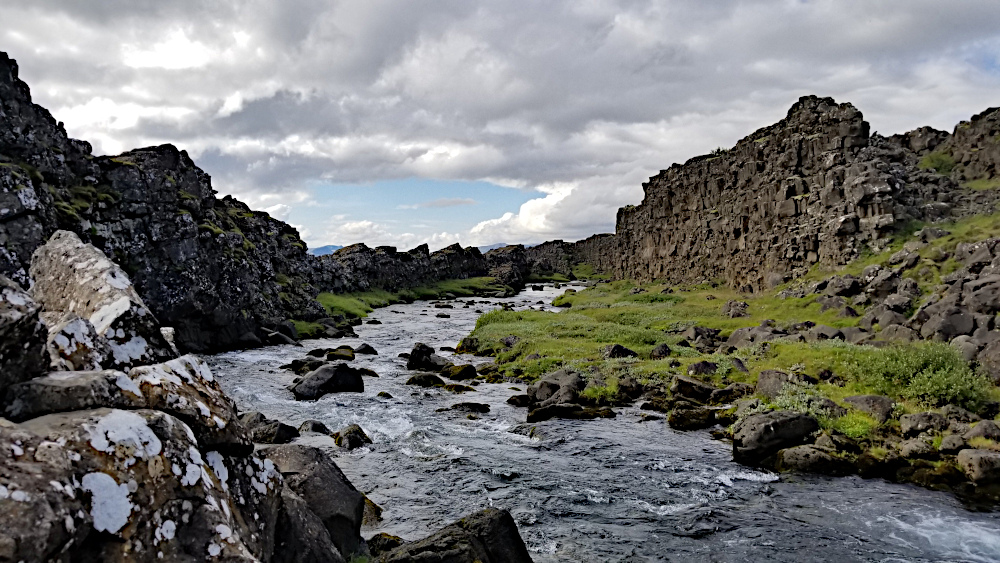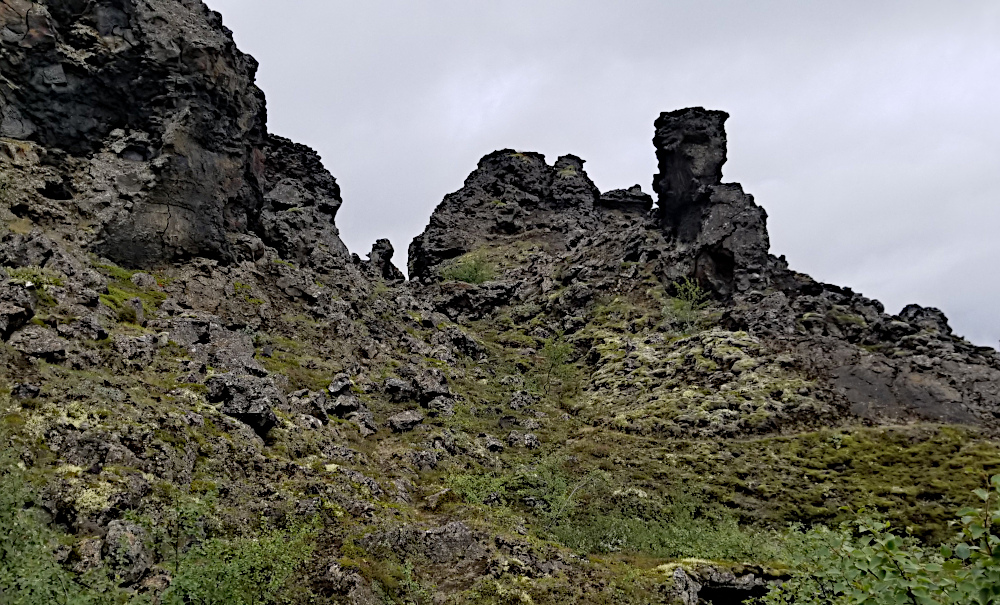 Typical housing seen in rural Iceland towns.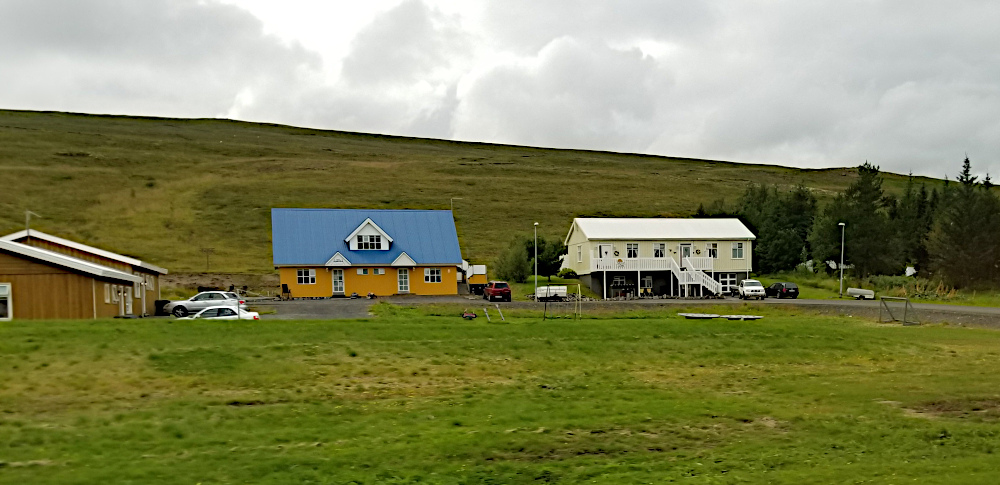 We spent the night at a farm. There was a teepee there where we all sat
around a fire. We had goats, sheep and lots of animals to spend time with.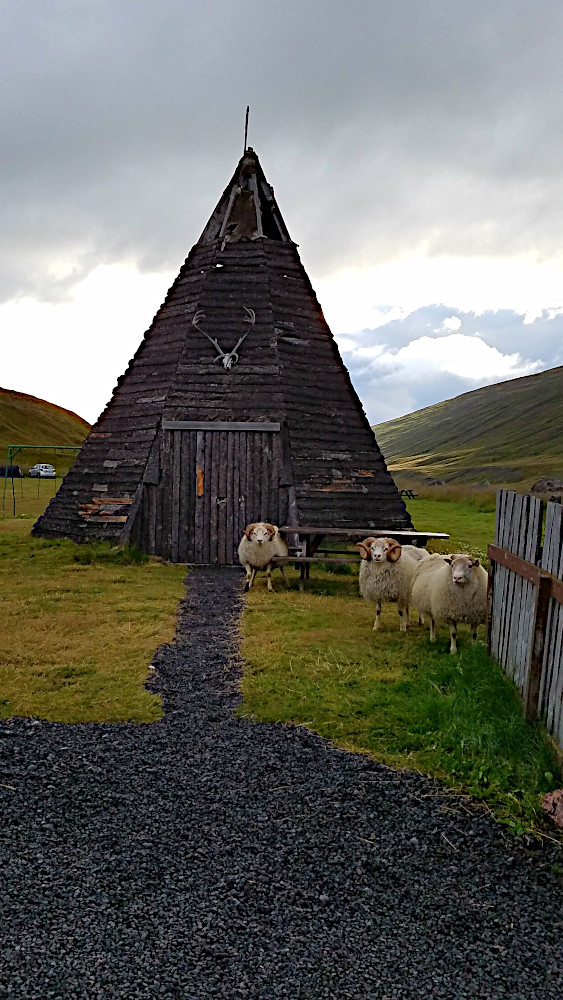 We all enjoyed a marshmellow roast. Here our guide tends to the fire in the teepee.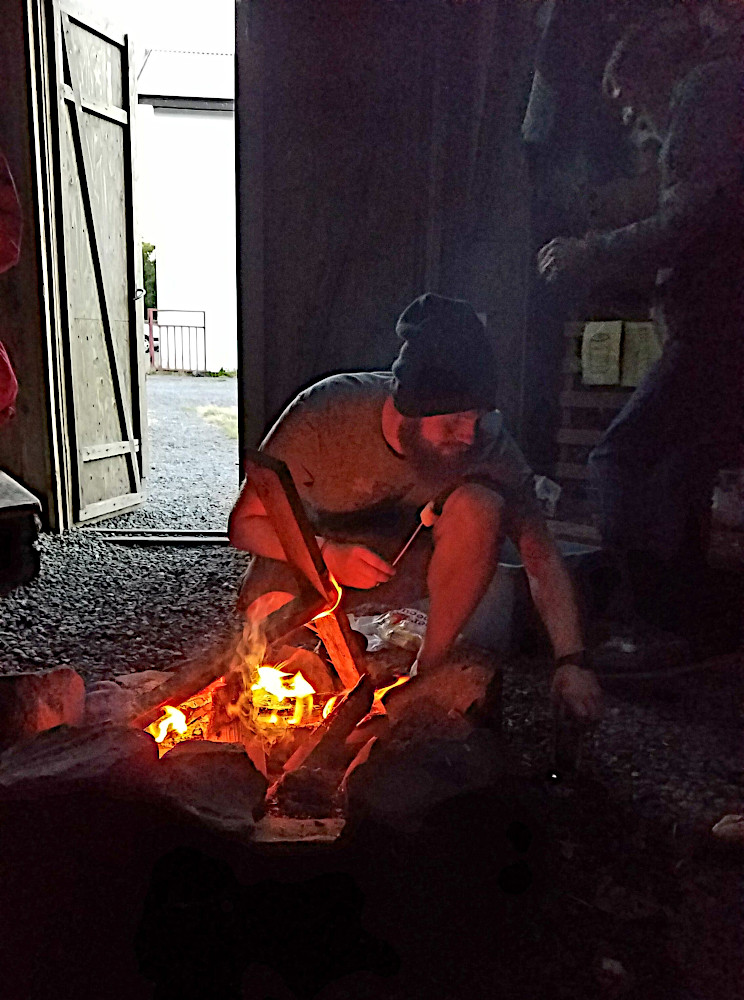 Another beautiful series of waterfalls whose name I can't remember.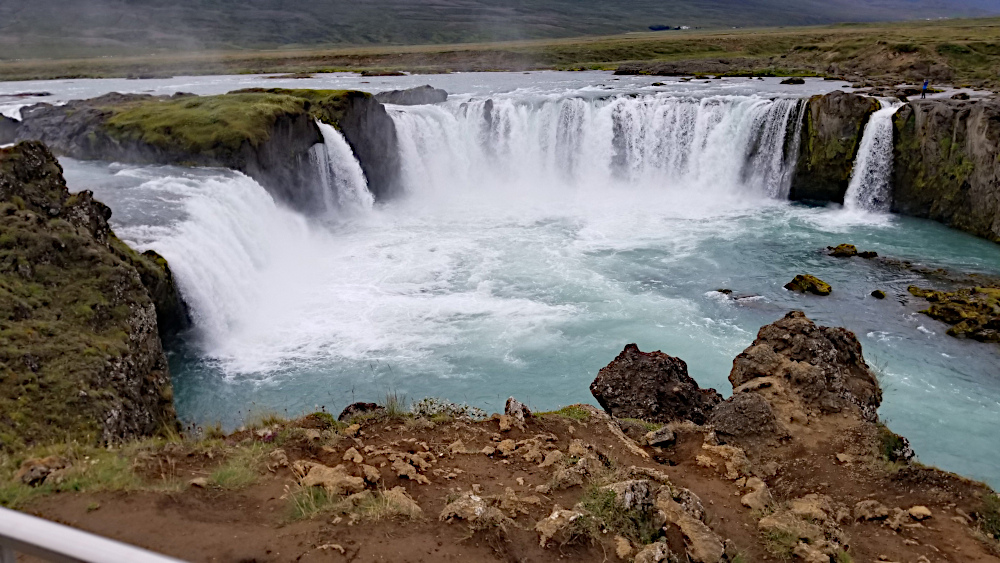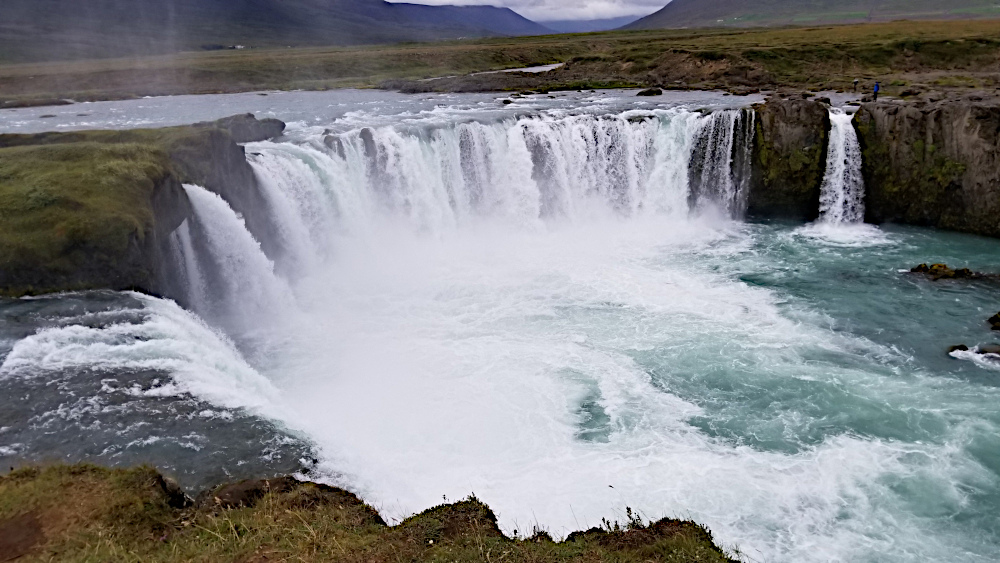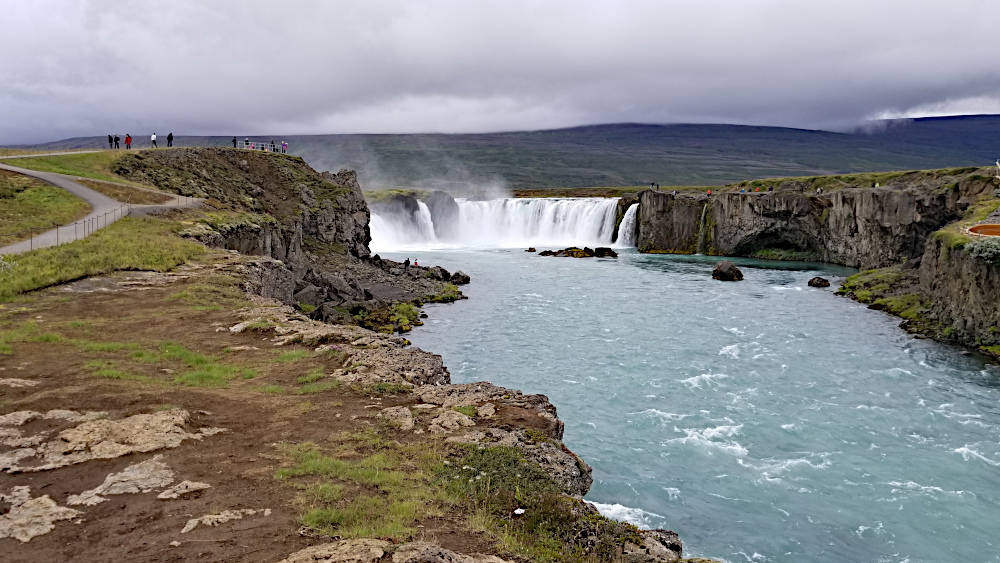 It's time to go whale watching!


Louis with our tour guide at the whale watching office.
We all got warm suits to wear on the trip.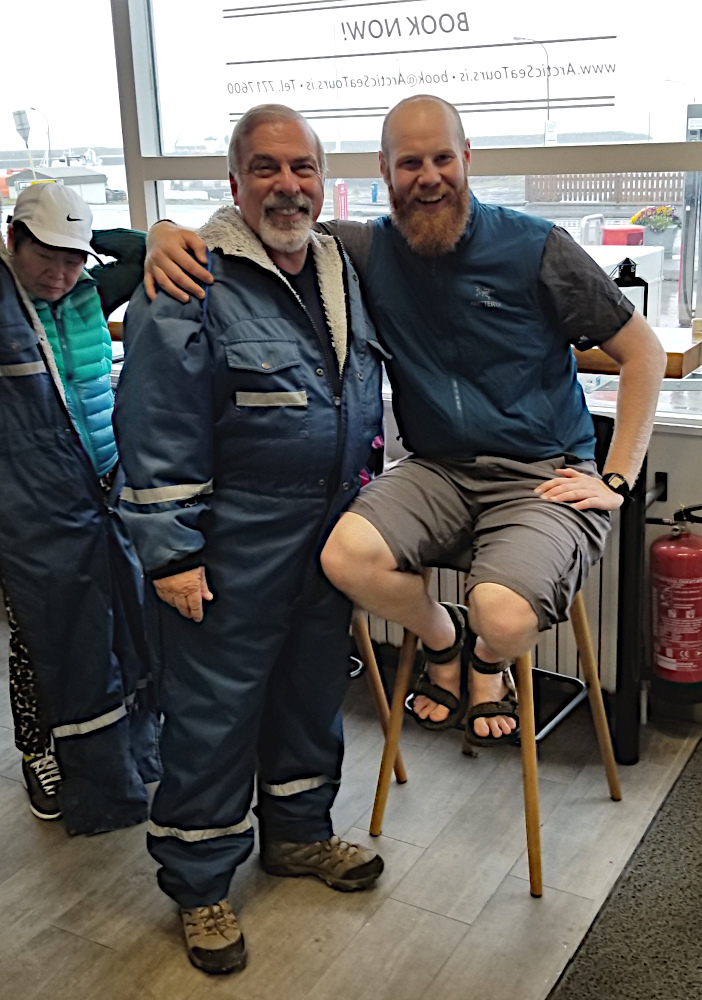 Where we are we on the map of Iceland? Are we on the west side or east side of the bay?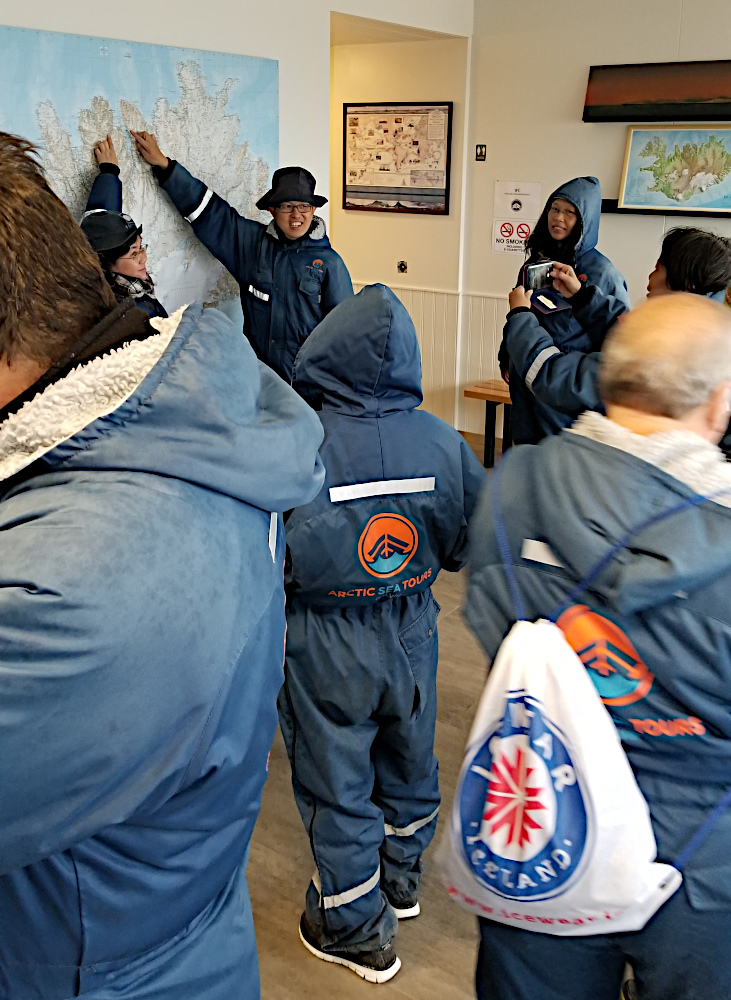 I think I know where we are.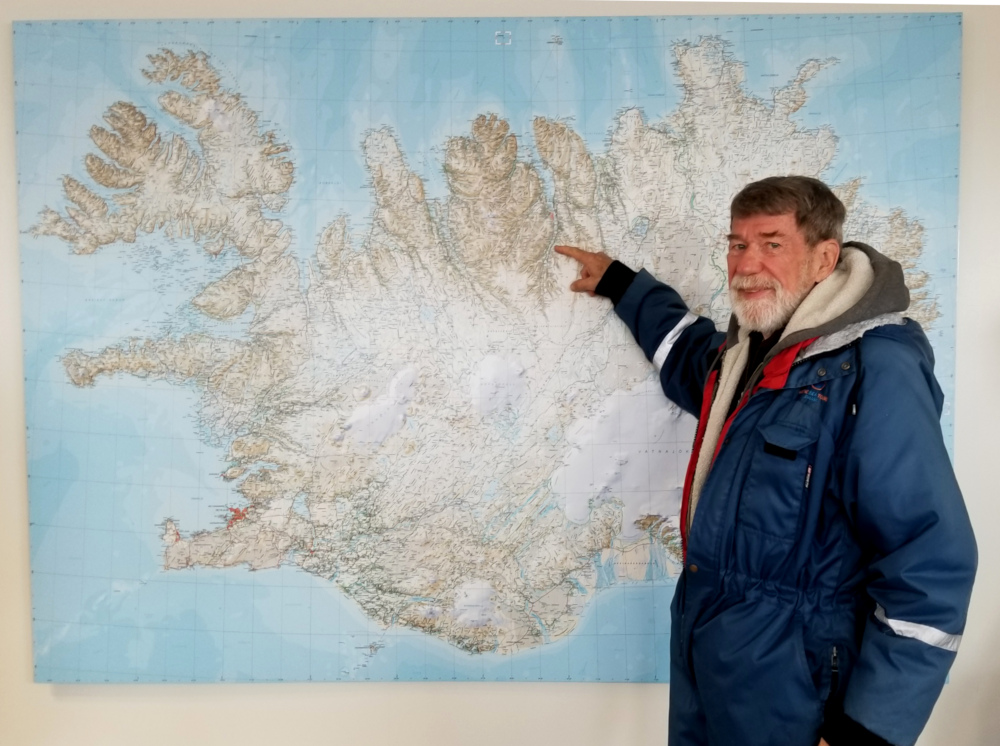 We walk from the office to our boat for the trip, the Dalvik.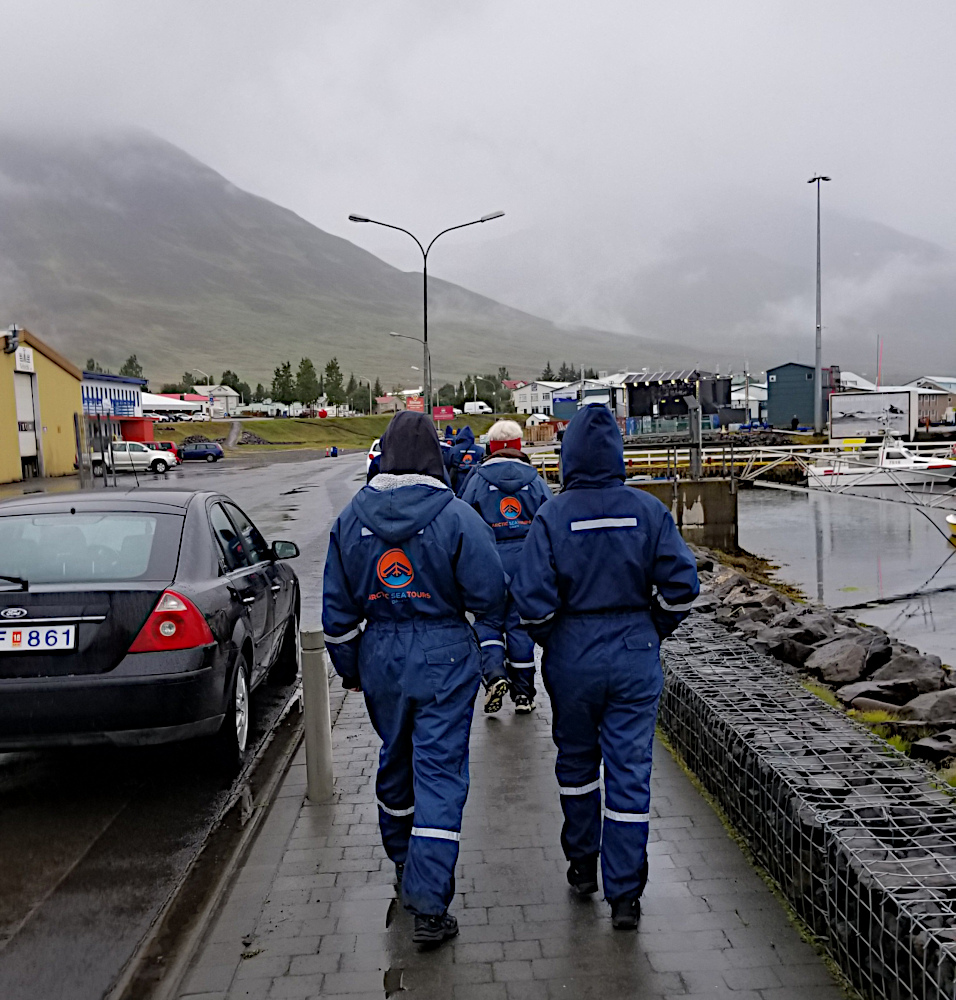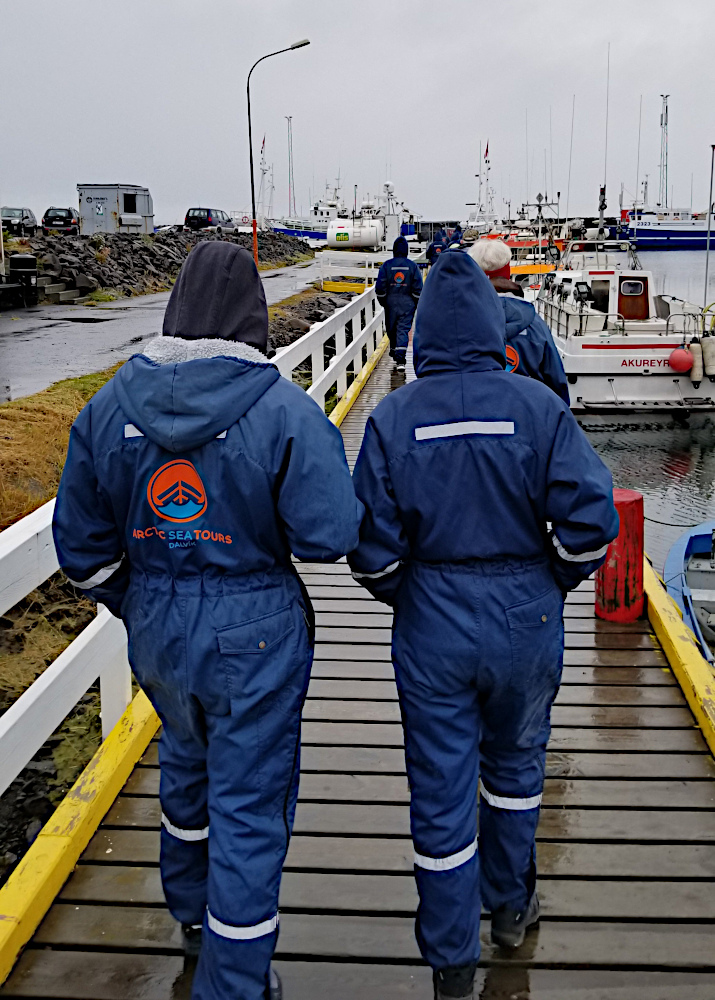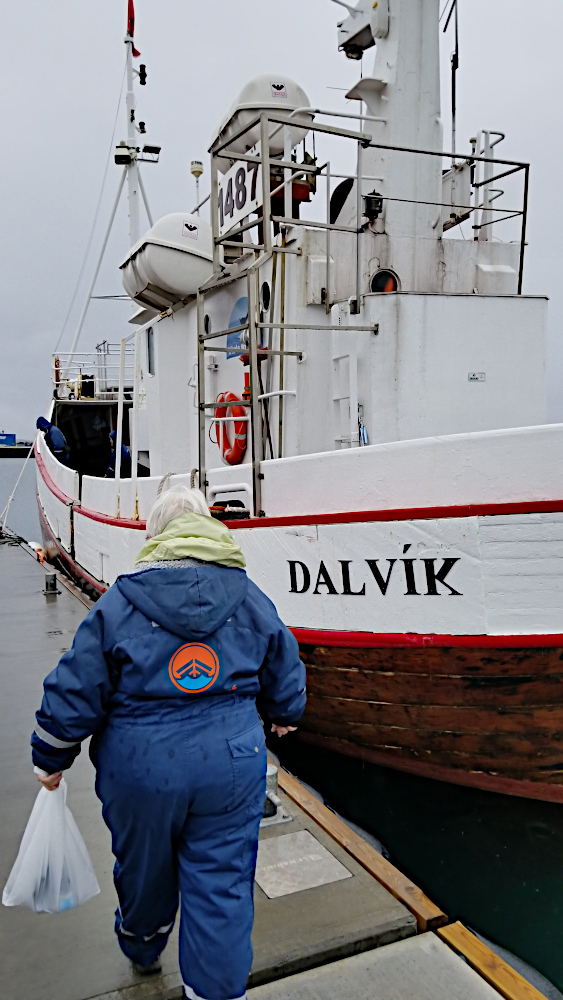 We're all settled in our the ride. It was rather cold and rainy, so we bundled up.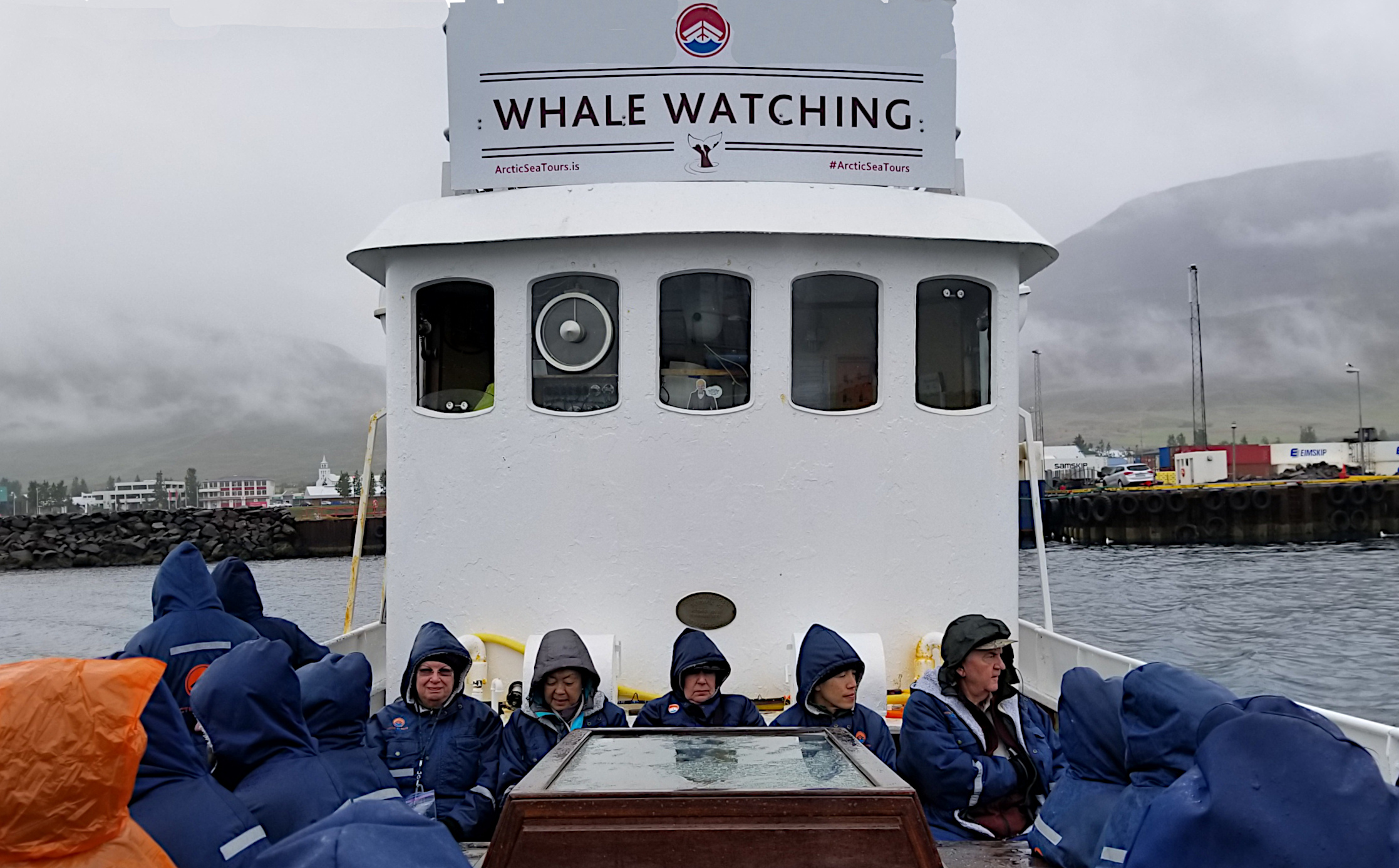 One of the crew talks about the trip and shows us what we might see.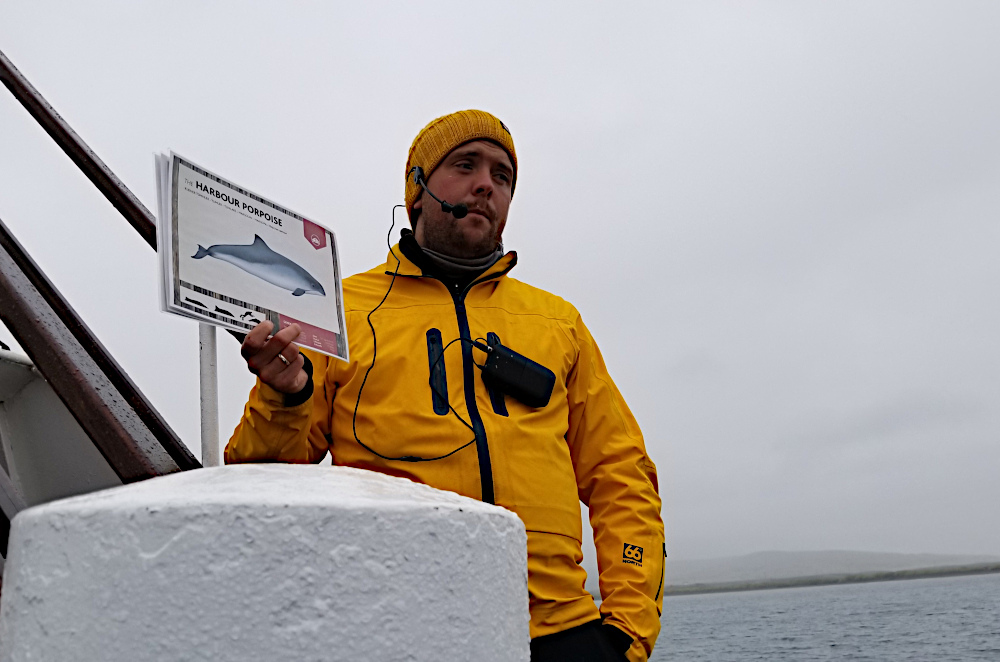 Then we all start watching!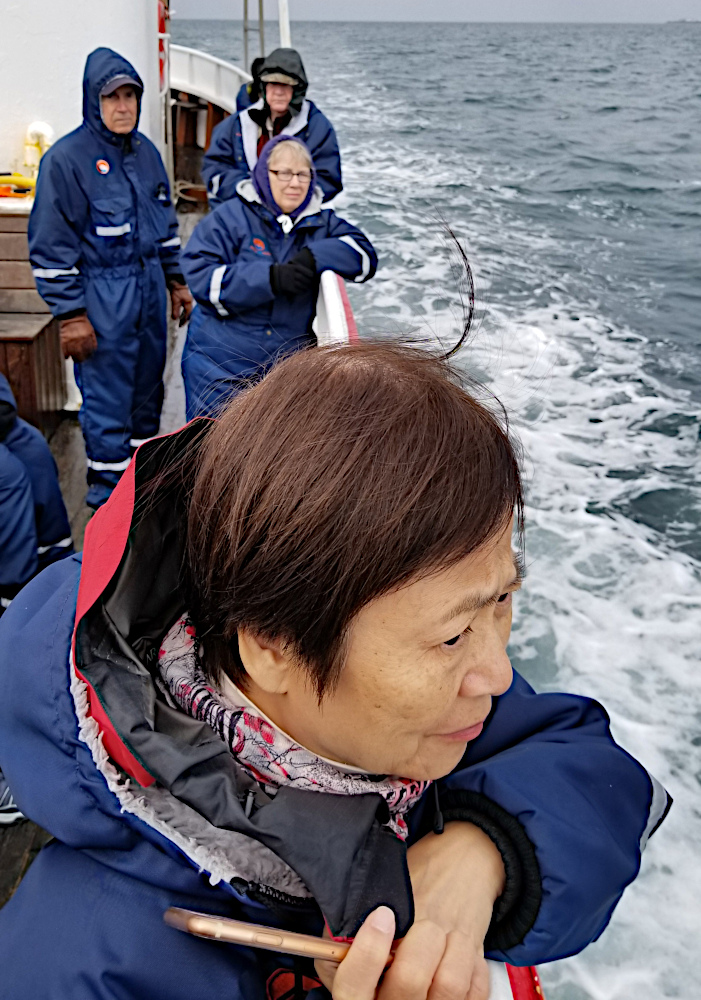 We got to see several porposes and whales! I didn't click my camera
fast enough to catch a picture of the whales. I only caught the tails.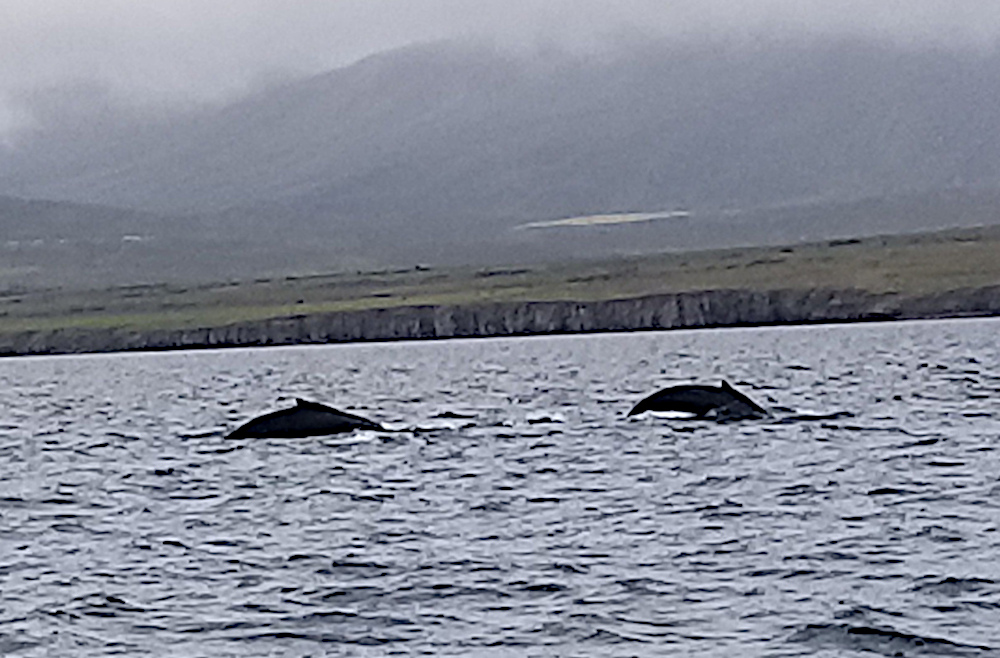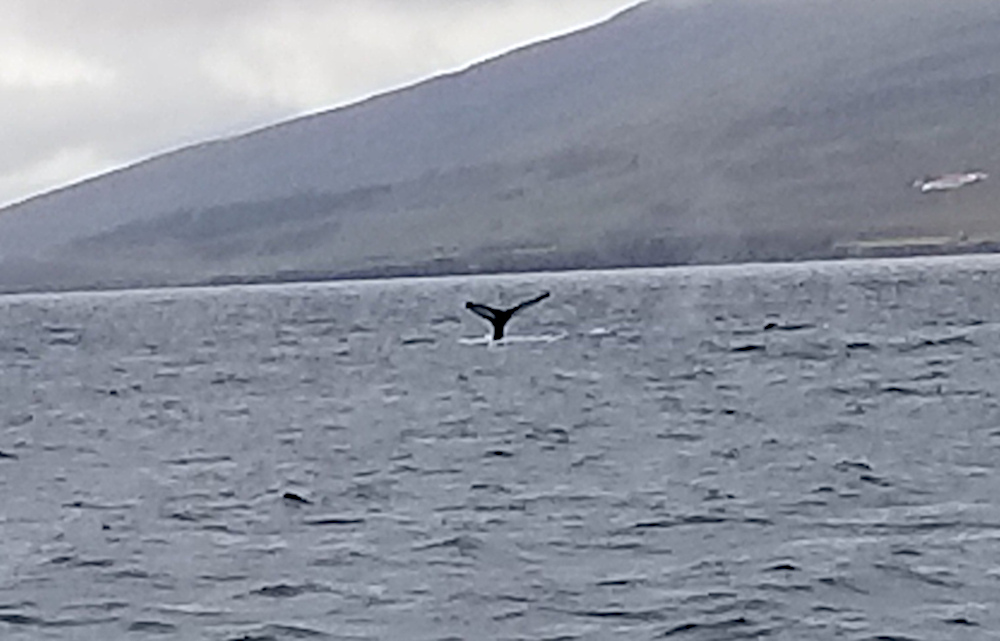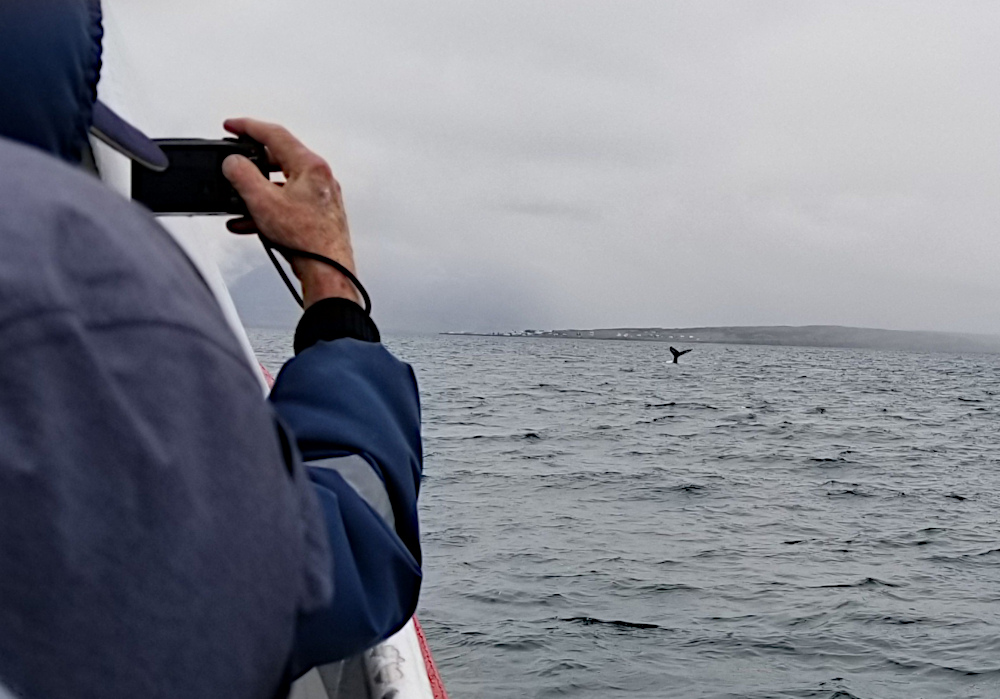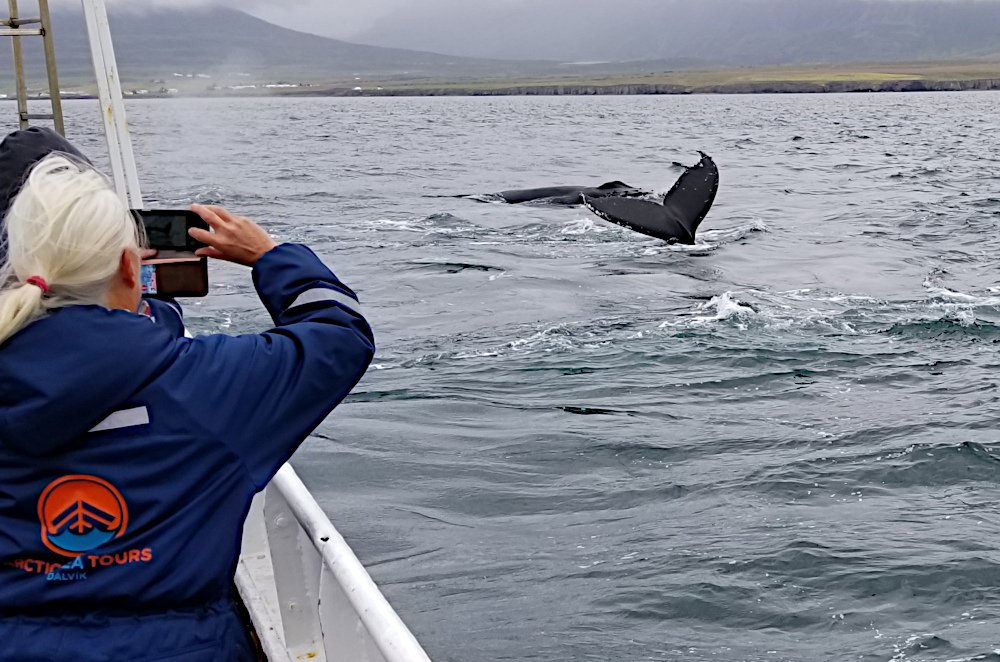 Then we got to do some fishing.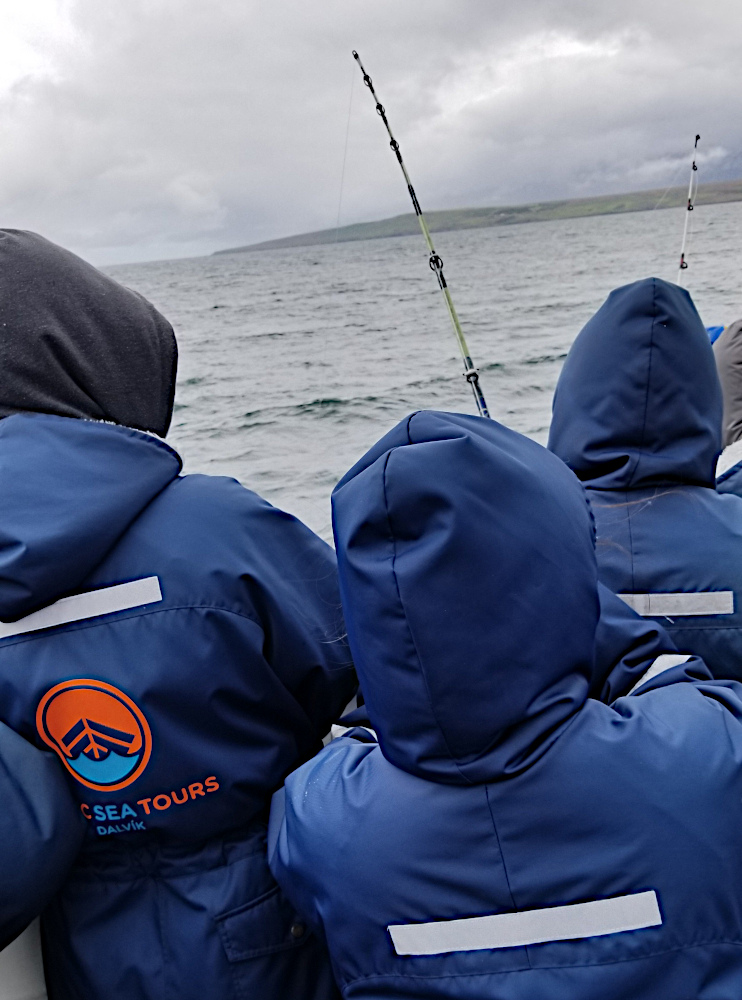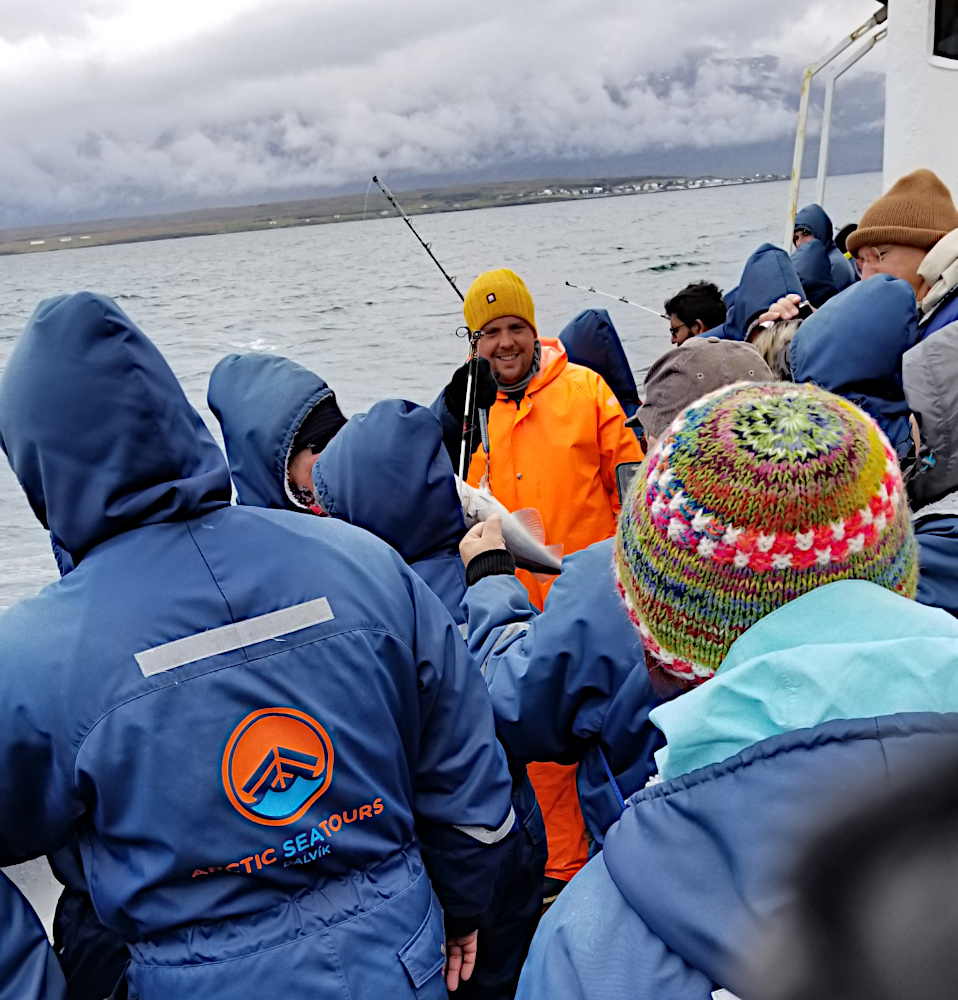 Joanne was pleased with her prize catch.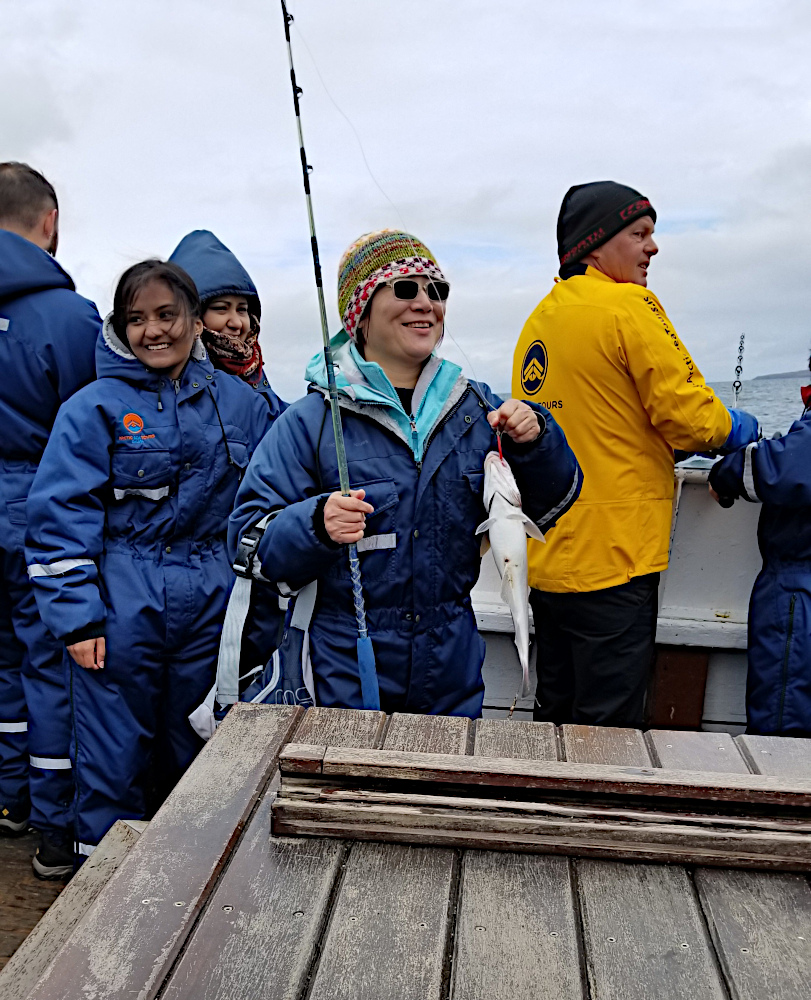 After we returned to the office we all were served a bowl of hot fish chowder.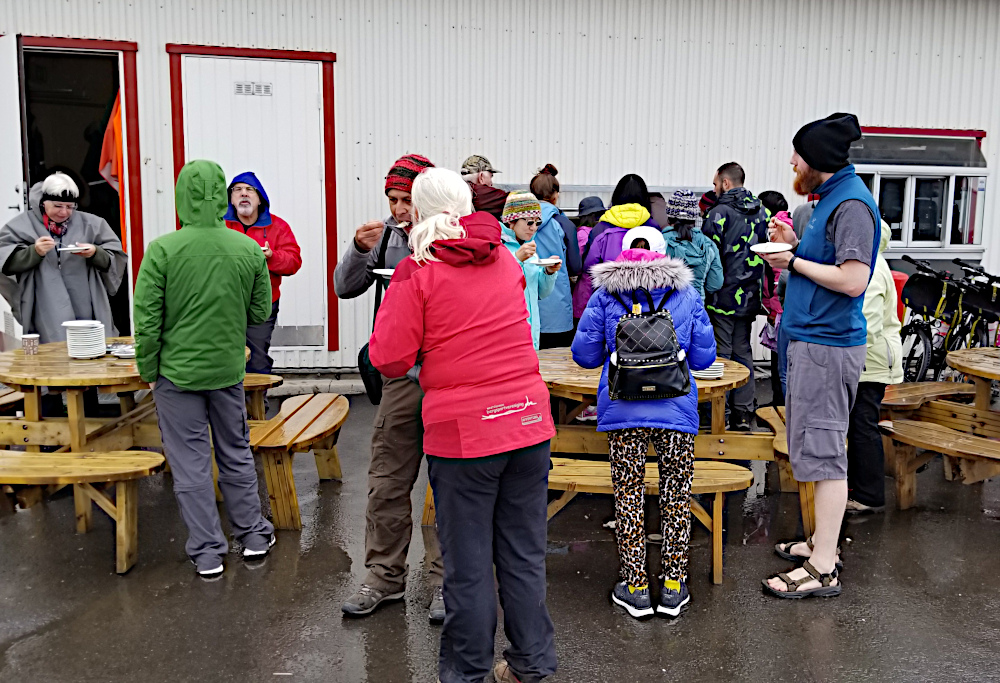 We go next to this pretty little town, the northern most point of our tour, just 10 miles from the Artic Circle.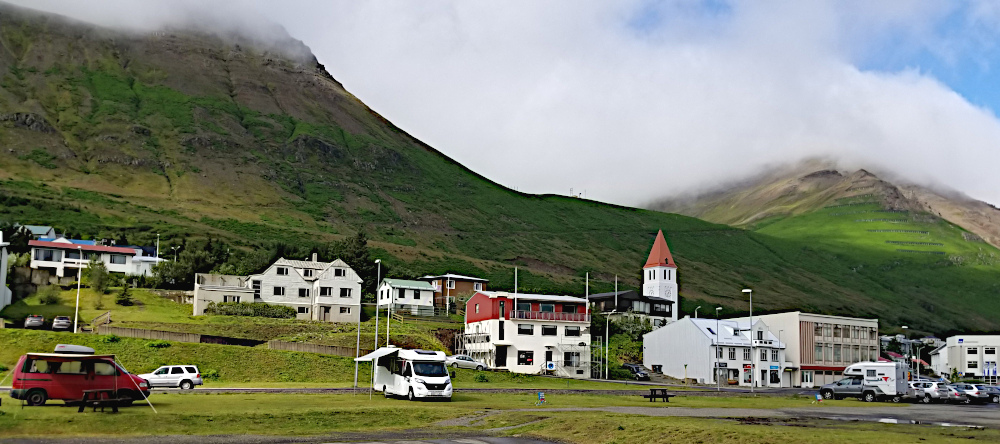 We spent a couple of hours here. It turned out to be a beautiful afternoon.
We had lunch at the Kaffi Raudka restaurant and did some sightseeing around the town.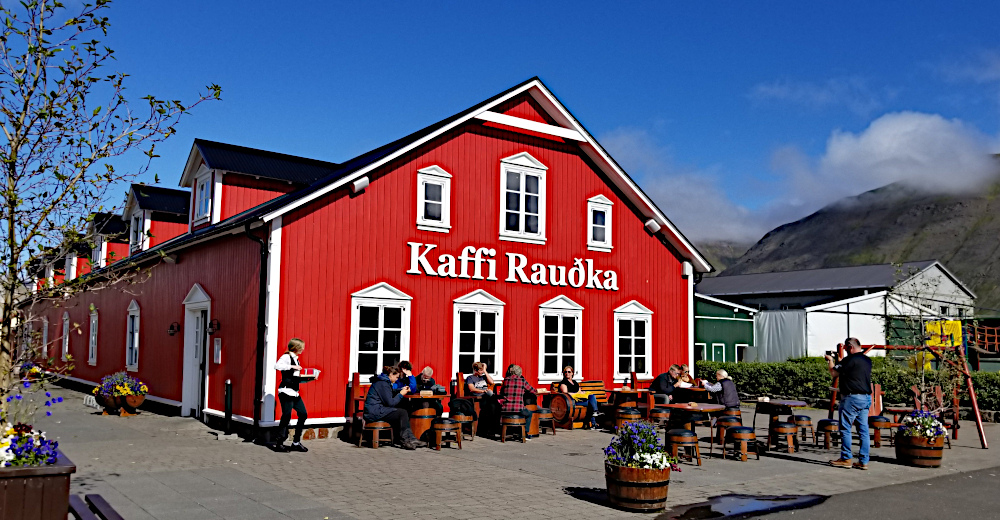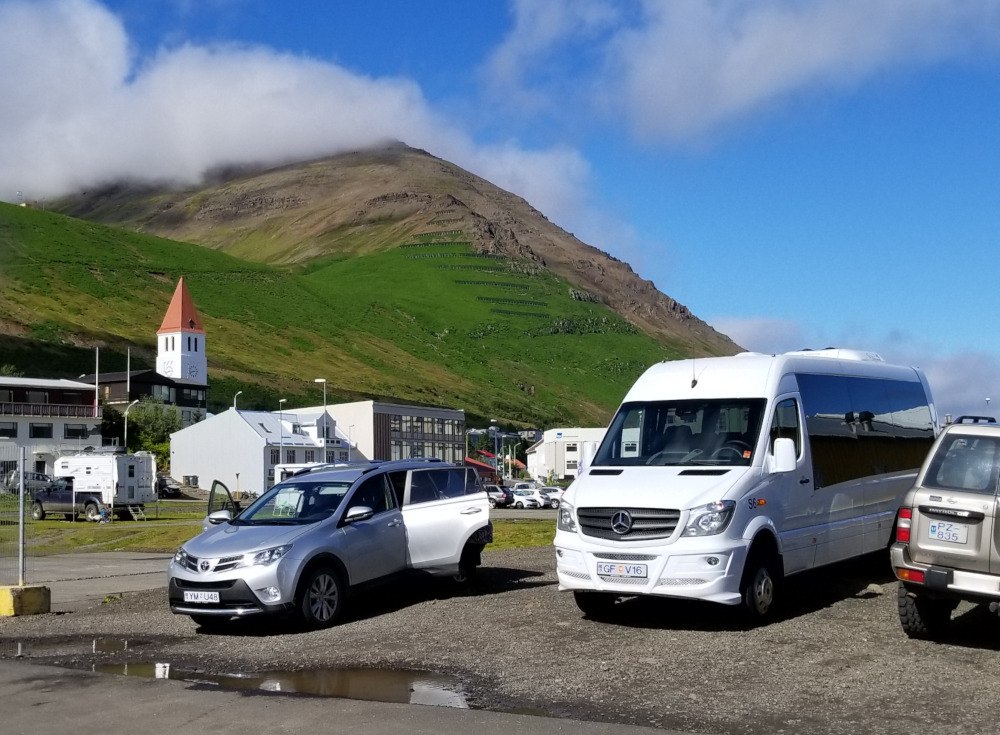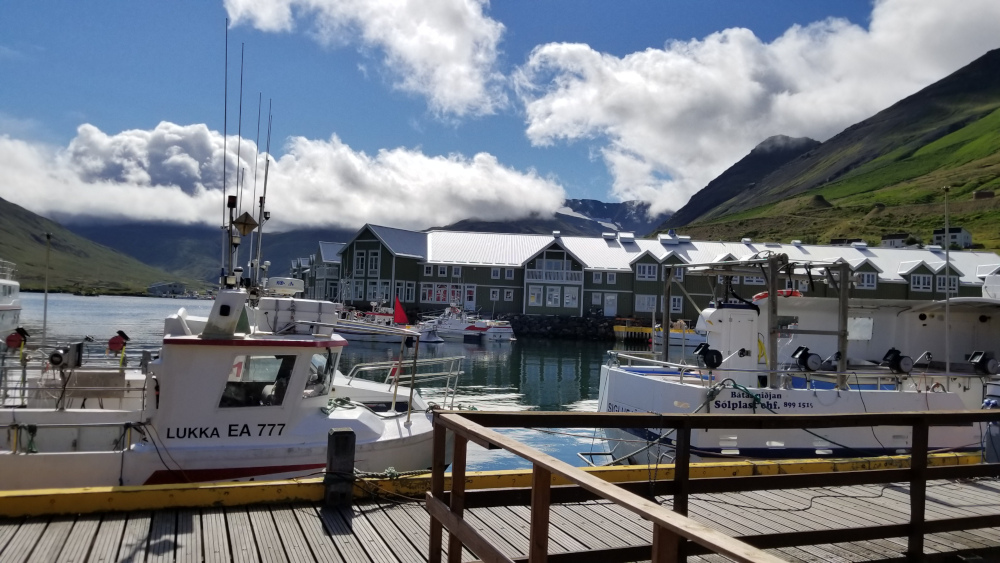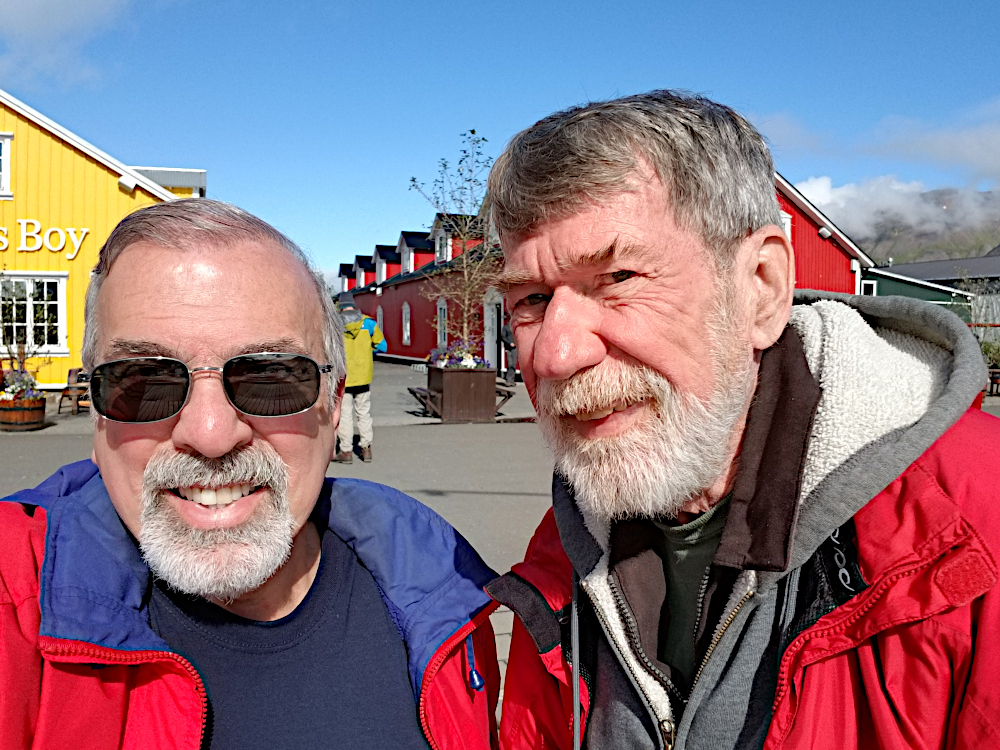 One of the views seen from the bus as we head back south toward Reykjavik.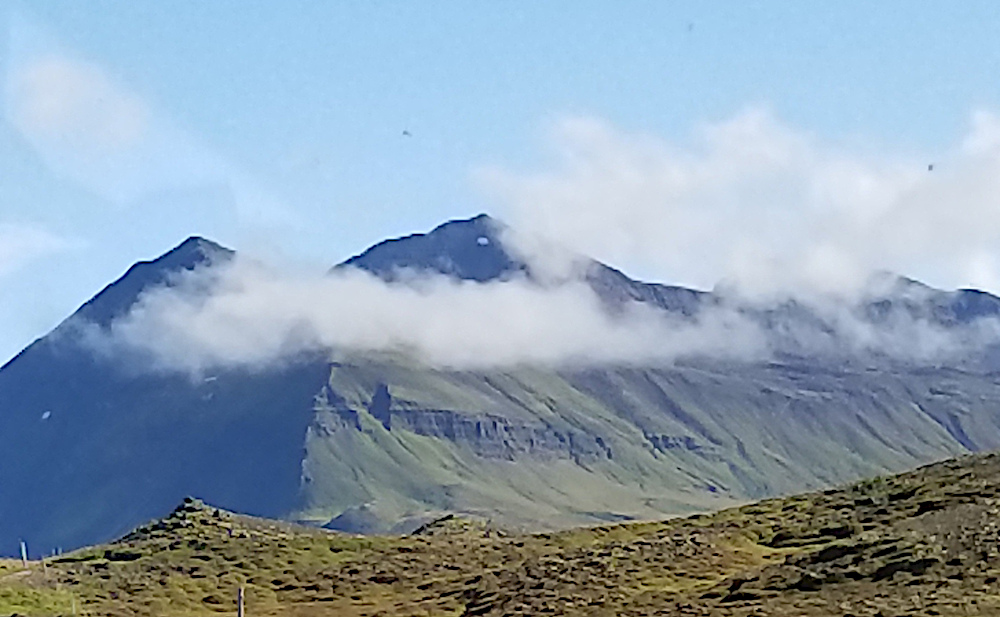 We spent our last night of the trip at the modern Hamragardar Motel.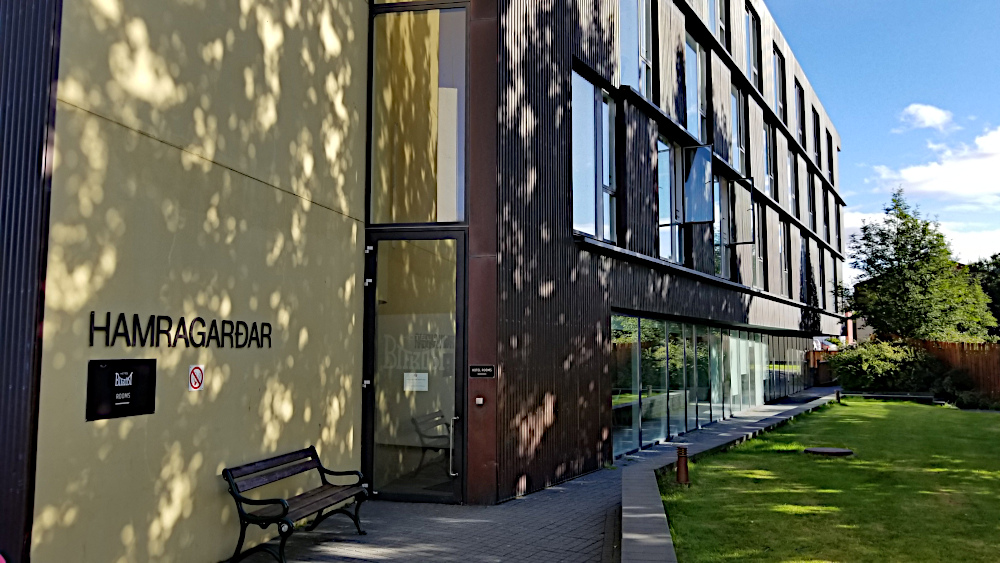 Packing up the trailer for our trip back to Reykjavik.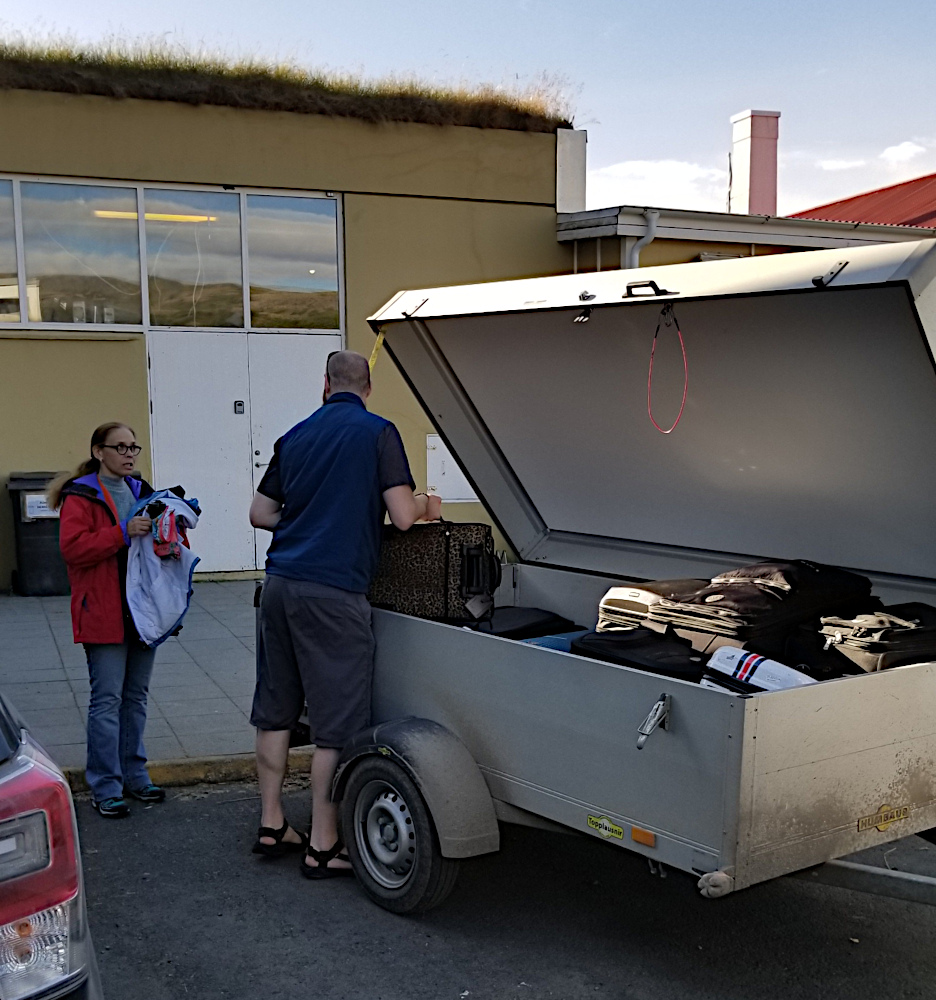 Our visit to Gonguleidir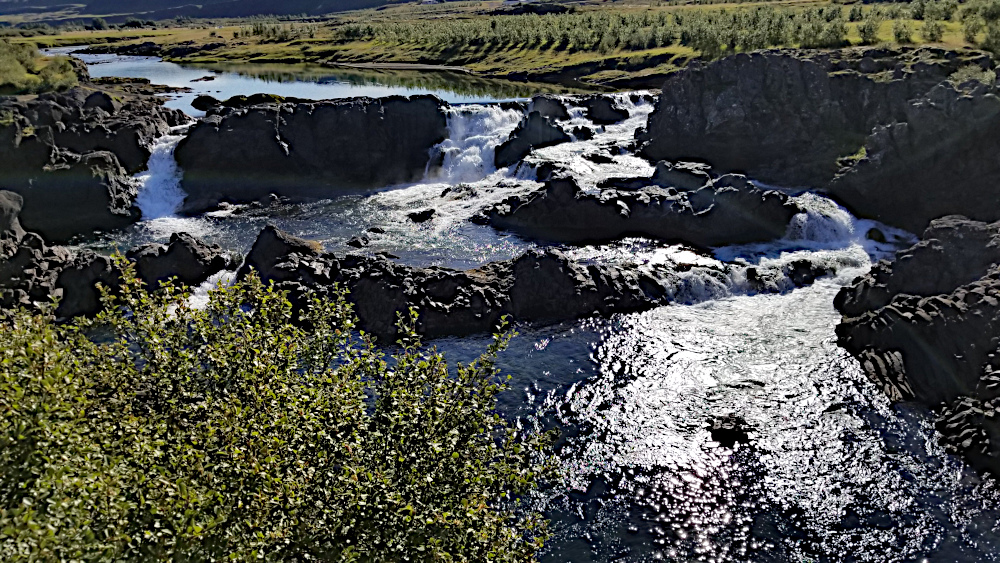 >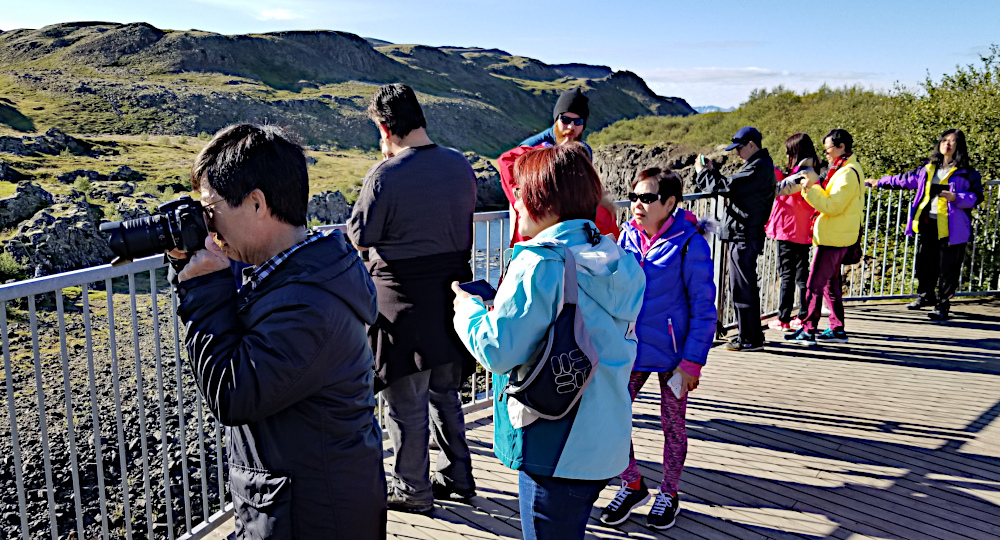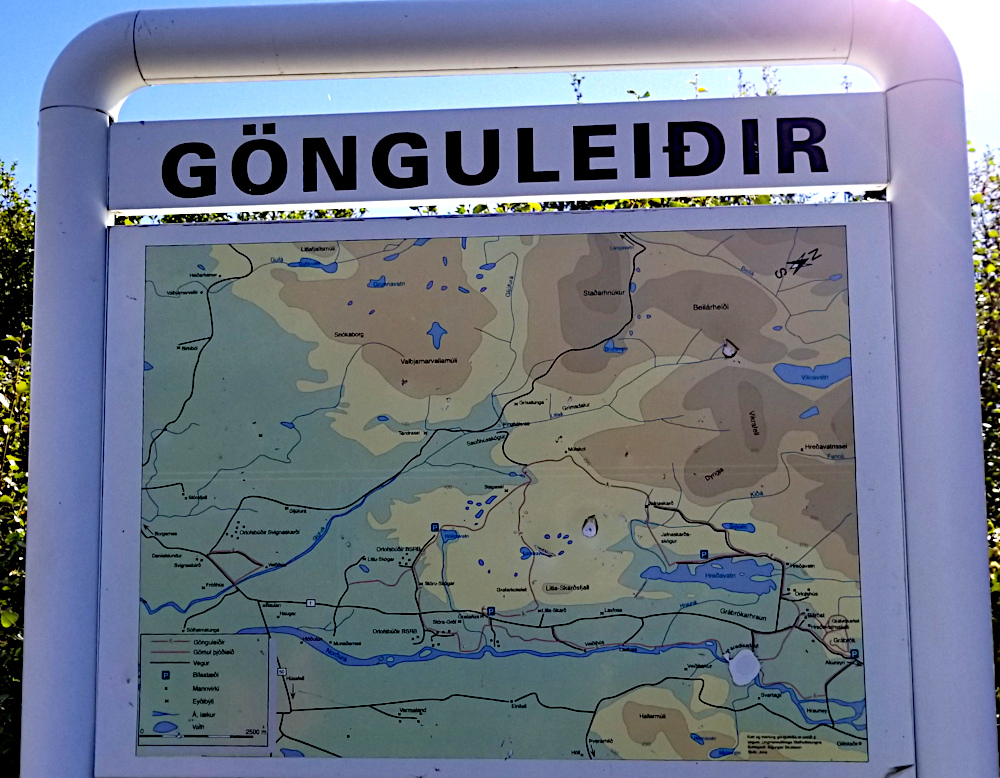 Beautiful Hraunfosser Waterfalls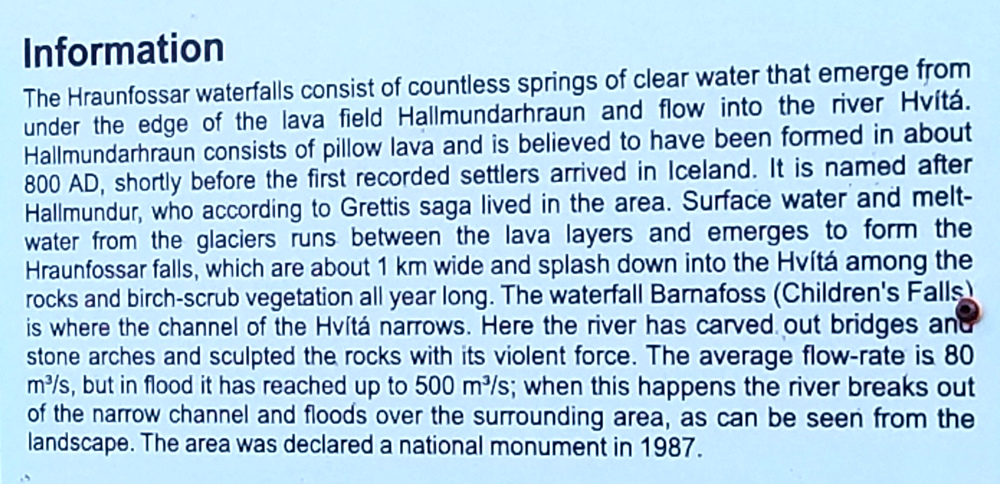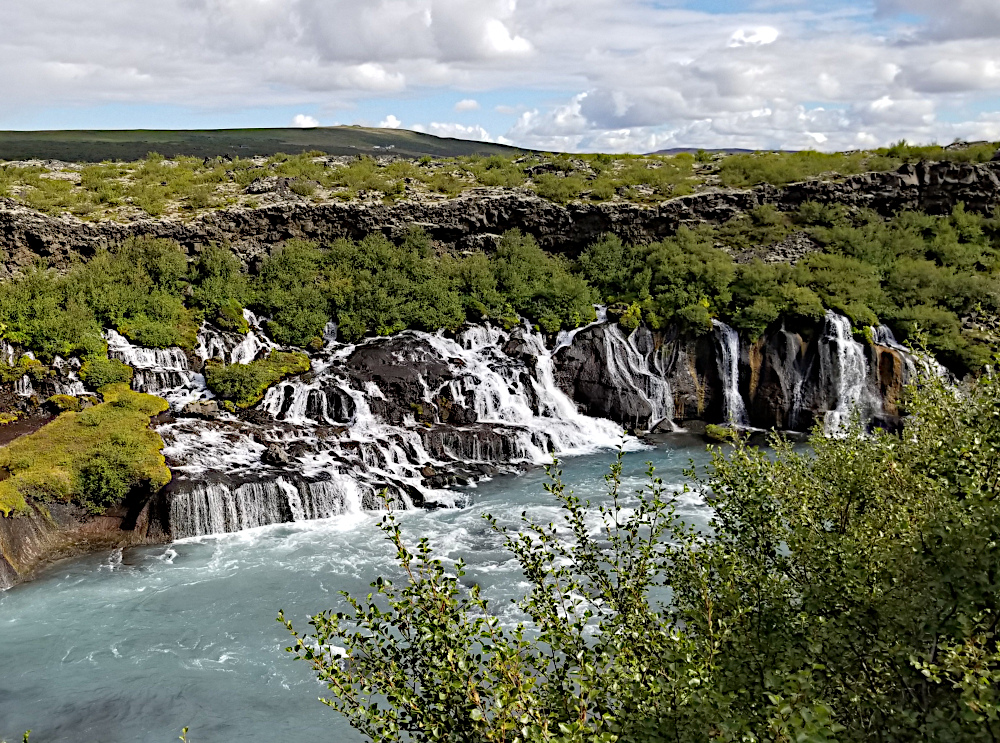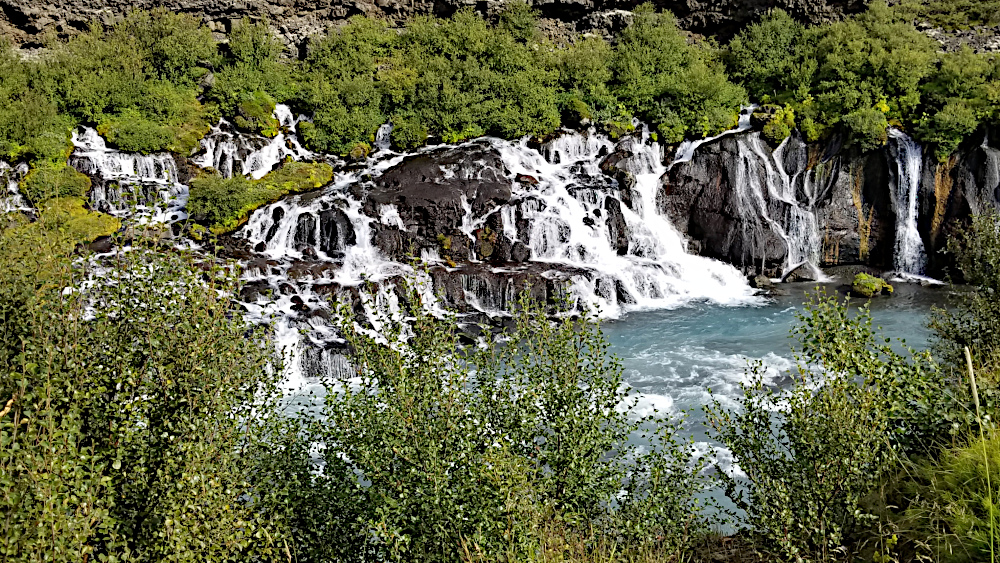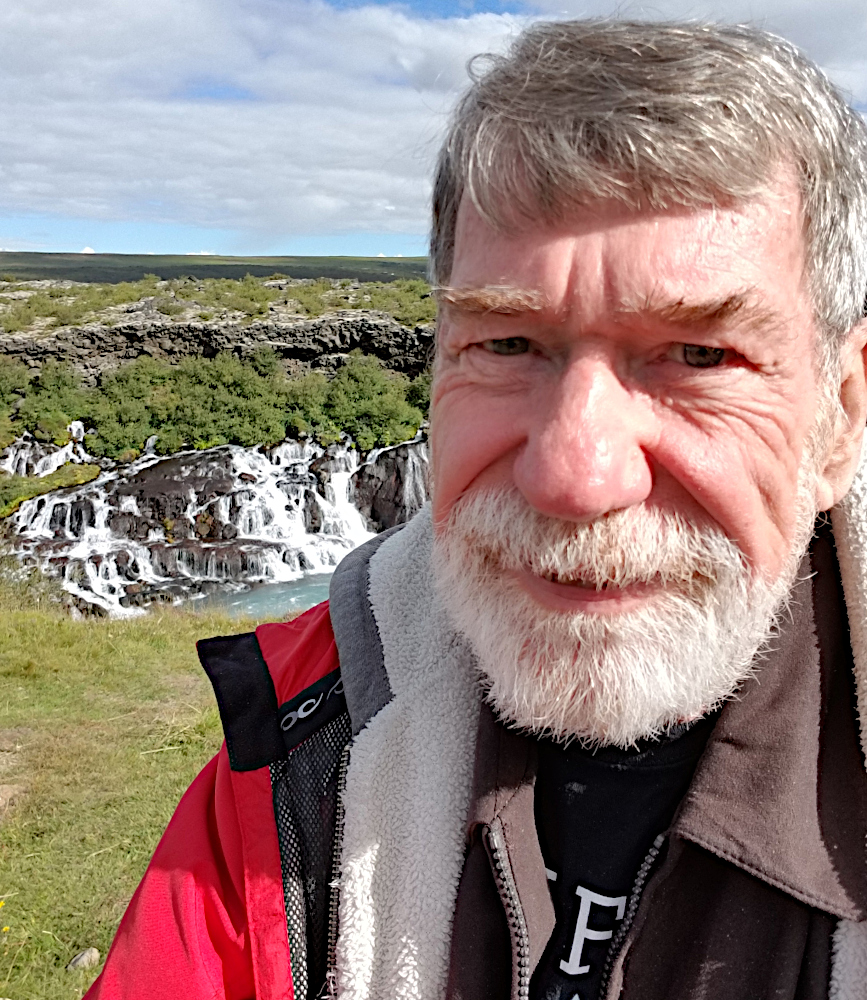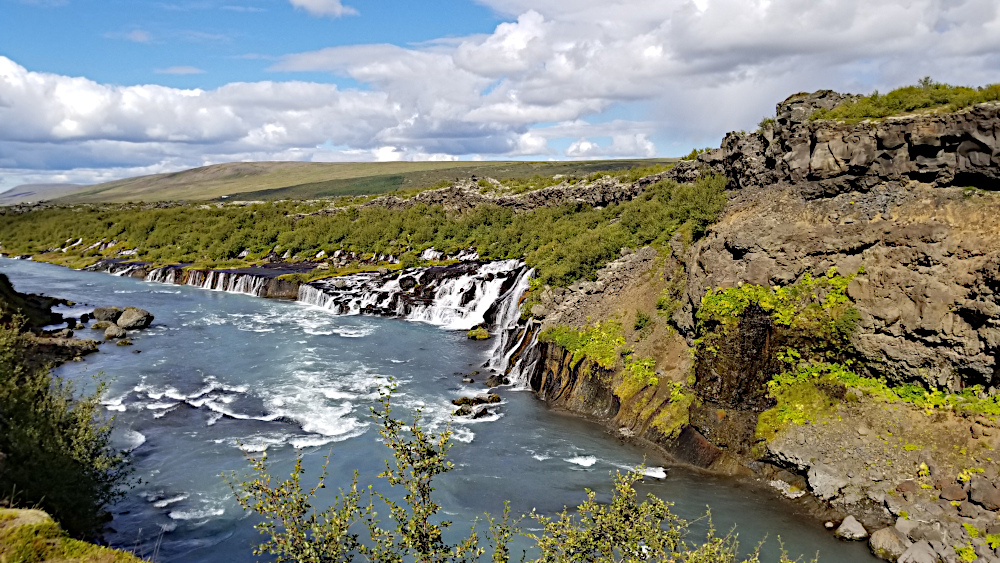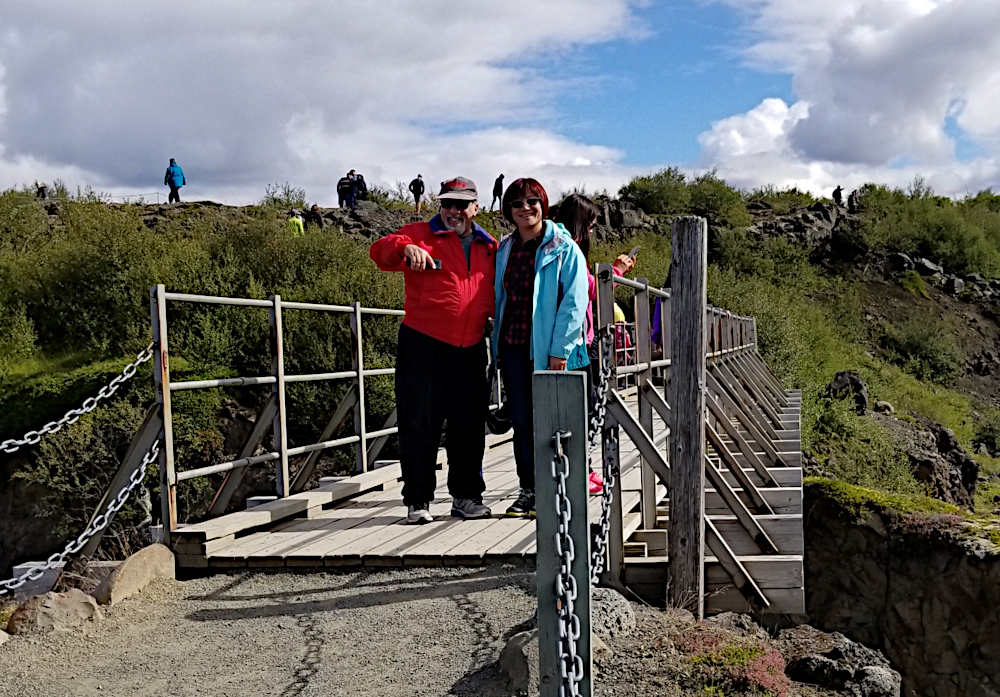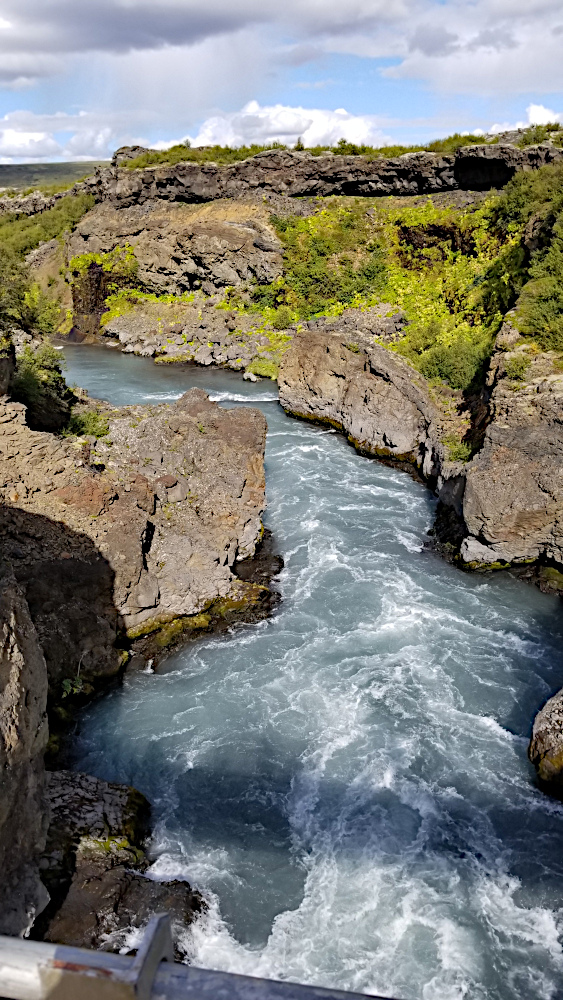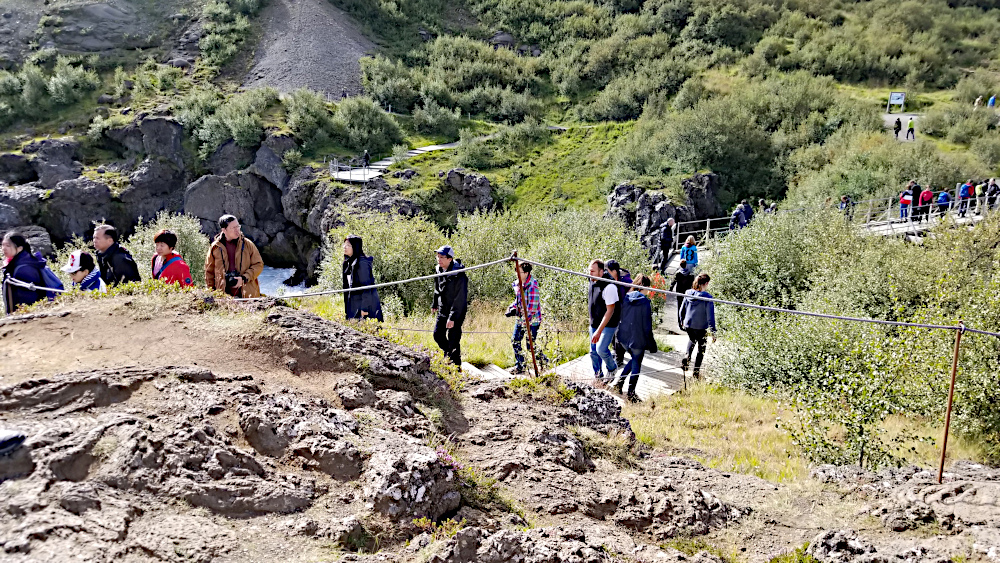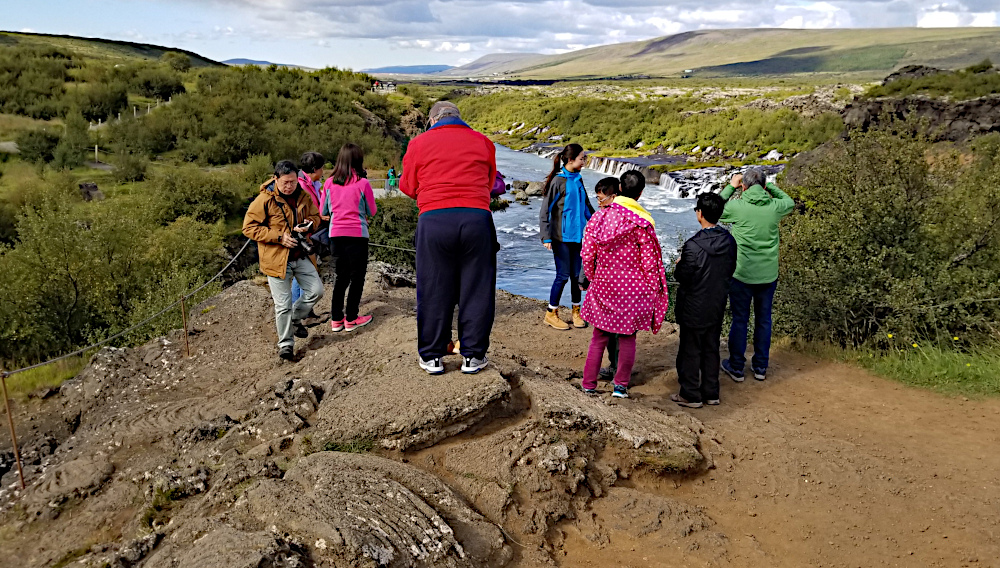 Barnafoss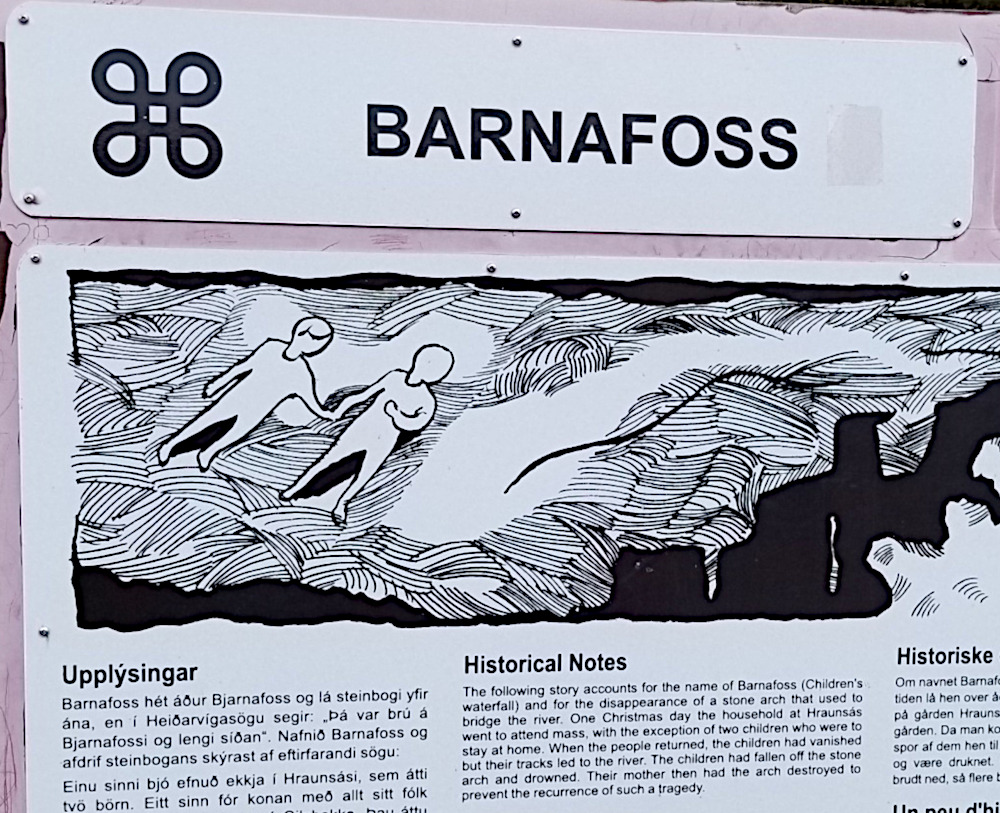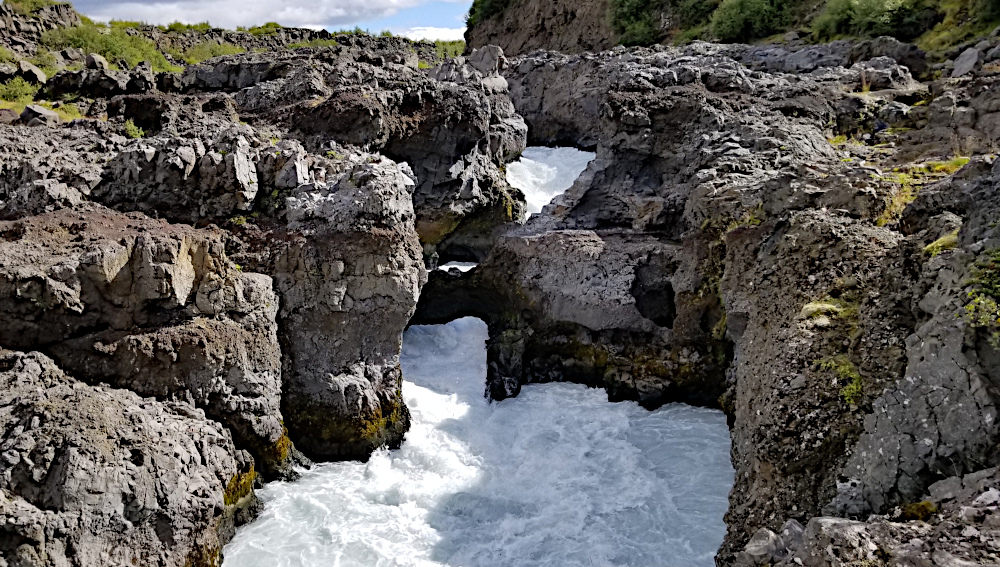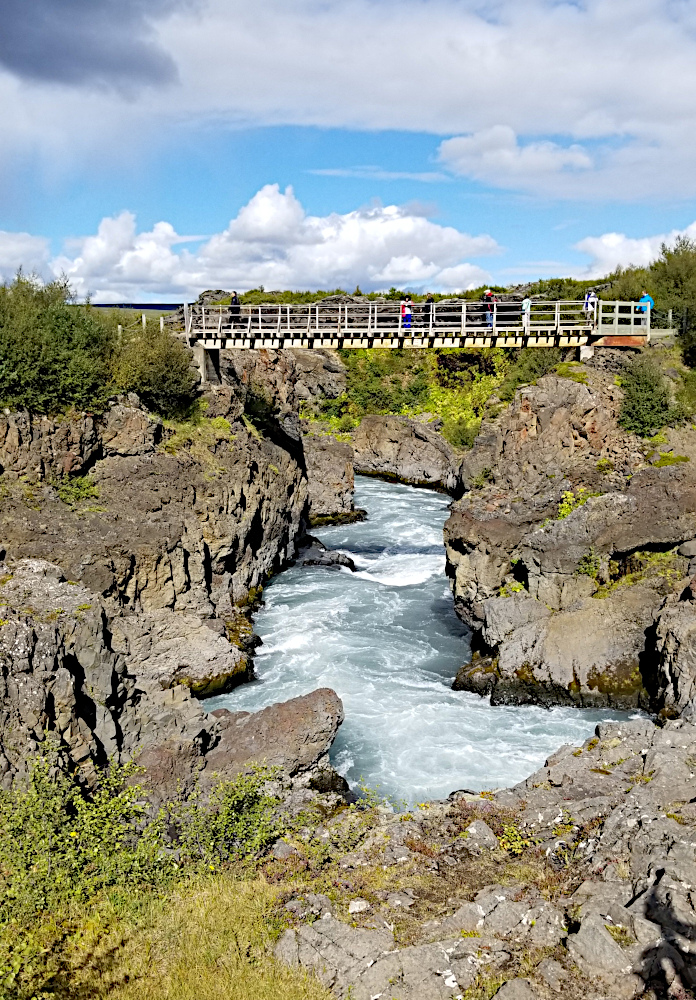 Some of our traveling companions on the trip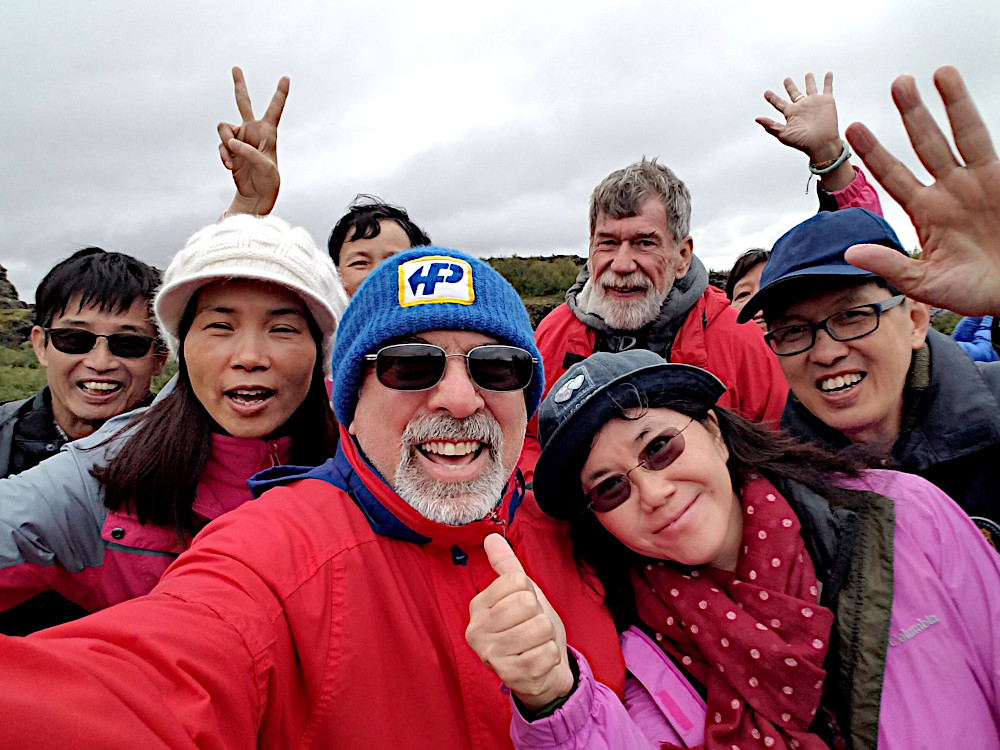 We visit Reykholt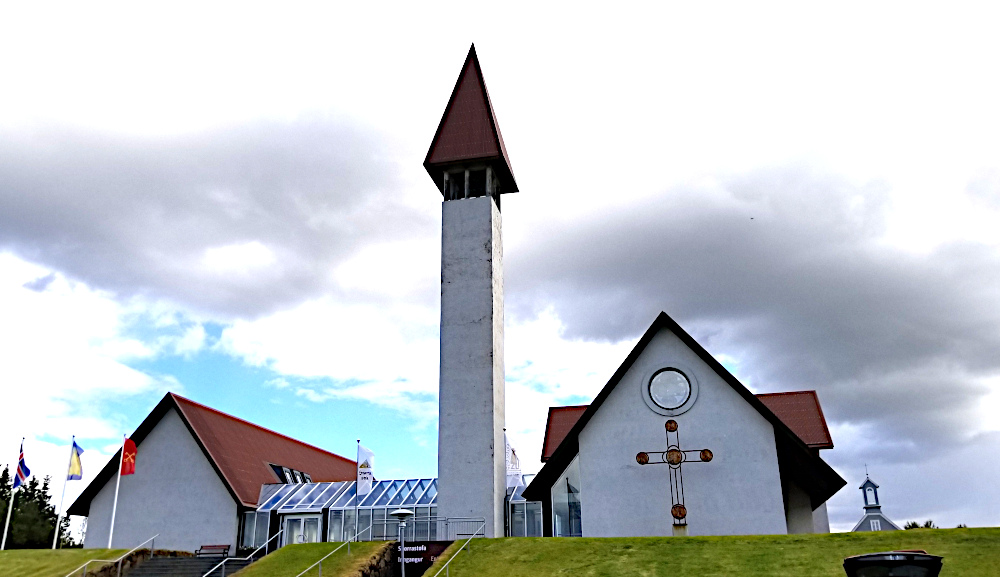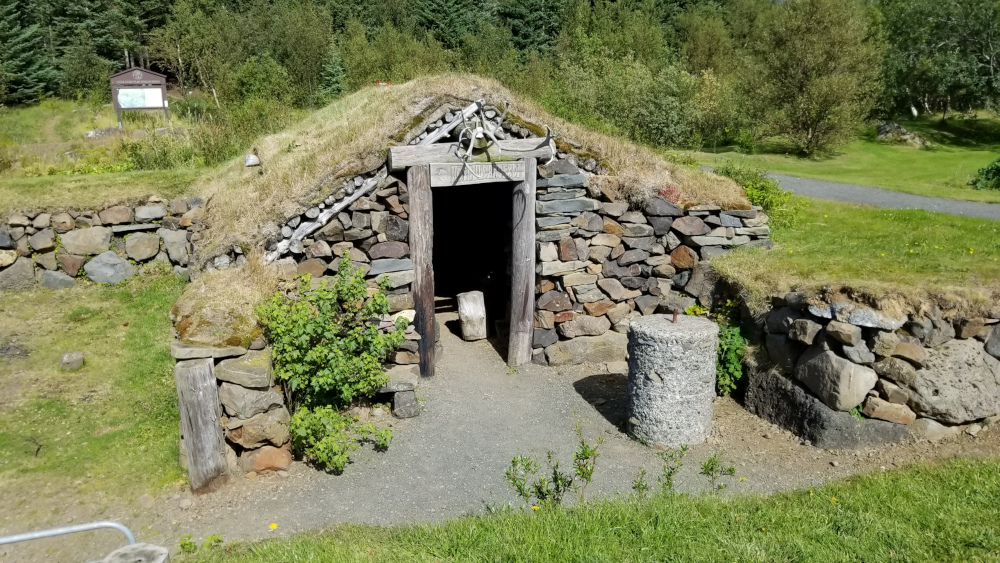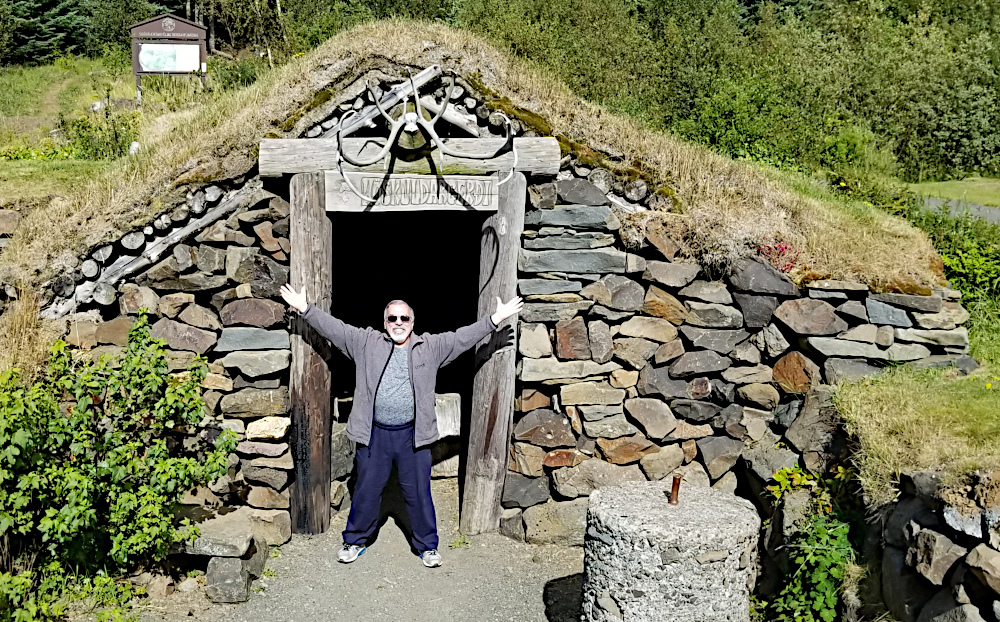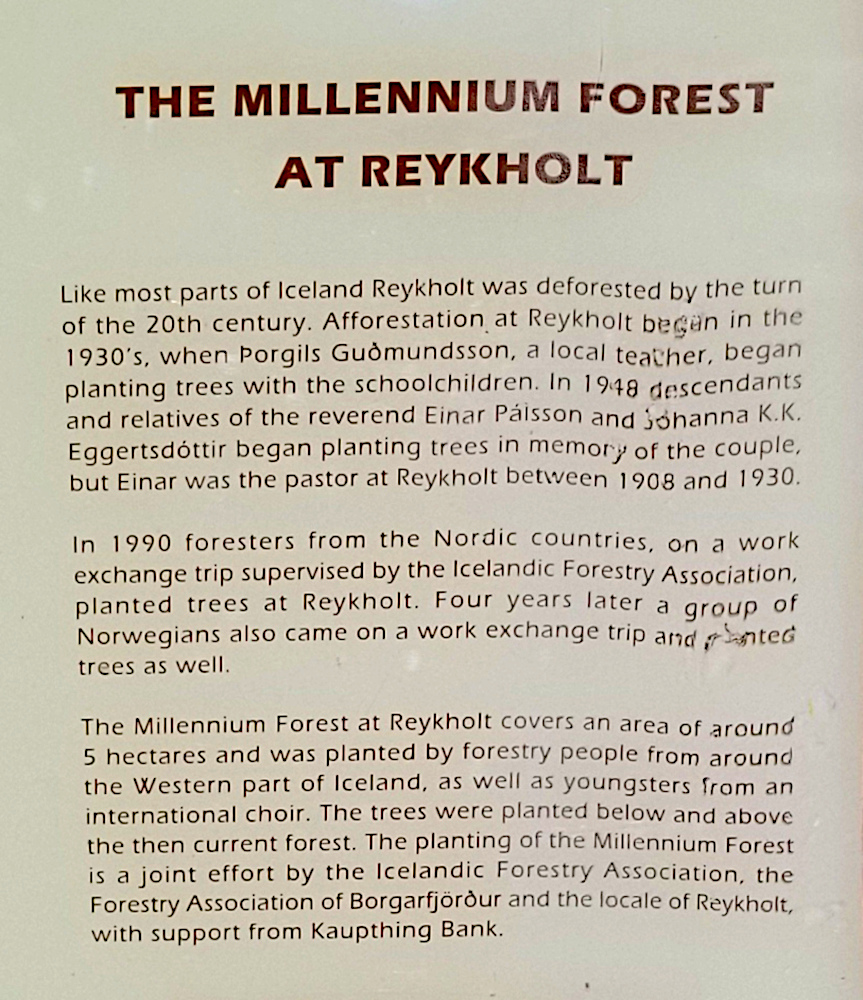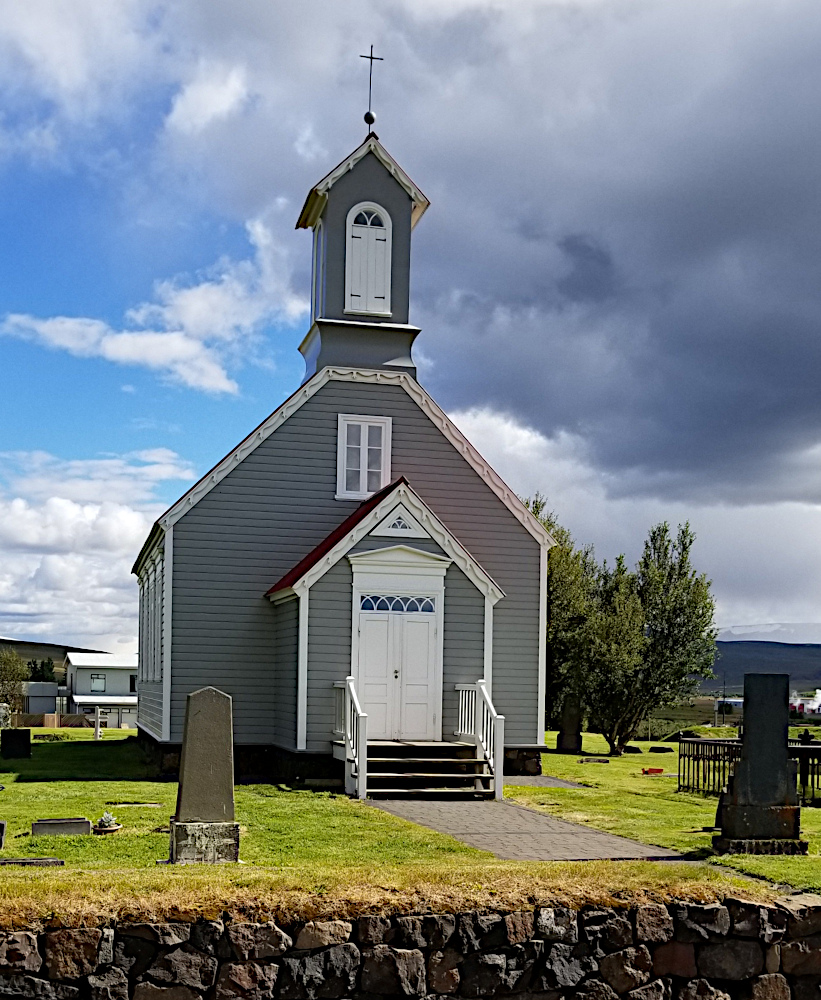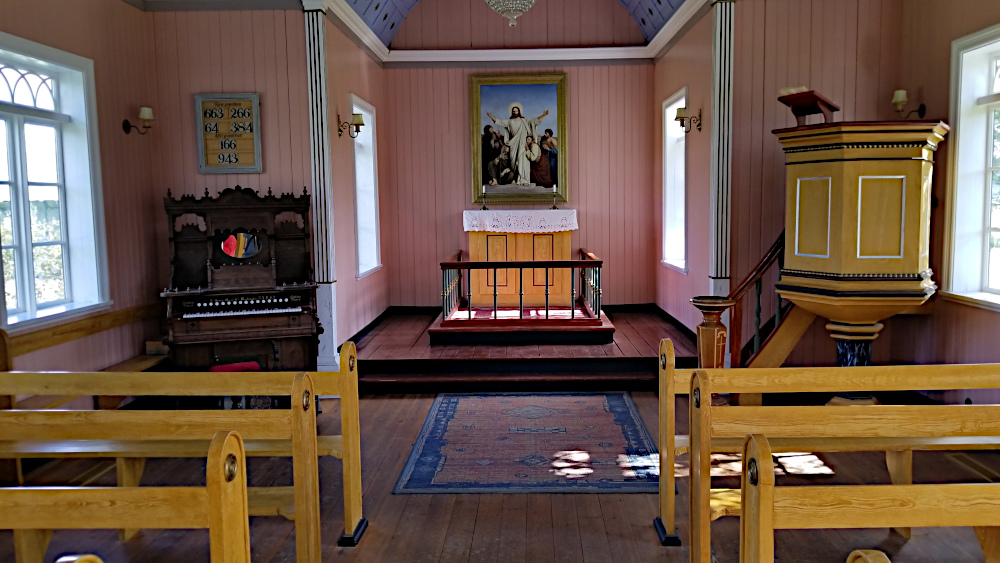 Winding our way down the west coast back to Reykjavik.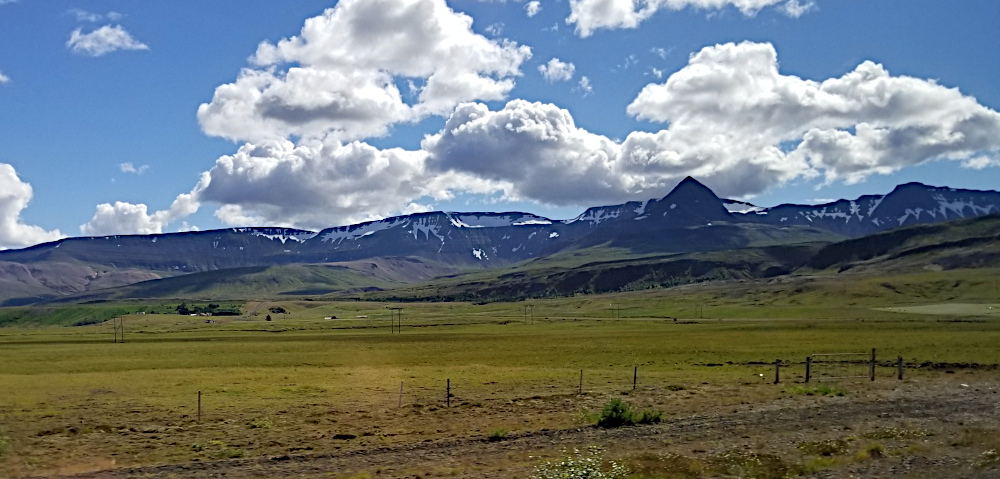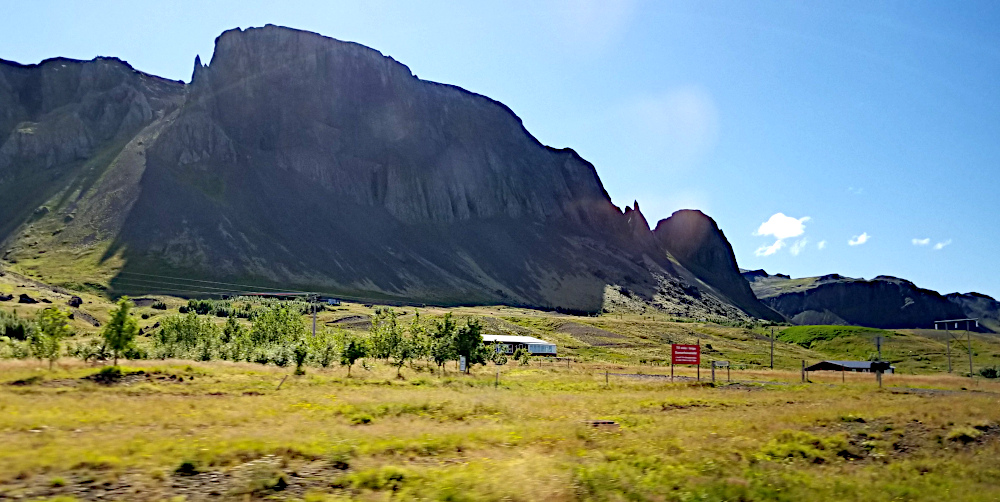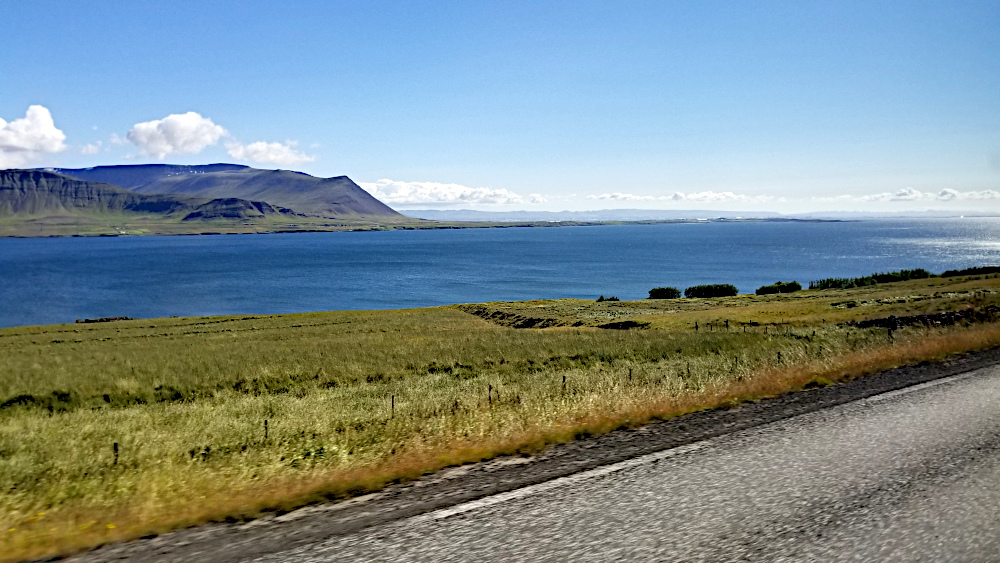 Arriving in Reykjavik.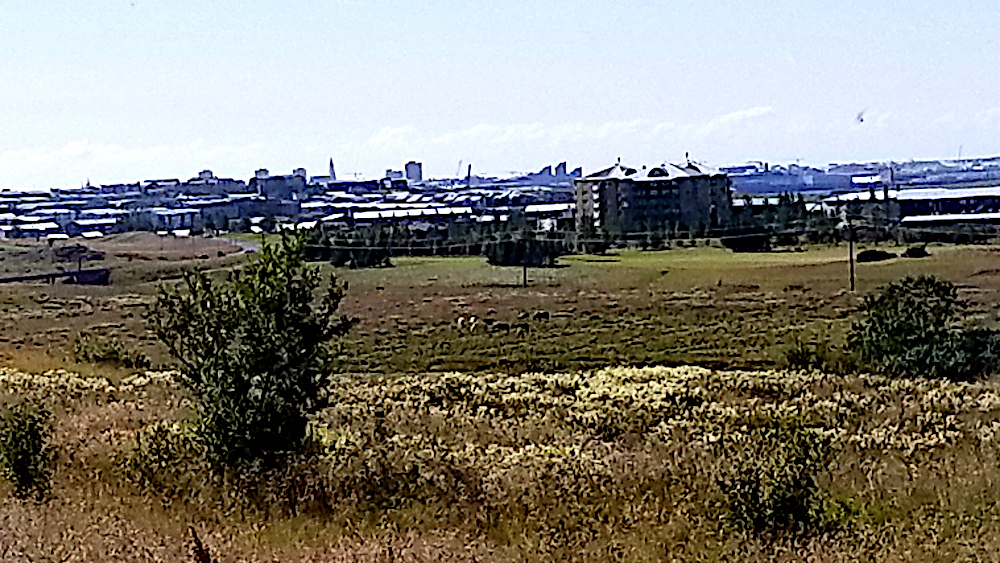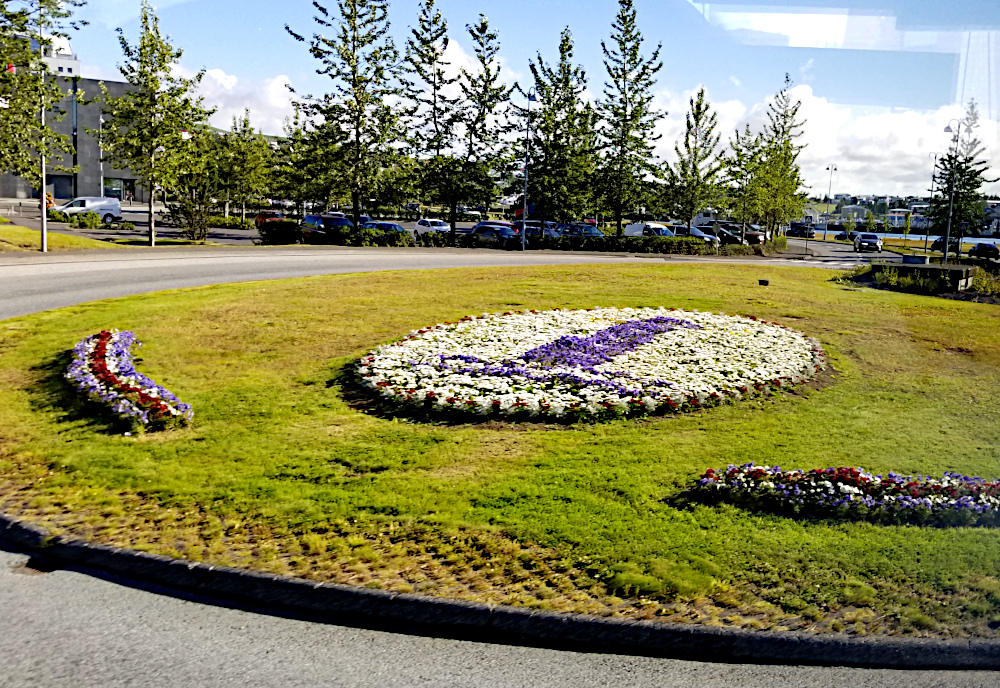 We head for Reykjavik airport where Louis amd Larry will spend their last night in Iceland at the airport hotel
before heading back home to the San Francisco Bay Area via Toronto, Ontario, on an early morning flight.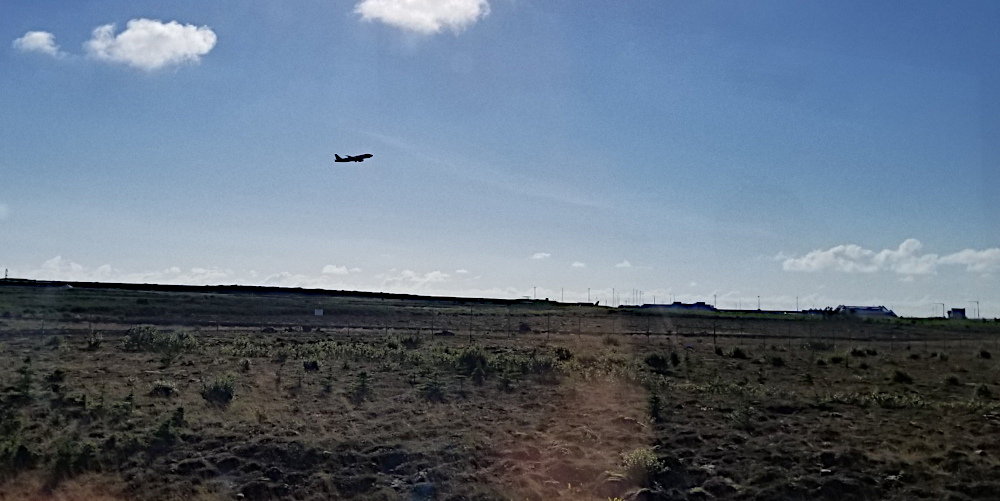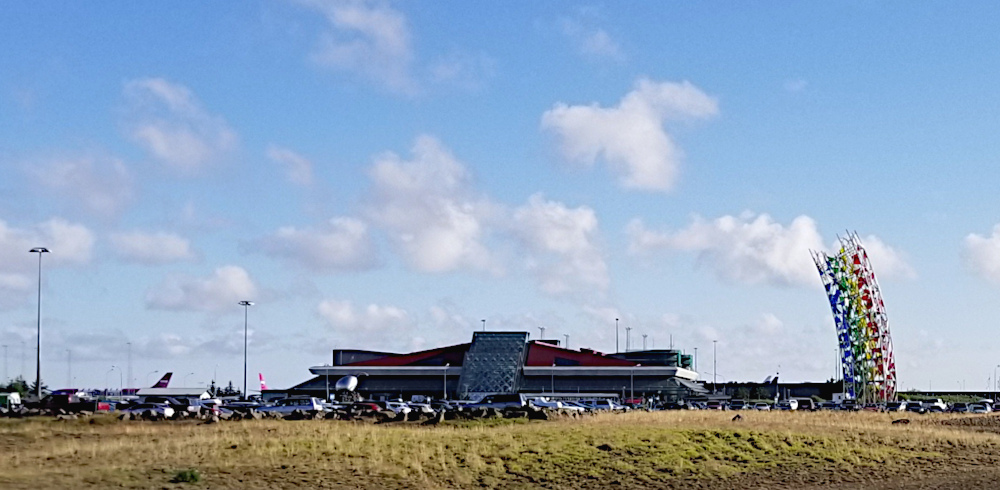 We had a wonderful time in Iceland and both of us would like to return to the island for another Iceland adventure.


[ Return to Our Adventures in Pictures ]