Straddling the Line
....the Art of Being in More Than One Place at the Same Time
Being in Two Places at Once!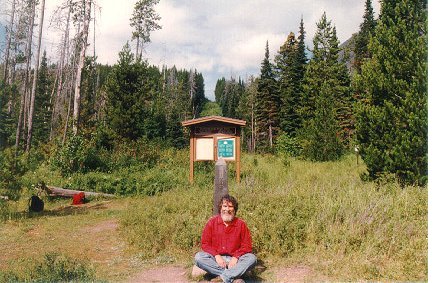 This is me sitting on the border between the United States and Canada. I'm in Glacier National Park in Montana (at least my right half is), and in Waterton Lakes National Park in Alberta. Upper Waterton Lake is an eight mile long body of water that runs north and south, with the Alberta town of Waterton at its north end. I reached this spot by hiking south on a trail that parallels the western shore of the lake. I made this hike on August 10, 1995.
The international border is about four miles south of the town of Waterton. Two obelisks mark its location, along with a bulletin board and a twenty foot wide clear-cut swath through the forest. I am facing east, with Upper Waterton Lake in front of me.
There are no customs men at this location, but each country has erected signs to voice their concerns. Interestingly, the American sign dealt only with the influx of people, the Canadian only with the inflow of property. In reality, one would not be very bright to choose this as a customsless crossing, because there are no fences anywhere on the U.S.-Canadian border, and most places would be a far easier crossing than here. The trail to reach this point is narrow, steep, and rough, and the thought of encountering one of those who really rule this land (grizzlies) is always on one's mind.


Being in Three Places at Once!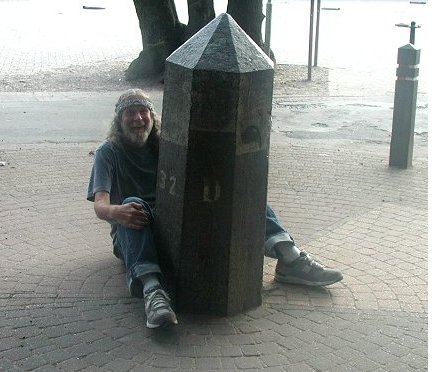 This obelisk near Aachen, Germany, marks where three countries and languages come together. It also used to mark where three currencies came together before they got the euro.
I am sitting in Belgium, with my right foot in Germany and my left foot in the Netherlands.
I don't know why the border between Belgium and Germany is shown twice in the bricks. Maybe the countries were arguing over the line?
This photo was taken on August 9, 2004.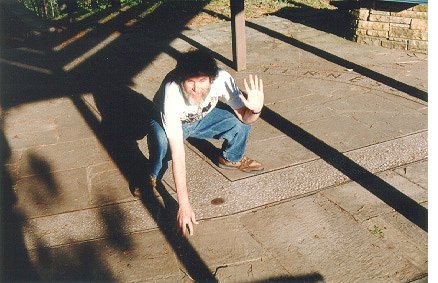 This obscure pavilion marks the place where three eastern states come together. I discovered this site while making a stop to inspect "Cumberland Gap," a crossing through the Appalachian Mountains made famous by Daniel Boone. If I had been born two centuries earlier, as Daniel Boone was, I would definitely have chosen to be an explorer, and I remember reading of Cumberland Gap in my childhood. So that explains why on April 26, 1995, I was walking along busy highway U.S. 25E, which now barrels through Cumberland Gap.
While walking, and inspecting various monuments to the gap's history (which are mainly overgrown in weeds, by the way), I saw a sign for the "Tri-State Trail" and was intrigued by the name. My map showed that I was near the intersection of three states, so I just had to check it out! At the top of a hill the trail came to an end at the pavilion you see here.
My left foot is in Tennessee, my right foot is in Virginia, and my right hand is in Kentucky. Note that I am anatomically equipped to handle four states; I have a hand left over.


Being in Four Places at Once!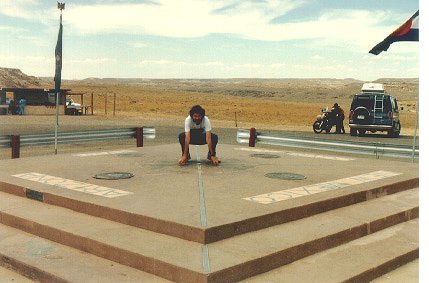 Bet you knew this one was coming!
That hand that was "left over" (I've called it my "left" hand ever since) is touching New Mexico. My right hand is in Arizona. Utah is host to my right foot, and naturally, my left foot is in the state that is left - Colorado.
We visited the Four Corners Monument in June of 1987. The monument is located about half a mile off to the northwest side of U.S. 160 at the end of a cul-de-sac. Around the cul-de-sac are numerous Indian trinket booths in the states of New Mexico, Arizona, and Utah. The land in these states falls in the Navajo reservation. Colorado's quadrant is in the reservation of the Ute Mountain Ute tribe. They had no tchotchke shops - cultural difference, I guess. (The Utes even had signs prohibiting the use of their quarter of the monument area for such activities.)
When we drove into the site we circled the monument three times before parking the car. I had never before, and have never since, driven through twelve states in search of a parking space!
About a year later a southwesterner looking at my photos explained why there is a dark spot in the middle of the monument where the states all come together. Fortunately, I always wash my hands before eating....
There are folks who make it their hobby to visit all the places three or four states come together. What they've found is that many of these places are under water, and many others are in very remote locations. In the U.S, only these last two have large monuments such as you see above, though smaller monuments such as large stones or small obelisks are often found. For complete information on these geographical curiosities in the U.S. and Canada, check out Brian Butler's site.

[ Bill & Larry's Adventures - North America Archive ]
(Leave this page and go to "North America" archived entries.)
[ Bill & Larry's Adventures ]
(Leave this page and go to our most recent entries.)