Mount Monadnock!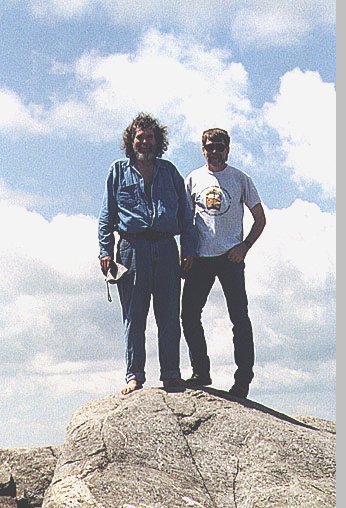 We climbed Mount Monadnock in Jaffrey, New Hampshire, on July 18, 1996. Bill made the entire ascent barefoot. Here we are, standing on the top!
Mount Monadnock is special for us. It is located in Jaffrey, New Hampshire, where Larry grew up, and where his family still lives. We visit Jaffrey frequently, and we have climbed this mountain many times. In his teens, Larry worked as a park ranger on Mount Monadnock.
The elevation at Monadnock's summit is 3166 feet, and climbers are treated to a panoramic view of southern New England's forested countryside from the top.
Upon returning to San Francisco, Bill wrote this narrative of the hike for the East Bay Barefoot Hikers.
[ Bill & Larry's Adventures ]
(Our most recent entries.)