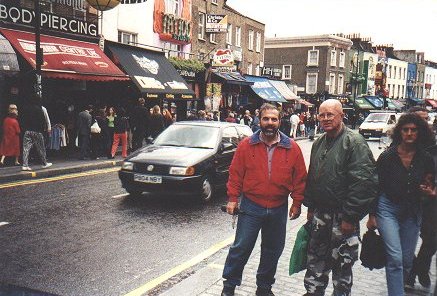 Louis and Alan Ashmole in Camden Town, London
---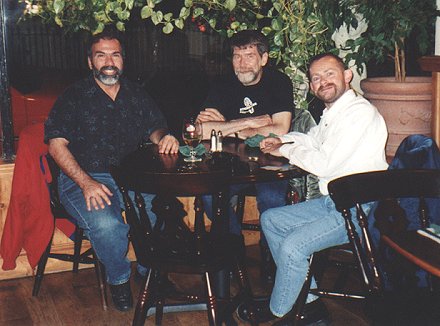 Louis, Larry and Jeremy Gyer in Brighton, England
---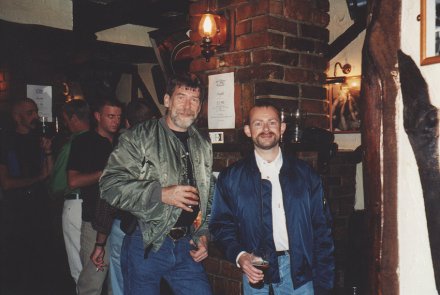 Larry and Jeremy enjoying a
brew at a local pub in Brighton
---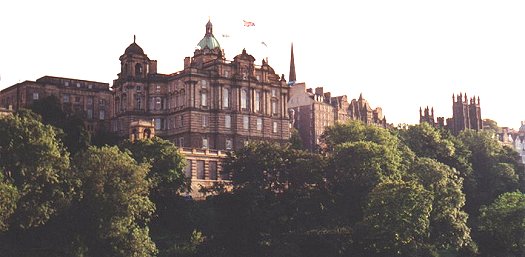 We then took the train north for
a three-day tour of Scotland.
Our first stop is Edinburgh, which
has many beautiful old buildings.
---

Here we find Larry overlooking the
heather-covered Scottish Highlands.
---

This is Urquhart Castle
above Loch Ness, Scotland.
Larry searched and searched . . .
but he didn't see the monster.
---


The tour included two night's stays in castles that
also included complete dinners. The first night
we stayed at Tulloch Castle in Dingwall (left)
and the second night at Ardoe House in Aberdeen.
---

We toured Glamis Castle near Kirriemuir,
Scotland - Home of the Queen Mum
---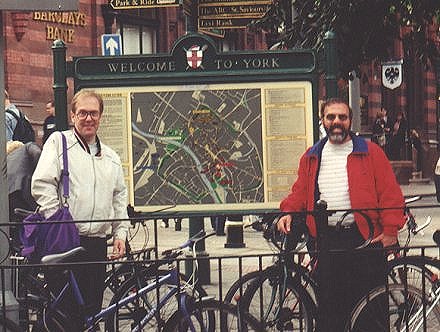 From Scotland we traveled south to York,
England, where we met Ivor Jones, G6URP,
a ham radio friend of Larry's, shown
here with Louis. No...we didn't ride
the bicycles. We saw the sights on foot.
---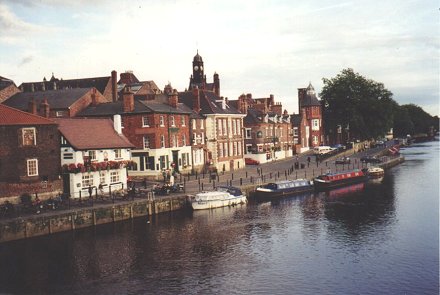 It looks like Amsterdam, but
it's a beautiful canal in York.
---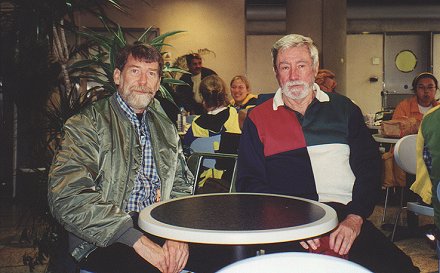 Returning from Scotland and Northern England
we met Derek King, G4JKE, another ham radio
friend of Larry's, at Waterloo Station in London.
Here we caught the Eurostar train that goes
though the Chunnel from Great Britain to France.
---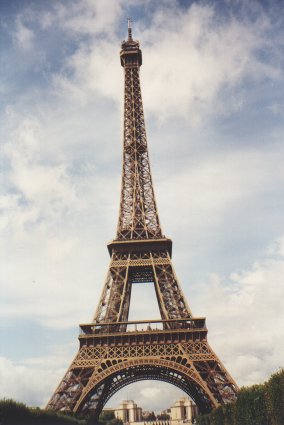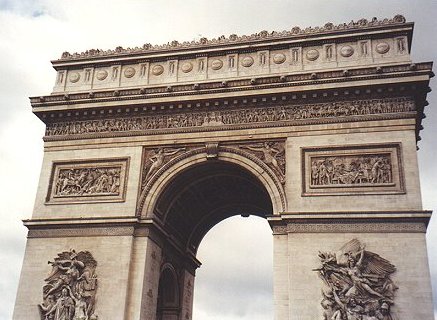 Yes...we're in Paris! It's a beautiful
city full of famous sights, such as the
Eiffel Tower and Arc de Triomphe...
---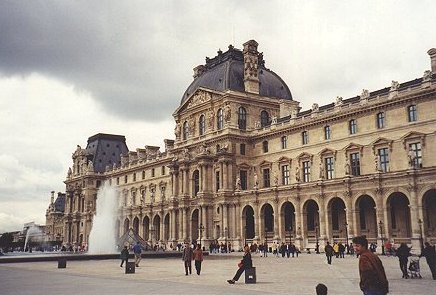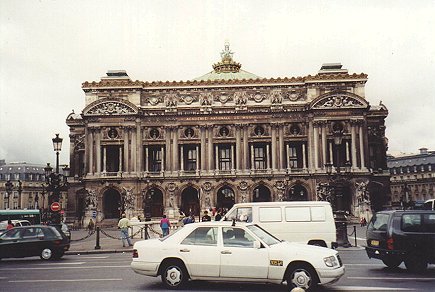 ... The Louvre, and the famous Opera House
from the movie "Phantom of the Opera".
---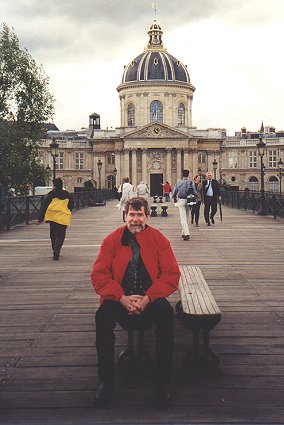 Larry on the pedestrian walkway over the
River Seine in front of the Institute of France
---
Leaving Paris, Louis went off to Switzerland and Italy.
Larry headed to Germany and The Netherlands.
---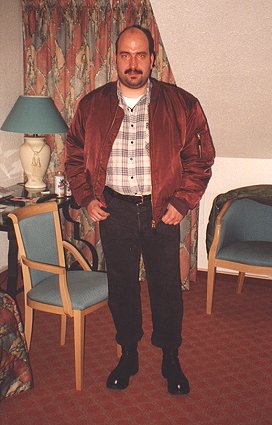 Larry met Dirk Busold
in Hannover, Germany
---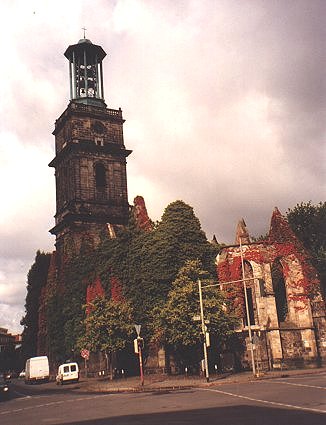 This beautiful old church in Hannover
is left as a reminder of World War II.
---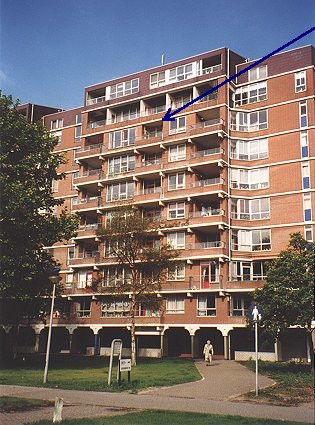 Larry stayed with Hans Meijer and
Ieda Snoek in Amsterdam. The
arrow points to their apartment.
---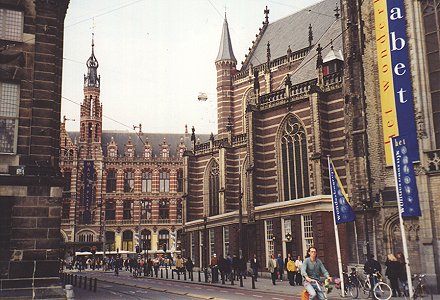 Magna Plaza in Amsterdam
---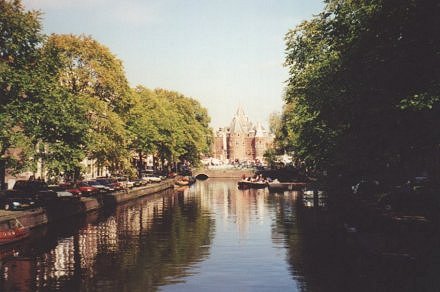 A typical canal in Amsterdam
---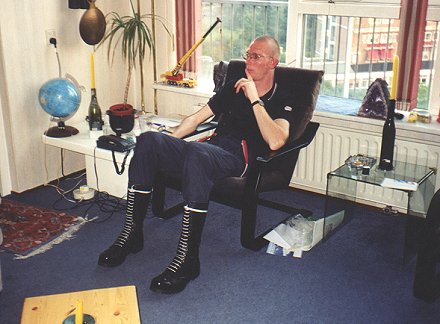 Hans in his living room
---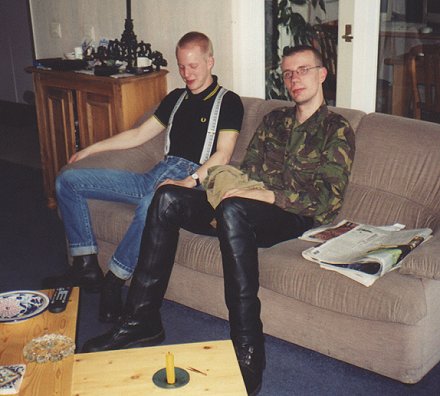 Han's and Ieda's friend, Rob, (left)
with Ieda (right)
---
From Amsterdam Larry traveled to Brittany
located in the northwestern part of France.
---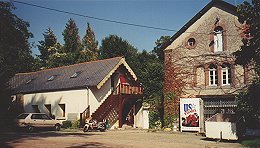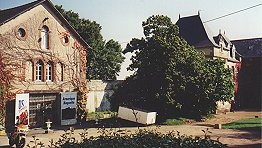 Here he visited Eric De Lorgeril and Gildas Le Dauphin
in Langueux, which is located on the English Channel
near San Brieuc. In the left photo is Eric's home
and his model train shop. On the right is the model
train shop and part of a very beautiful old family castle.
---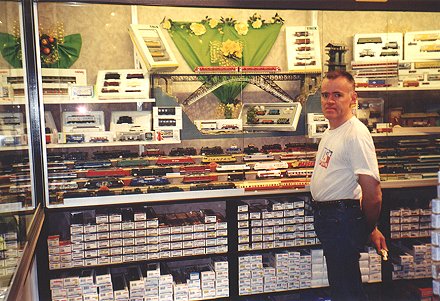 Eric in his model train shop

---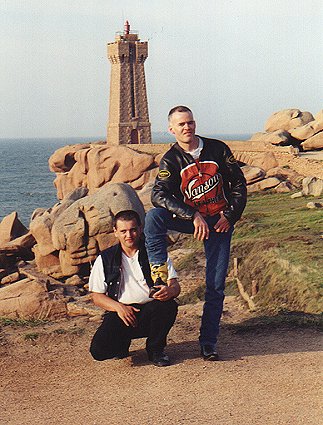 Gildas and Eric near a unique lighthouse
overlooking the rocky coast of the English
Channel in the area known as Cotes d'Armor.
---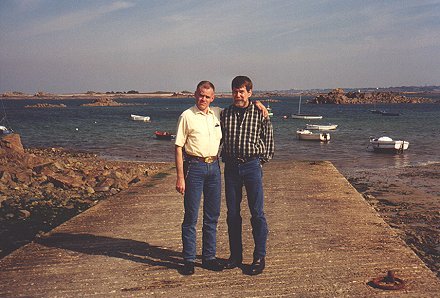 Eric and Larry
---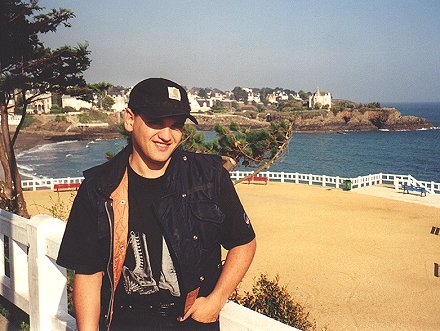 Gildas above a beach on the English Channel

---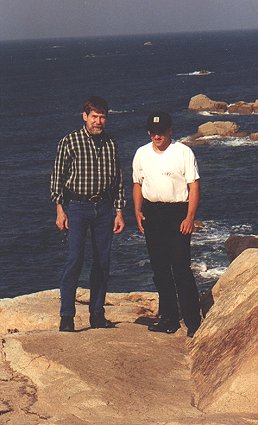 Larry and Gildas on the rocky coast
---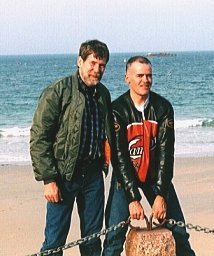 Larry and Eric
---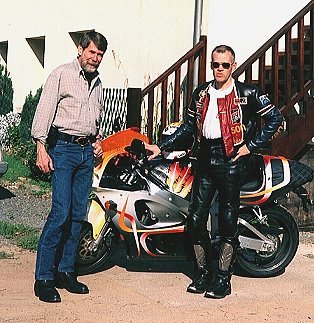 Larry and Eric with his Suzuki 750
---